Why Do al-Qaida and the Islamic State Continue to Target Indonesia?
Recent attacks in Jakarta and Sulawesi suggest that militant jihadi groups continue to pose a potent threat to the Indonesian state.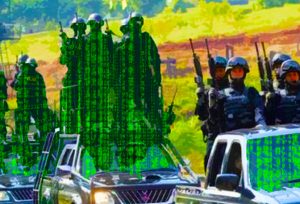 Even though from 2000 to 2009 the al-Qaida-linked militant group Jemaah Islamiyyah (JI) was the primary perpetrator of bombings in Indonesia, in recent years, outfits affiliated with the Islamic State (IS) have been launching attacks on an almost non-stop basis. Between January 2016 and March 2021, pro-IS groups were responsible for 13 attacks that caused 68 deaths and 122 injuries, not to mention damage to property and public infrastructure. While the various Indonesian counter-terrorist agencies, including both the armed f orces and police, and dedicated units such as the BNPT and Densus-88, have been active in neutralizing the terrorist groups, there seems to be no end to this scourge. Why is this so?
Even though the JI has been lying low since the 2009 bombings in Jakarta, 2020 saw 30 suspected JI operatives arrested in Indonesia: 22 in Java and 8 in Sumatra. During February and March of this year, 22 JI operatives were captured in East Java, especially in the city of Malang. These arrests came after Indonesian counter-terrorist units captured Para Wijayanto, the leader or "emir" of JI, in Bekasi, West Java, in June 2019.
Another significant arrest took place in October 2020 in Lampung, Sumatra, when six JI operatives were captured, among them the prominent militant Aris Sumarsono (aka Zulkarnaen). A key JI field operative and a skilled bomb maker, Aris was commander of the Laskar Khos, a specialized military unit for operations and a close associate of Hambali, who was responsible for the October 2002 Bali bombings, and is presently in detention in Guantanamo Bay. Other close associates of Aris included Dulmatin and Umar Patek, top leaders of JI during the period 2000-2009. Aris is believed to have been involved in the Bali bombings in 2002, the 2003 bombing of Jakarta's J.W. Marriott Hotel, the 2004 bombing of the Australian Embassy in Jakarta, and another attack in Bali in 2005. The first bombing took 202 lives and the J.W. Marriott Hotel bombing led to 12 deaths. Aris had been on the run since 2003 and his arrest was a major success for Indonesia's counter-terrorism agencies.
Today, many analysts argue that JI remains the most dangerous, organized, and well-armed terrorist group in Indonesia. Its active membership, mainly in Java, Sumatra and Sulawesi, is estimated at 6,000. Since 2010, however, JI is believed to have been in an i'dad, or preparation, phase, rather than in a phase of active operations.
This is evident from the 2019 and 2020 arrests. Following the arrest of Para Wijayanto and some of his close associates, it became clear that the JI was active in building its financial base by involving itself in legitimate businesses such as plantation ownership, property brokerage, and operating restaurants and car rentals, unlike the previous method of armed robberies.
Para Wijayanto, who was sentenced to seven years' prison in July 2020, was also heavily involved in training the next batch of JI fighters by sending them to Syria to train with the pro-al-Qaida group Jabhat Al-Nusra. Some 96 JI operatives underwent military training in Semarang alone, with many more sent to Syria for combat training and experience. While some JI operatives did die in Syria, many are believed to have returned in order to be ready when military operations are launched in the near future. Interestingly, of the 30 JI operatives arrested in 2020 and the 22 in 2021, the majority were involved in either military training or fundraising, with only a small number designated for administrative duties.
The JI continues to be motivated by the establishment of an Islamic Caliphate in Indonesia. It believes that Indonesia and its secular-oriented leaders have deviated from the promise to give Islam a special prominence, as was agreed in the 1945 Jakarta Charter. More importantly, JI believes that Indonesia is increasingly anti-Islamic, allowing non-Muslims, both local Chinese and foreigners, to dominate the economy to the detriment of Indonesia and its people. Indonesia is also said to be closely aligned to the West, which is believed to be anti-Islamic and most the killings of jihadists by Densus-88 are seen as deliberate, given that this special force, initially dominated by Christians, was set up with the assistance of the United States and Australia.
While JI bides its time, since 2016, IS and its affiliates have come to pose a more immediate threat, evident from the number of Indonesians who have "migrated" to Iraq and Syria in support of IS as well as the growth of pro-IS affiliates, the most dangerous of which have been Jamaah Ansharut Daulah (JAD) and Mujahidin Indonesia Timur (MIT).
All of the 13 terrorist attacks in Indonesia since January 2016 have been carried out by pro-IS affiliates. Of the more than 1,200 Southeast Asian fighters who have gone to Iraq and Syria since July 2014, the majority were Indonesians. This also included many family members. Pro-IS leaders such as Bahrumsyah have been adept in the use of the social media and recruitment videos to draw Indonesians to Iraq and Syria, where many were involved in combat and gained valuable training in handling arms, developed new networks, and were fortified ideologically. The establishment in September 2014 of Katibah Nusantara, a military unit for Malay speakers, testified to the strength and presence of Indonesian fighters in Iraq and Syria.
Following the military defeat of IS in the Middle East and the death of its leader, Abu Bakar al-Baghdadi in October 2019, there have been a number of consequences for Indonesia. First has been the issue of "IS returnees" from the Middle East, including those both with and without combat experience. Second has been the impact of IS on Indonesia and the rise of pro-IS affiliates in the country, the two most important being JAD and MIT. Third has been the role of IS in inspiring Indonesian jihadists to adopt pro-IS strategies and tactics as part of the aim of establishing an Islamic Caliphate. Finally, these returnees have the potential to radicalize others, join old terror groups, establish new ones, plot attacks with their new knowledge, and even launch attacks outside Indonesia as has happened in the Philippines.
This is the context in which a husband-wife lone-wolf suicide team blew themselves outside a Catholic church in Makassar, Sulawesi, on the morning of March 28.
The two suicide bombers died with 20 others were injured in the attack. The church was holding Palm Sunday service, some five days before Easter, which marks the date of Christ's crucifixion.
JAD is believed to be behind the bombing. This group has been active in South Sulawesi, being born in the region in 2015. The region also has a long history of terrorism, especially around Poso, where many terrorist groups are known to have operated in the past, including Darul Islam, JI, and MIT. Many JAD members have recently been killed or arrested in Makassar. In January of this year, 20 JAD members were arrested and two killed by security forces. Similarly, female and family suicide bombings, including children, are a hallmark of the JAD, as seen in similar attacks in Surabaya in May 2018.
The Makassar bombers are also believed to be linked to the January 2019 Jolo bombing in Mindanao, Philippines, similarly carried out by a husband and wife team, in which 22 were killed with more than 100 injured. The use of operatives from the area of operation is another JAD feature that was manifest in the case of the Makassar bombing. The JAD has also targeted Christian churches in the past, as in Surabaya in May 2018 and Jolo in January 2019. The Makassar bombing could also be a revenge attack for the arrest and killing of JAD members in January. Finally, JAD members are also known to believe that the path to paradise lies through martyrdom.
There is also the issue of whether JAD and MIT are cooperating in South Sulawesi, especially at a time when the security forces have been trying to wipe out the latter over the last two years. It is also believed that many former JAD members may be returning to South Sulawesi to be engaged in combat operations, partly to fight for MIT or to establish a secure base area (qoidah aminah) in the region, at a time when the Indonesian authorities are preoccupied with COVID-19.
While Aman Abdurrahman the founder and spiritual leader of JAD, may be in prison, the terrorist group is also believed to be operating autonomously with local leaders making their own strategic and tactical decisions, which, in turn, makes it difficult for law enforcement agencies to predict JAD's next attack.
Even though the overall scale of the Makassar attack was small compared to other iconic attacks in Bali or Jakarta, its importance nonetheless cannot be ignored. It is a signal that terrorists are still around, are capable of launching attacks, and are capable of making improvised bombs that cause great damage. As far as South Sulawesi is concerned, the JAD may be aiming to reignite religious tensions in the province. The attack was timed not only to the run up to Good Friday and Easter, but also just prior to the beginning of the Muslim fasting month of Ramadan. Historically, the province has a track record of violent relations between Christian and Muslims, especially in the period 1998 to 2001, and reigniting this may be one of the aims of the attack.
Even though 15 JAD members and their supporters have been arrested since the Makassar attack, one can well imagine that more arrests are likely, as happened following the May 2018 JAD-linked bombings in Surabaya. The JAD network in Makassar and South Sulawesi is likely being targeted, especially following the earlier spate of JAD arrests in January. In the same vein, on March 31, a female lone wolf attacker was killed when she attacked the Jakarta national police headquarters. She is suspected of being affiliated with the pro-IS JAD.
This may well provoke more revenge attacks from JAD members, especially if the cells are operating autonomously, had previous experience with armed groups, say in Sabah or Mindanao, or have links with MIT, which is also fighting for its survival under the leadership of Ali Kalora, who is believed to have been wounded in a recent operation.
The Makassar suicide bombing is a reminder that the threat of violent terrorism is still very real in Indonesia. While the country's counter-terrorism operations have scored some important successes, they have never been able fully to extinguish the threat. The far-flung nature of the archipelago, the presence of the "frontier" provinces of Aceh, Sulawesi, and Papua, and the continuing threat of terrorism in the southern Philippines, where many extremist and terrorist groups cooperate with their Indonesian counterparts – to say nothing of the distraction of COVID-19 – all suggest that Indonesia will be bogged down with the threat of terrorism for some time to come.