Bangladesh Cracks Down on Hardline Islamist Group
The latest government pushback followed intelligence that terrorist groups had infiltrated Hefajat-e-Islam.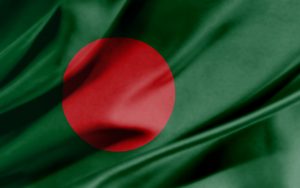 Bangladesh's government has been cracking down hard against Hefajat-e-Islam, the hardline Islamist group that rapidly transformed from an Islamic advocacy platform (for Qawmi madrasa teachers) to a political pressure group. The crackdown follows the March 26 Hefajat protests in Dhaka, Brahmanbaria, and Chattogram, where thousands clashed with security forces, protesting against Indian Prime Narendra Modi's visit to Dhaka as part of Bangladesh's 50th anniversary.
In Dhaka, where hundreds of protesters gathered outside Baitul Mukarram Mosque following Friday prayers, clashes began after a group of protesters waved their shoes in a sign of contempt for the Indian prime minister. In certain parts of Brahmanbaria, clashes continued into the following day, with security forces firing open rounds to disperse crowds. According to reports, Hefajat activists vandalized and torched the Brahmanbaria railway station, setting fire to seven rooms and the control panel in the station, halting railway operations between Dhaka, Chattogram, and Sylhet. The March 26 Hefajat protests left at least 10 dead and 40 injured, including some journalists. On April 4, Bangladesh Prime Minister Sheikh Hasina pledged in the parliament that her government will take legal action against vandalism in the name of Islam.
According to the latest, 21 top Hefajat leaders – including Assistant Public Secretary Sharifullah, and former Joint Secretary-General Mamunul Haque – and around 890 Hefajat supporters have been arrested in 142 separate cases filed all around the country, ranging from arson to obstructing policemen. Under pressure, Hefajat chief Junayed Babunagari dissolved the group's central committee on April 25, to form a five-person convening committee that is currently looking to reorganize the group. On May 4, a Hefajat delegation, led by the secretary-general of the convening committee, Nurul Islam Jihadi, held a meeting with Home Minister Assaduzzaman Khan in Dhaka to negotiate the release of its top leaders. The delegation placed four demands to the home minister, including the release of "religious-minded" people, and a halt to "religion-based harassment."
Teherik-i-Labbaik, Pakistan and Blasphemy
Analysts have been comparing Bangladesh's strong response to Islamist groups as a lesson for Pakistan which continues to appease hardliners like Teherik-i-Labbaik, Pakistan (TLP), staunchly defending blasphemy laws. Largely a Barelvi (a sect in Islam) party, TLP is always at the fore of defending conservative values. For instance, when Asia Bibi – a Christian Pakistani – was acquitted in 2018 of a blasphemy case due to contradiction of evidence, after eight years in prison, the late TLP chief Khadim Hussain Rizvi took to social media advocating civil disorder and violence. Rizvi asked TLP supporters to kill the judges who acquitted Asia and encouraged mutiny within the army claiming the army chief was an apostate.
Last month, major cities in Pakistan erupted in violent protests led by TLP, demanding the expulsion of the French ambassador. On April 15, at the height of violent protests claiming four policemen, the Pakistan government banned the group. But the protests did not stop. On April 20, in a drastic U-turn, the Pakistan government decided to table a resolution to expel the French ambassador from the country, appeasing the banned extremist outfit, and simultaneously jeopardizing millions of dollars of trade with France.
The Actual Hefajat Threat
Until now, Bangladesh has treated Hefajat-e-Islam with kid gloves, appeasing their demands in controlled amounts. In 2017, the government removed 17 popular poems and stories by non-Muslim and secular writers, including one on Darwin's theory of evolution, as Hefajat believed such writings promote atheism. In the same year, the government was forced to remove the Lady Justice sculpture from the Supreme Court front yard following a countrywide protest by Hefajat leaders and supporters. Similar opposition to planned sculptures of the Father of the Nation Sheikh Mujibur Rahman echoed through Hefajat ranks in 2020 but was met with stern warnings from top government officials. The latest government pushback, however, followed intelligence that terrorist groups had infiltrated Hefajat.
The detective branch of Dhaka Metropolitan Police said that their investigation found evidence of Hefajat's links with militant outfits, including Afghan returnees who are responsible for altering decisions at the top of Hefajat's chain of command. According to the report, more than 30 Afghan-returnee Harkat-ul-Jihad (Huji) foreign fighters are still absconding and more than 100 Huji members have fought in Arakan, Myanmar. The report also suggests these members may work secretly to regroup when their potential leaders, who are living and financing from Saudi Arabia, Pakistan, Oman, and Qatar, return to the country. The Police Bureau of Investigation said that they have found Huji men to be behind the March 26 violence in the 16 cases they are currently investigating. According to intelligence reports obtained by The Daily Star, the 249-member Hefajat central committee, which was dissolved on April 25, had at least eight leaders who were either former Huji operatives or have connections with the militant outfit.
Bangladesh is no stranger to countering terrorism. Since the 2016 Holey Artisan Attacks in Dhaka, Sheikh Hasina's government has pursued a zero-tolerance policy toward terrorist outfits. It resulted in the deaths of at least 79 suspected radicals, arrests of more than 150 others in an aggressive anti-militancy crackdown, and a foreign policy of deepening Bangladesh-U.S. and Bangladesh-India counterterrorism collaborations. In the Global Terrorism Index 2020, Bangladesh ranked 33rd out of 163 countries in the world, performing better than all other South Asian countries, including India (ranked 8th) and Pakistan (ranked 7th). In 2018, Bangladesh had ranked 25th; Bangladesh's declining rank in the index suggests that the country has become more effective in countering terrorism over time.
Separate reports also project Bangladesh's long road ahead cracking down and quelling terrorist financing routes within and outside the country. But there is clarity that Bangladesh's crackdown on Hefajat-e-Islam is a continuation of its preparedness in tackling terrorism. The biggest difference with regards to TLP in Pakistan has been Hefajat's internal power struggles that were paving way for terror activists to resurface en masse. Time will tell if the crackdown on Hefajat is successful, but there is adequate evidence to suggest Dhaka is carefully monitoring the shift from political extremism to religious terrorism.