COVID-19 Set to Burst Singapore-Hong Kong Travel Bubble – Again
Singapore has reimposed a lockdown after a sudden spike in untraceable community transmissions.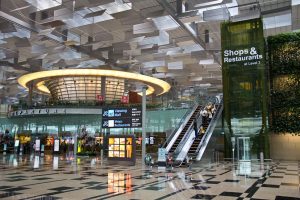 The plans to set up a travel bubble between Singapore and Hong Kong have once again hit a roadblock, as Singapore struggles to contain a fresh outbreak of COVID-19 cases.
Yesterday, Singapore returned to the lockdown restrictions it last imposed in April 2020, as a rising number of untraceable infections threatens to spiral out of control. Under the new restrictions, group gatherings will be limited to two people, dining in will no longer be allowed at hawker centers and restaurants, and the government will ramp up testing for those showing symptoms of the coronavirus.
The restrictions will remain in place until June 13, but Education Minister Lawrence Wong, who co-chairs Singapore's multi-ministry task force on COVID-19, said that if the situation did not improve within two weeks, "we certainly will not rule out even more stringent measures thereafter."
The resurgence is almost certain to impede the long-planned air travel bubble between Singapore and Hong Kong, which was initially scheduled to launch in November, but was delayed after a surge of COVID-19 cases in Hong Kong. The revived travel arrangement between the two financial hubs was set to start on May 26.
Under the arrangement with Hong Kong, the travel bubble – known formally as an Air Travel Bubble (ATB) – will be suspended for at least two weeks if the seven-day moving average of unlinked community cases in either city increases to more than five.
This time it is Singapore that is struggling with a fresh outbreak of COVID-19. While Hong Kong on Friday reported its seventh straight day without a local, untraceable infection,the Lion City has identified around a dozen clusters of COVID-19 cases in recent weeks, including one at Singapore Changi Airport.
Yesterday, Singapore announced a total of 38 new community COVID-19 infections, of which seven were "preliminarily positive" for the highly infectious B1617 variant first identified in India. This is the highest number of community cases that it has identified since April 14 of last year, when 40 community infections were reported, part of a surge that prompted the introduction of Singapore's "circuit breaker" lockdown.
So far, Singapore has identified 191 cases of community transmission in May, after finding 55 cases of community transmission for the whole of April and just nine in March.
Singaporean Transport Minister Ong Ye Kung said on Friday that it was "very likely" that Singapore would not be able to meet the criteria for the opening of the ATB. "What we'll do now is closely monitor the numbers next few days, critically review the start date and early next week, we will make a decision and make an announcement on the Singapore, Hong Kong air travel bubble," he told reporters.
Singapore leads Southeast Asia in terms of its vaccine rollout, with 32.5 percent of its population having received at least one dose of vaccine as of May 13, according to the Our World in Data tracker, while Hong Kong has vaccinated just over 15 percent of its population.
The likely delay to the Singapore-Hong Kong travel bubble is another demonstration of the challenges involved in creating bespoke bilateral travel arrangements before the achievement of widespread vaccination coverage. If even these two compact, prosperous, and competently governed cities are unable to pave the way to a resumption of essential travel, it certainly bodes poorly for the rest of Asia.