How Canada's Assistance Has Benefited Afghanistan
Canada's assistance over the years has had real impact on the lives of Afghans.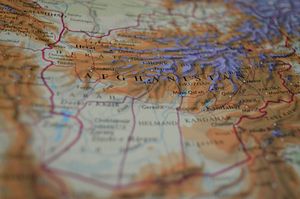 In an effort to stabilize Afghanistan, Canada contributed more than $3.6 billion since 2001, placing it among Afghanistan's top 10 donors. Canada mainly channeled its assistance to Afghanistan through the Afghanistan Reconstruction Trust Fund, an international trust fund administered by the World Bank that supports national programs to achieve Afghan national priorities. Security sector assistance is provided by Canada through NATO's Afghan National Army Trust Fund (ANATF) and the United Nations Development Program (UNDP)'s Law and Order Trust Fund for Afghanistan (LOTFA).
Canada's contributions to ANATF help to maintain and strengthen the Afghan National Army by providing technical assistance and professional development, as well as training and operational support. While Canada's military role in Afghanistan officially ended in 2011, it maintained its non-combat assistance to the country largely via development projects. Empowering women, and developing healthcare, infrastructure, education, and the Afghan security sector, are some of Canada's key contributions to the country.

At the 2020 Afghanistan Conference that was co-hosted by the governments of Afghanistan and Finland along with the United Nations, Canada pledged $270 million in bilateral development assistance to Afghanistan during 2021-2024. This pledge comes at a time when the COVID-19 pandemic has put a tremendous strain on the Canadian economy. This is just one example of Canada's commitment to peace and stability in the war-torn country. Afghanistan sincerely thanks Canada and recognizes its invaluable friendship.
Due to the endemic conflict in Afghanistan, Afghan women and children have perhaps suffered the most. The war has taken their loved ones, and deprived them of some of their fundamental rights, such as access to health and education. Canada was one of Afghanistan's leading partners in attempting to empower Afghan women and protect children's rights by promoting education. The country helped build many schools and trained 3,100 teachers in Afghanistan. More Afghan girls and boys are enrolled in schools than ever before, and Canada's contribution to this achievement has been vital. 
Also, Afghanistan has one of the highest maternal mortality rates in the world. Despite some degree of improvement, Afghanistan still witnesses more than 600 maternal deaths per 100,000 live births. Canada has stood with Afghanistan and disbursed funds for healthcare. For instance, in Daikundi province, Canadian aid financed the establishment of a 58-family health house that provides maternity services, child health care, and pre- and postnatal care awareness. Bamyan provincial hospital, established in 2017, is another contribution that Canada has made to Afghanistan's healthcare. Canada has also provided assistance to train more than 2,000 health care personnel, including doctors, nurses, midwives, and community health workers. Canada's contribution to Afghan health has helped save thousands of Afghan lives
The Dahla Dam and Arghandab irrigation system in Kandahar province are Canada's signature contributions to Afghanistan's infrastructure. These projects irrigate 30,000 hectares of land and offer 5,000 seasonal jobs in the agricultural sector. 
On the peacekeeping front, during their deployment, the Canadian forces were responsible for providing security in Kandahar. Canada supported and trained Afghan security forces in medicine, logistics, communications, and air operations. In collaboration with other partners, Canada has also contributed to the demining program that successfully removed approximately 80 percent of detected landmines and other explosive remnants of war across Afghanistan.
Canada has also supported the ongoing Afghan peace negotiation process. "Canada is closely following the Afghan peace negotiation and hopes that its outcome results in a lasting peace and prosperity in Afghanistan," Canada's then-Foreign Minister François-Philippe Champagne said in a telephone conversation with his Afghan counterpart, Mohammed Haneef Atmar, last September. The Afghan government's vision is that the talks with the Taliban result in enduring peace for the country, one in which Afghans, including women and minorities, will enjoy their fundamental constitutional rights. 
On April 21 of this year, Canada's new Foreign Minister Marc Garneau, in a phone call with Atmar, stated that Canada "remains committed to supporting the Afghan people in their quest for sustainable peace and believes that the protection of human rights and inclusiveness must be central to the peace process."
The government and people of Afghanistan acknowledge that Canada's assistance has had a real impact on Afghans' lives. Although Canada's aid to the country remains instrumental, Afghanistan has enormous potential to contribute to the Canadian economy via trade relations. The current annual bilateral trade between the two countries stands at $21.86 million. Exploring joint venture investment opportunities, especially in Afghanistan's mining, agriculture, renewable energy, information technology, and civil aviation sectors, could bring massive wealth to both economies and enhance overall relations between Canada and Afghanistan.