How Jokowi Solved Indonesia's Toll Road Dilemma. Sort Of.
In breaking through old bottlenecks, Indonesia's president has blurred the lines between the state and private enterprise.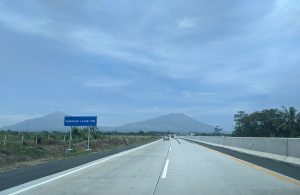 When President Joko "Jokowi" Widodo took office in 2014, the long-stalled Trans Java Toll Road was in a state of suspended animation. As detailed by Jamie Davidson in "Governing the Roads," for years the goal of building a highway crossing the island of Java had been derailed by drawn out battles over land acquisition and disputes between local officials and central authorities in Jakarta. Jokowi promised to break through this logjam and construct 1,000 kilometers of toll roads in his first term. Like many of his ambitious goals, at the time it seemed somewhat unlikely.
But once in office, things moved fast. According to toll road regulator BPJT, from 2015 to 2018 the Jokowi administration constructed 718 kilometers of new toll roads. That is three times as much as the 229 kilometers built during the 10-year administration of his predecessor, Susilo Bambang Yudhoyono. The centerpiece of these efforts, the Trans Java Toll Road, is now largely complete and has reduced travel time between Jakarta and Semarang from 12 hours to around six.
This was accomplished via Jokowi's preferred strategy of using the power of the state to overcome legal and regulatory bottlenecks. State-owned companies like toll road operator Jasa Marga were awarded 30-40 year concessions and tasked with building out the roads. Using SOEs to build toll roads allows the state to invoke certain legal and financial powers that have greatly sped up the pace of construction. For instance, SOEs have access to a special fund called LMAN, through which the government has provided trillions of rupiah of short-term loans to SOEs for land acquisition.
Another financing mechanism is PT Sarana Multi Infrastruktur (PT SMI), a lending facility under the supervision of the Ministry of Finance that provides short-term working capital loans to SOEs in strategic sectors like toll roads. Although PT SMI was created in 2009, it didn't start lending at scale until 2014 when loans increased from 10 trillion to 77 trillion rupiah by 2018. These funding mechanisms have been critical for providing financing to SOEs to cover the capital-intensive costs of land acquisition and construction before the toll roads go into service and can start generating revenue.
State-owned companies can also invoke the legal authority of Law 2 of 2012 on Land Acquisition, a landmark piece of legislation that Jokowi used widely in his first term to speed up the cumbersome process of acquiring land. The legal authority of private companies to acquire land under this legislation is less clear. Ultimately, that is where the logic of using SOEs to build toll roads comes from. State-owned companies have access to financing and legal authorities that don't exist for private companies, and is one reason why private investment in Indonesia has been known to flounder.
But Jokowi's initial success in the toll road sector has created some potential dilemmas of its own. For one, the state is now looking to build even more of them. The Ministry of Public Works announced plans to construct nearly 4,500 kilometers of additional toll roads by 2030. Given that Indonesia is an archipelago, it is unclear if that amount of toll roads is actually needed and eventually the sector will run up against diminishing returns as companies look to make money by overbuilding. Also, the pace of construction on some projects has begun to slow.
But more fundamentally this strategy of using SOEs to build toll roads, and then charging fees to use them, blurs the lines between the state, the provision of infrastructure, and private returns to capital. While an argument can be made that these toll roads are a net good for the Indonesian economy – by reducing logistical costs they will help boost manufacturing and trade – they are by their nature exclusionary because the user fees are expensive. It costs several hundred thousand rupiah to drive form Surabaya to Solo, a price which is far beyond the reach of the average Indonesian worker. Yet the state, through its ownership of the companies that build them, has assumed much of the actual risk involved in constructing and operating them.
If Jasa Marga takes on too much debt and cannot make it back through toll road revenue, ultimately the Indonesian government will be on the hook to cover those liabilities. On the other hand, if Jasa Marga makes money some of those profits will be returned to the state through dividends but a lot of it will also go to pay back investors and lenders. In this way, the state takes on the risk but the profits go to a variety of parties, including private investors. And meanwhile, Indonesians at the bottom of the income ladder are priced out of using it.
This kind of development strategy has been pushed for years by big institutional lenders like the World Bank and IMF. Because the regulatory architecture is so unreliable in Indonesia, they would argue, it is necessary for the state to back these projects and reduce the risk or else private investors will never get involved and no toll roads will be built at all. You can see, based on the slow pace of construction prior to 2014, that this argument has merit.
By throwing the weight of the state behind these public-private toll road projects, more roads were constructed faster than ever before. Jokowi did break through the bottleneck in the toll road sector. In doing so, he also cast a spotlight on some more fundamental questions about the relationship between the state, infrastructure, and private capital. And for those, there are no easy answers.