India Must Impose a One-Time Tax on the Mega Rich to Fund Its Vaccination Program
The pandemic has highlighted India's extreme income inequality — and will mostly likely worsen it.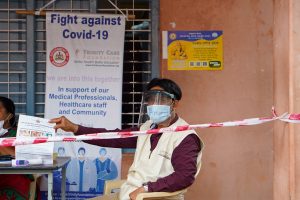 While countless Indian families have been forced to turn to social media and black-market price gougers for hospital beds, oxygen, and medicines, many of India's super-rich have fled the country to the U.K. minutes before it added India to its "red list."
India's spending on public healthcare is among the lowest in the world — the fourth-lowest health budget in terms of its share of government expenditure. Only half the country's population has access to even the most basic healthcare services. And that was before the pandemic.
Approximately 63 million people are forced into poverty every year in India due to high costs of healthcare, a situation worsened by the recent wave of healthcare privatization. According to the World Health Organization (WHO), 66 percent of Indian healthcare expenditure is out of pocket, the highest globally, while the global average is just 18.2 percent.
In February 2021, Nirmala Sitharaman, the finance minister, allocated 2.2 trillion Indian rupees (around $29.9 billion) toward healthcare resulting in an increase of 137 percent from the last year's budget, with 350 billion Indian rupees (15 percent) allocated for COVID-19 vaccination efforts. Some have contested that the 137 percent increase is "misleading" as it also includes water and sanitization (360.2 billion Indian rupees) and overall the Union health budget still remains at about 0.34 percent of GDP – a slight increase from 0.31 percent last year.
Experts estimate that the cost of vaccinating the entire Indian population could be somewhere between 500 to 700 billion Indian rupees for the Union government. Last year, economist S. Subramanian estimated that the total wealth of just 953 of India's richest families on the Hurun Rich list must be approximately  50.3 trillion rupees (around $684.6 billion). This is based on the Hurun Rich List which included 953 Indians with an average wealth of 52.8 billion rupees ($718.4 million).
By taxing just these super-rich families only 1 percent of their wealth, India could fund its entire vaccination program cost of 500 billion Indian rupees ($6.8 billion).
In just the last year the number of people who are poor in India (with incomes of $2 or less a day) is estimated to have increased by 75 million because of the recession induced by the COVID-19 pandemic. Medical debt as disease spreads across the nation will only push many more into poverty this year.
India is the second most unequal country in the world. Its richest one percent hold more wealth than 953 million of the country's population, according to a recent study by Oxfam. Just 63 Indian billionaires had a combined wealth higher than the total Union Budget for the fiscal year 2018-19.
India is the only vaccine-producing country in the world that has shifted the burden to its citizens to pay for vaccines by opening it to private markets with little oversight. In 2015, 92 percent women and 82 percent men in India earned less than Rs 10,000 ($135) a month. The present cost of vaccines will cost most Indians more than half of their monthly wages to afford two doses for a family of four. And that is if we assume that the private hospitals charge the same as their procurement costs. Private hospitals like Apollo, Fortis, and Max are providing vaccinations at between Rs 800-1,300 per dose ($11 to $17.5), finds Bloomberg — pushing the vaccine further out of reach for most Indians.
The Indian Constitution may grant equality to all, but the Indian state has decreed that only those who can afford to pay to deserve to be safe.
India's stagnation in public health spending can partly be explained by the great shift in India's taxation system to favor the rich in the past few years. While many countries are only now debating introducing a wealth tax, the Modi government abolished India's wealth tax in 2016 that was introduced in 1957.
Direct tax collections have been reduced in favor of indirect taxes, like the Swachh Bharat and Krishi Kalyan Cess, and surcharges to compensate for the loss in tax revenue — a tax policy that favors the rich in lieu of the poor. However, increased indirect taxes have not made up for the direct tax revenue loss, leading to a rise in fiscal deficit beyond 4.5 percent of GDP in 2019-20.
The IMF and the U.N. have both called for a wealth tax for those who have profited from the pandemic. Countries like Argentina have already approved a one-time wealth tax on its super-rich of at least 2 percent to pay for its COVID-19 response, and Bolivia's legislature also passed an annual levy on the very wealthy by the end of this year.
This pandemic and India's ensuing economic recession has only highlighted its structural disparities. A one-time wealth tax, while not a panacea, could be a start to alleviate some of the burden on the country's most vulnerable.