Indian Government's 'Vanity' Project in New Delhi Invites Public Wrath
Amid a pandemic crisis and decimated economy, many question the government's insistence on a redevelopment project in the capital.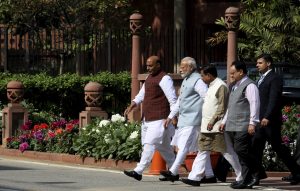 NEW DELHI, INDIA – The construction of a $2.8 billion "Central Vista Redevelopment Project" in the heart of capital city New Delhi by India's Hindu nationalist government has triggered a public backlash.
Launched in 2019, and spread over 86 acres, the four-year project aims to revamp a core administrative area that hosts a galaxy of iconic government buildings. It also envisages the creation of a common Central Secretariat housing all ministries under one roof, a fresh Parliament building, and new residences and offices for India's vice president and prime minister.
Besides an array of 10 buildings within the residence complex, there will also be a dedicated tunnel for Prime Minister Narendra Modi to travel from his residence to his office and the new parliament building. Also, in a move that has raised considerable global concern, three of Delhi's historic buildings – the National Museum, the Indira Gandhi National Centre for the Arts, and the National Archives Annex – will be demolished as a part of the makeover.
As per the plan, a total area of 4,58,820 square meters will be demolished while an existing 9.5-acre district park will be handed over to the realtors to house the new Parliament. Over 15 acres of public and semi-public utilities and playgrounds will also be turned into residential areas.
Given its monumental scale and expense, some have dubbed the ostentatious project as an exercise in "vanity," while others have called the government's move "irresponsible" at a time the nation is battling a humanitarian crisis.
The South Asian country of 1.38 billion is currently ravaged by a devastating second wave of the coronavirus pandemic, with fatalities and infections scaling new highs daily. India to date has reported nearly 27 million COVID-19 infections, accounting for one in five active infections worldwide, and a death toll of over 304,000.
Hospitals are reeling from dire shortages of health workers, vaccines, oxygen, lifesaving drugs, and beds. Mortuaries are meanwhile overflowing. Scenes of disconsolate patients queuing outside hospitals and cremation sites, and pleas for help on social media for oxygen cylinders, plasma donor sand beds are adding to the miserable optics.
Experts blame the mess on one of the world's lowest healthcare budgets – only 1.3 percent of gross domestic product. The underfunded healthcare system has resulted in only five hospital beds and 8.6 physicians per 10,000 population.
Given this scenario, several activists and political leaders have questioned the government's ill-timed decision to squander public money on sprucing up the capital city. "The need for the Central Vista revamp is not as urgent as supplying protection gear required by the medical fraternity and oxygen cylinders and ICU beds required by the poor," said a senior party leader of the Communist Party of India (Maoist) on the condition of anonymity.
In a letter to Modi, 12 opposition leaders, including Congress party president, Sonia Gandhi, asked him to stall the "Central Vista construction and [use] the money for oxygen and vaccines."
Others have pointed out that the project detracts from real and pressing issues – such as rehabilitating the families of millions of poor migrants and farmers who have lost their lives and livelihoods in the pandemic. "History will also record that when the farmers are fighting for the rights for 16 days on the streets, then you were building a palace for yourself in the name of Central Vista," senior Congress leader Randeep Singh Surjewala tweeted.
Despite the widespread criticism though, the right wing BJP government has defended the Central Vista project saying it would "save money" paid as rent for housing central government ministries in Delhi. "Even after 73 year of independence, the nation does not have a central secretariat. Various ministries have hired premises on rent. Thousands of crore of rent is paid for housing central government ministries. This project saves money," Solicitor General Tushar Mehta told a three-judge Bench in the High Court last year.
The lack of transparency in awarding the project to a firm of architects from Gujarat known to be close to the prime minister sans any Parliamentary discussion or public debate has also alarmed many.
Of paramount concern to the creative community, though, is the irrevocable loss of cultural heritage the project will entail. An international group of 80 artists, curators, scholars, and historians appealed to the government to stall the construction on the project forthwith in light of the public health emergency the nation faces.
"It is especially troubling," note the letter's signatories, which include eminent historian Romila Thapar, Harvard professor Homi K. Bhabha and Glenn Lowry, director of the Museum of Modern Art, New York,  "that this extravagant project is moving ahead in the midst of a devastating pandemic, endangering workers, and squandering scarce resources that could be used to save lives."
Some architects have pointed out that the project also violates several clauses of Delhi's original Master Plan as well as The Ancient Monuments and Archaeological Sites and Remains Act, according to which tearing down historic structures is unlawful.
Historian Jayanthi Subramaniam, former associate professor at the Department of History, Delhi University, pointed out that apart from razing buildings of national importance, the large scale shifting of prized antiques and historic documents to new venues is fraught with risks.
"By shifting items like priceless paintings, rare manuscripts, sculptures and jewelry currently housed in the National Museum to other quarters, they may be irreparably damaged or lost during transit," she said. "These objects are of great cultural and historic significance to our country. Who will take responsibility for that?"
The historian points out that the National Archives of India is the repository of rare manuscripts, maps and Mughal documents and other invaluable treasures, while the National Museum contains thousands of rare idols, valuable coins, paintings, and jewelry vital to the political and cultural history of the nation.
Worse, she adds, is the demolition of the Annex building of the National Archives. "It is a remarkable showcase of a huge collection of rare manuscripts and files from Indian history. The rushed destruction of these structures will damage world-renowned institutions that have been painstakingly built over decades."
Ironically, barely a few kilometers from where the flamboyant new vista is being constructed sprawls a slum dwelling called Yamuna Khadar along the Yamuna river's floodplains. Thousands of poor live here in penury and Dickensian squalor, not knowing where their next meal will come from. The juxtaposition of the government's glitzy new offices with the slum's deprivation will be a stark reminder of the state's apathy to the underprivileged, which has come to define India these days.