Kyrgyzstan's Worrying New Limits on Dissent
Kyrgyzstan's president continues to sharpen the country's legal code as a tool to limit dissent.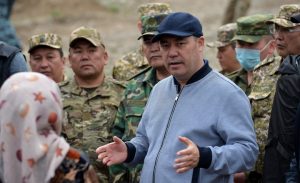 On May 5, Kyrgyzstan's President Sadyr Japarov signed into law the constitutional amendments approved in last month's referendum. May 5 is Constitution Day in Kyrgyzstan, but it also marked a week after the resurgence of violence on the country's border with Tajikistan that left tens of thousands displaced, hundreds of homes destroyed, and at least 36 people dead. The conflict was the first major test of governance for recently-elected Japarov, and it arguably marks the end of the president's honeymoon phase.
Just as society mobilized to provide medical care and food during the worst wave of COVID-19 last summer and groups of young people stood guard against looters during the unrest in October, it was volunteers – not the government – that stepped up to house and feed those displaced from border villages. While Kyrgyzstani society cares for itself, government authorities are busy sharpening the constitution as a tool to limit dissent. 
Experts have critiqued the constitutional amendments for slashing checks and balances on presidential power, but the constitution is not the end-all-be-all of Kyrgyzstan's legal framework. An overhaul of Kyrgyzstan's Criminal Code is in the works, with an appointed working group expected to release a draft in the next two weeks. One particularly worrying change to the Criminal Code is the addition of "political enmity" to the scope of prosecuting extremist groups. This is in addition to vague language about inciting ethnic hatred, a charge that has been used to punish political opposition and silence those speaking out against human rights violations.
Japarov's administration has taken a liberal interpretation of existing extremism laws to limit dissent. In April, several activists and academics who criticized the government on social media were arrested on grounds of treason and calling for violent seizure of power; another academic was detained for Facebook posts supposedly fostering ethno-religious discord. Further expanding the definition of extremism to include inciting political enmity gives authorities more leverage to restrict free expression.
This is especially troubling in light of the violence on the Kyrgyzstan-Tajikistan border, which escalated from civilians throwing rocks on April 28 to a full-scale military operation. Despite a ceasefire on April 29, the situation remained tense for several days, with periodic shooting in Kyrgyzstan's southernmost Batken province over the weekend. As Kyrgyzstani media watchdog FactCheck.kg put it on May 3, the "fog of war" has been especially dense. Misinformation and bot accounts on social media have hardened nationalist narratives on both sides of the border, a problem made worse by a lack of transparency in high-level communication between the two countries. Lower internet access and tighter control on journalism and public commentary in Tajikistan meant that most information about the border clashes came from the Kyrgyz side.
With more information comes more room for criticism, though. On May 6, Japarov visited Maksat village, one of those hardest hit during the violence; journalists were barred from recording his meeting, which the president's press secretary explained as an attempt to avoid it becoming a "PR stunt," but which also speaks to Japarov's aversion to criticism. Indeed, at Japarov's visit to Maksat, Sadyrbek Samatov was dismissed as a "provocateur" for asking the president to clarify the conditions of a peace agreement between Kyrgyzstan and Tajikistan. Just a few days before, on April 30, Eurasianet reporter Ayzirek Imanaliyeva recounted a journalist from Sputnik being shoved and dragged away at a press conference for Kamchybek Tashiyev, head of the State Committee for National Security, in Batken City. 
This hostility toward journalists, toward citizens asking questions, and toward experts critiquing the government is a worrisome development. The fact that Japarov and others in charge are institutionalizing this hostility through changes to Kyrgyzstan's constitution and legal code is even more disconcerting and has triggered calls for unified resistance from local activists, political independents, and the international community alike.