Sri Lanka Teaches the World How Not to Respond to COVID-19
Bungled communications and ethnic profiling have become hallmarks of Sri Lanka's pandemic response.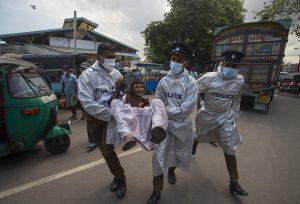 In Sri Lanka, a deadly third wave of the COVID-19 pandemic rages on, disrupting every aspect of life, from the economy to education. The number of COVID-19 deaths is nearing the 1,000 mark, while nearly 30,000 active cases are inundating hospitals. But this shouldn't come as a surprise.
The recent surge in COVID-19 cases came just after the April festive season in Sri Lanka. During the traditional Sinhala and Tamil New Year celebrations, which typically fall mid-month, people throng the markets to buy apparel in the auspicious color of that year. When photographs emerged on social media of massive crowds lining up at street vendors in Pamunuwa, an area of Colombo known for fabric retailers, Public Health Inspectors, a segment of Sri Lanka's health workers who have had to bear the brunt of the pandemic, cautioned both the government and the public. They repeatedly urged the government to impose an island-wide lockdown. But their plea fell on deaf ears. The Sinhala and Tamil New Years were observed, sans any restrictions.
A defining tradition of the Sri Lankan New Year is to visit family and friends near and far, bearing gifts. Those who typically celebrate the new year, as well as those who don't, took this as an opportunity to take inland road trips and vacations. A couple of weeks later, cases began to rise rapidly, overwhelming the state's mandatory quarantine care facilities. Soon, the intensive care units of a delicate hospital system were at full capacity. By May, hospitals were inundated.
So, why wasn't the government able to prevent the utterly predictable catastrophe? Preventing an outbreak was especially critical because the vaccination rollout continues at a snail's pace, with the primary supplier of Sri Lanka's vaccines, the Serum Institute of India, dealing with crises of its own. The lack of preparation, communication, and coordination in managing a pandemic has real world effects. Sri Lanka is an ideal example of how this delicate process, if managed poorly, can have grievous consequences.
COVID-19 Communication: How Not To Do It
According to the country's deputy director of health services, the surge in cases is expected to last for a few more weeks at least. The state's official response to the escalating numbers was to issue a garbled list of guidelines, which seemingly no one could comprehend. After days of dragging its feet, the government announced extensive travel restrictions, the terms of which sounded much like a curfew, though authorities insisted that this was not the case.
The new guidance stated that no persons would be permitted to be out of their homes between 11 p.m. and 4 a.m. every night until May 31. But instead of issuing a blanket guideline, which would make this regulation apply for every day during that period, the government stated that on Friday evening, these rules would be subject to change. The restrictions would be in place for the whole weekend, the government said, adding that people would only be allowed to venture out of their homes according to the last digit of their national identification card (NIC). Interestingly, none of these rules applied to those currently expecting to receive the vaccine (which is millions of people), nor those employed in important economic sectors, such as apparel and agriculture.
None of these guidelines was clear or cohesive. In just minutes, the state announcement was responsible for hundreds of memes circulated on social media. Satirical news websites and comedians were quick to jump on the bandwagon, while several influential members of the virtual community began posting interpretations of their own.
One social media user named it "Schrodinger's Curfew," after the thought experiment in quantum mechanics. This imaginary experiment is one of the most famous, yet most misunderstood concepts about physical reality. The government's five page guideline was deemed a good candidate for a similar thought experiment.
Authorities Rebrand Current Situation Schrödinger's Curfew In A Bid To Clarify The Guidelines. #lka #NewsCurry pic.twitter.com/jq6IPeJ5o8

— NewsCurry (@NewsCurrySL) May 11, 2020
As newsrooms struggled to decipher the document and tally the instructions with those issued by the police, panic buying was already setting in. Most employees at both state and private workplaces retreated to their homes.
A moment of appreciation for the journalists who were able to decipher today's communiques from the Govt. regarding the curfew/lockdown/movement restrictions that may or may not apply based on your profession/ID Number/day of the Month.#lka #CodeBreakersLK

— Dinouk Colombage (@Dinouk_C) May 12, 2021
While users of social media took them in jest, the guidelines were a nightmare for daily wage-workers and those who commute to the capital Colombo on a regular basis for business and employment. Inter-provincial transport had been suspended a few days earlier. The bungled communications didn't help the average person understand what to do and when to do it, nor to comprehend how bad the situation really was.
Basically I'm just going to stay home until June because that's when all the restrictions and rules will be clearer to me.

— Iromi Perera (@iromip) May 12, 2021
The Confusion: Innocent or Deliberate?
According to critics of the government, the confusing guidelines were by no means an innocent mishap on the part of the communications arm of the state. The decision to impose strict travel restrictions ahead of the three-day weekend was purely discriminatory, opposition parliamentarian Mujibur Rahman claimed. Addressing a press briefing, Rahman argued that the restrictions targeted Sri Lanka's Muslim community, which observed Eid al-Fitr on Friday, May 14.
When public health officials pleaded with the state to impose restrictions earlier, the government turned a deaf ear, the MP pointed out. "Health experts were urging the government for travel restrictions and for a lockdown from April this year, but the government turned a deaf ear," Rahman said. "Finally, travel restrictions were imposed, and it was announced that people will be able to go out on the basis of the last digits of national identity card. However, it was announced suddenly yesterday morning that people cannot go out at all. This is a decision based on a racial attitude of the government."
Rahman added, "If our festival of Ramadan fell in April the government would have gone for a complete lockdown by now. Unfortunately, it fell during this month."
Since the outbreak of the pandemic, Sri Lankan Muslims – a minority group – have suffered the state's discrimination, he said. "The government showed the same attitude when an issue arose with regard to the last rites of COVID-19 victims. Burying of COVID-19 victims was allowed only after the prime minister of Pakistan made a request," he said.
The government of Sri Lanka has followed a strict policy on COVID-19 deaths, permitting only the cremation of corpses. Despite internal and external pressure to permit Muslims to bury their dead, the authorities only changed their stance following a recent visit by Pakistan's Prime Minister Imran Khan. A requirement was then introduced stating that victims of COVID-19 would only be allowed to buried on Iranaitivu, a remote island inhabited predominantly by Tamil Catholics, who in turn protested the move.
This, however, is not the only instance in which racial and social profiling has been an obvious feature of Sri Lanka's pandemic response. Earlier in the year, when the government relaxed COVID-19 regulations in phases, crowds began to gather while resumption of normal activities was encouraged. The reasoning offered by the state pointed toward an ailing economy. The island's tourism sector suffered extreme setbacks following the Easter Sunday Attacks of 2019. Meanwhile the migrant workers who were the leading source of foreign capital to Sri Lanka were forced to return home.
When rules were ignored, law enforcement looked the other way, especially when high-profile events, such as an upcountry equestrian sports event attended by socialites and dignitaries, visibly flouted COVID-19 regulations.
But as cases began to rise, the administration of law and order was clearly discriminatory. Videos emerged of groups of police personnel carrying and sweeping away men, young and old, who were flouting health guidelines in public. While many encouraged the move, questions were asked as to why this practice was only reserved for the public of Sri Lanka's north, the homeland of the country's Tamil minority. As criticisms poured in, PPE-clad officers in the capital followed the same abduction-style policing in the ghettos of Colombo. Until the unofficial curfew this week, no such instances were recorded in the upscale neighborhoods of the capital. The police media spokesman later said that police officers had been instructed to refrain from carrying people into detention.
The weekend's strict unofficial curfew came to an end in the early hours of Monday, May 17. Later that day the government announced that another set of strict – yet confusing – restrictions will be imposed come Friday, encouraging people to stay at home.