Thailand's Prison Overcrowding Crisis Exacerbated by COVID-19
Even before the COVID-19 pandemic, prisons in Thailand were already in a state of crisis. Reform is long overdue.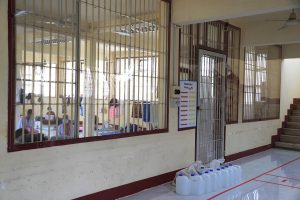 In less than a week, Thailand's Department of Corrections has reported over 11,000 new COVID cases in 13 of the country's prisons. When the daily number of new COVID-19 cases reached a record high for the entire country on Monday, May 17, 71 percent of the 9,635 new infections reported were in prisons. Thailand now has one of the world's highest number of COVID-19 cases in prisons — only Brazil, Colombia, India, and the United States have more cases — and the highest in Southeast Asia, according to available data tracked by the Justice Project Pakistan.
Even before the COVID-19 pandemic, prisons in Thailand were already in a state of crisis. A report published by the Thailand Institute of Justice in March 2021 highlighted that Thai prisons have one of the highest rates of overcrowding in the world and the world's highest share of incarcerated women (14 percent of the prison population). With over 300,000 people in prison, Thailand also has the largest prison population in Southeast Asia, even though the total population is far less than neighboring countries Indonesia and the Philippines.
More than 80 percent of people in prison in Thailand are held for a drug offense, mostly in relation to the substance methamphetamine (also known as "yaba" or "shabu" in the region) and predominantly for possession with intent to sell. The majority of cases involve relatively small amounts. In its report, the Thailand Institute of Justice notes that one of the main drivers of over-incarceration is the exceedingly low threshold amount of drugs that defines intent to sell when someone is caught with possession of methamphetamine: 375 mg or more of pure substance can lead to a sentence of between four years to life imprisonment.
Research carried out by Ozone Foundation, the largest NGO provider of health services for people who use drugs in Thailand, in collaboration with the International Drug Policy Consortium, shows that the majority of women in prison for drug offenses have low rates of education and literacy, are mothers, and almost half of them had no legal representation during their trial. It highlights the socioeconomic vulnerabilities and unequal and inadequate access to justice that, in combination with disproportionately punitive drug laws, created the prison crisis that has been brewing in Thailand over the past decade.
In response to the outbreak of COVID-19 in prisons, Minister of Justice Somsak Thepsuthin announced plans for increased testing, vaccinations, medical care, and possible early release of 50,000 people. The minister also stated that there will be changes to Thailand's drug laws to shorten prison sentences for minor offenses and to shift toward rehabilitation programs in order to reduce costs and overcrowding. While these goals are laudable, merely shortening prison sentences is not likely to achieve them. Reforms to the drug law were already adopted in 2017 to reduce the length of sentences, but did not succeed in scaling down the prison population, as people continued to be incarcerated for drug offenses at the same alarming rate.
Meanwhile, the United Nations has noted grave concerns regarding growing global prison numbers and the public health risk posed by communicable diseases, like COVID-19, in overcrowded prisons. This week saw the release of a U.N. Common Position on Incarceration, which called for "a holistic reform approach aimed at addressing the root causes of overincarceration and overcrowding, and shifting policies towards prevention and alternatives to imprisonment," including decriminalization of minor offenses, and evidence-based and voluntary drug treatment. It follows a 2018 U.N. Common Position on drug policy, which promoted "measures aimed at minimizing the adverse public health consequences of drug abuse, by some referred to as harm reduction" and "alternatives to conviction and punishment in appropriate cases, including the decriminalization of drug possession for personal use."
Given the additional problem of compulsory drug rehabilitation programs in Thailand, in which over 100,000 people were detained in 2019 (then dropping to about 51,000 as of October 2020, possibly due to COVID-19 prevention efforts and a shift toward voluntary drug treatment programs), reforms to both the prison and drug rehabilitation systems in Thailand are sorely needed. Savings in expenditures on criminal justice responses to drug-related activities, especially drug use and dependence, could be shifted to boosting the provision of evidence-based and voluntary drug treatment programs.
In the immediate term, Thailand should urgently release vulnerable people in prisons and those with less than 18 months left to serve as well as halt the entry of people into prisons and other detention facilities in order to stop the alarming spread of COVID-19 in overcrowded settings. A bigger question is when Thailand will take genuine steps to address its untenable crisis of mass incarceration. As Nelson Mandela said "It is said that no one truly knows a nation until one has been inside its jails. A nation should not be judged by how it treats its highest citizens, but its lowest ones."