The International Brouhaha Over Fukushima Treated Water
The criticisms from China and South Korea are missing some crucial points.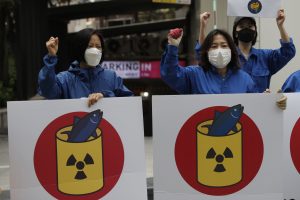 It has been ten years since Japan's massive earthquake and the disaster at Fukushima Daiichi Nuclear Power Plant, and still the repercussions continue. The injection of large volumes of water to keep the remaining fuel in the broken reactors cool combined with the inflow of groundwater and rainwater into the site have generated huge volumes of water contaminated with radioactive materials. This contaminated water is then treated using an Advanced Liquid Processing System (ALPS), a multi-nuclide removal system that can remove most of the radioactive elements. Water processed in this way is referred to as "treated water." However, the ALPS cannot remove the radioactive substance tritium. As such, while "treated water" is certainly different from contaminated water, the presence of tritium means that it is not completely clean.
Tokyo Electric Power Company, which is responsible for managing the situation at Fukushima, has been storing ALPS treated water in tanks on site. However, the site is running out of storage space so the water has to be disposed of in some way. If storage space runs out, the only viable option is to discharge the treated water into the Pacific Ocean.
Within science, tritium is known as a naturally occurring substance that emits only weak radiation. Therefore, as long as the water is diluted before release, any impact on health is negligible. Nonetheless, some countries have condemned the plan to discharge treated water. South Korea's Ministry of Foreign Affairs issued a statement criticizing the fact that Japan made the decision without consulting its neighbors and without regard for the impact on public health. South Korean President Moon Jae-in expressed his intention to refer the case to the International Tribunal for the Law of the Sea (ITLOS). Meanwhile, China summoned the Japanese ambassador in Beijing, notifying him that Japan was suspected to be in violation of international law and conveying the message that the water should not be discharged until an agreement is reached. Western media reports, too, referred to the release of "contaminated water" and inaccurately reported the risk to public health.
The director general of the International Atomic Energy Agency, Rafael Mariano Grossi has in contrast found that the discharge of treated water into the ocean complies with international standards and is in line with international practice. The U.S. government supports this judgment, deeming the release of treated water to be scientifically acceptable. Even within South Korea, science-based evaluations support the Japanese government's decision, with the Korean Nuclear Society assessing the impact that the release of treated water would have on human health as negligible.
The fact that South Korea has been quick to criticize Japan and indeed went so far as to announce plans to refer the matter to the ITLOS seems to reflect the preconceived notion in Seoul that Japan's actions are evil in principle and will always have negative consequences for South Korea. China, meanwhile, may have calculated that criticizing Japan would give it a diplomatic edge that could be used in disputes over other issues.
It is of course possible to interpret the Chinese and South Korean reactions as an expression of their distrust of Japan, distrust that stems from disputes over differences over perceptions of history. Given those disputes, it is not surprising that the two countries are unwilling to put much stock in Japan's official announcements.
Yet to reflexively criticize Japan's decision, ignoring objective and scientific facts and refusing to consider what would happen if Japan did not release the treated water into the ocean, seems a shallow approach. If China and South Korea were to continue to adopt this sort of diplomacy, not only would it worsen their relations in Japan; it would also have repercussions for their own international credibility.
Certainly, the disputes over history that Japan has with China and South Korea need to be resolved. But reacting emotionally to issues that can be assessed scientifically is a defeat for diplomacy and for reason. If Japan's East Asian neighbors wish to improve bilateral relations, restoring those two things – diplomacy and reason – must be a priority.