The US Must Defend Taiwan – From COVID-19
The U.S. commitment to Taiwan under the Taiwan Relations Act applies to more than just a military invasion.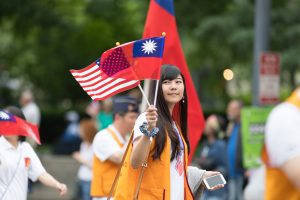 Taiwan is under attack. And it's time for the Biden administration to acknowledge this fact and take steps required to help the self-governed island off the coast of mainland China.
Until recently, Taiwan had recorded close to zero COVID-19 cases for the entire year.  But it's now battling a surge in cases.  More than a thousand new cases were recorded last week and only 1 percent of the population is vaccinated.
Beijing has offered to provide Taiwan with Chinese-manufactured vaccines, but Taipei has refused.  And the authorities in Taiwan accuse China of applying "political pressure" to hobble their efforts to acquire vaccines from elsewhere.  Meanwhile, people in Taiwan are dying.
The United States does not have an "iron-clad" security commitment to assist Taiwan. As President Jimmy Carter observed in 1979 when signing the Taiwan Relations Act (TRA) — the legislation that guides U.S. policy toward Taiwan — the law only provides a president with the option to protect the island. Still, this is significant as the TRA means that the United States is Taiwan's only potential security partner.
In recent months, Taiwan's increasingly precarious security equation has grabbed a lot of media headlines.  According to a May 1 cover story in the Economist, it is now "the most dangerous place on earth." Not surprisingly, there appears to be no shortage of proposals to bolster Taiwan's security. Many U.S. lawmakers want to sell more weapons to Taiwan. As it stands, the United States agreed to sell over $5 billion in arms to the island in 2020. Other voices are even calling for U.S. troops to return to Taiwan — a move that would likely create an earthquake in international affairs and could entrap our country in a cataclysmic conflict with China.
What many of Taiwan's friends in Washington seem unable to understand is that security means more than "guns and rockets" or protection against a military attack. It includes non-military dimensions — including protection against threats to public health. And the TRA calls for the United States to protect Taiwan against all such threats.
According to Section 3 of the TRA, "the President is directed to inform the Congress promptly of any threat to the security or the social or economic system of the people on Taiwan and any danger to the interests of the US arising therefrom" (emphasis added).  And Washington is required to take "appropriate action…in response to any such danger."
It is clear that Taiwan now confronts an enormous threat to its security, social system, and economic system — COVID-19.  And although Taiwan is an advanced society with a modern universal healthcare system, it is also one of the most densely populated places on earth. Almost no one is vaccinated and disease can spread rapidly. Given these facts and the TRA's call for Washington to take "appropriate action" when the island is threatened, the U.S. needs to do whatever it takes to help Taiwan's people obtain vaccines now — before it's too late.