We Don't Need to Wait on the UN to Expand Taiwan's International Role
Liberal democracies can, and should, develop their own bilateral and multilateral exchanges with Taiwan, even while pushing for its inclusion in the WHO and other U.N. bodies.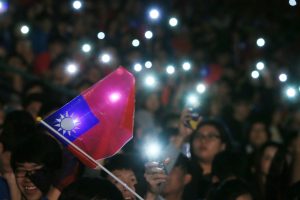 The G-7 Foreign Ministers' May 5 statement in support of Taiwan's participation in the World Health Organization (WHO) is welcome but not sufficient. Liberal democracies can and should do more to undermine China's efforts to isolate Taiwan. Moreover, given Beijing's substantial influence within key international organizations they will need to be creative.
The news was welcome for several reasons, most notably because it is the first joint statement of this kind since the outbreak of COVID-19. Previously, supporters of Taiwan have been left wanting as the world's liberal democracies either remained silent or offered piecemeal remarks. The communique's clarity is also a step in the right direction. A 2019 G-7 statement in relation to the blocking of Taiwan from the International Civil Aviation Organization vaguely spoke of including "all active members of the international aviation community." This one came right out with it and mentioned "Taiwan" directly.
Yet the statement remains a symbolic gesture. While it will help to ease the effects of Taiwan's forced isolation, it will do nothing to solve the issue of the country's continued exclusion from WHO forums and the World Health Assembly. This is a whole other challenge.
WHO Director-General Tedros Adhanom Ghebreyesus' pro-Beijing positioning throughout the pandemic points to the scale of this challenge. Moreover, it should be remembered that even during the height of the COVID-19 crisis last year, when the world was supposed to be pulling together and Taiwan was succeeding in containing the virus, Taipei postponed its bid to participate in the WHA. Presumably, it did not have enough support even then. If this is indeed the case, then we can expect progress on this front to be slow and difficult.
However, Taiwan, its supporters, and liberal democracies should not see Taiwanese participation at the United Nations or its specialized agencies as the be-all and end-all of Taiwan's inclusion in global affairs. In the meantime, there are plenty of other steps that can be taken to ensure the international community benefits from Taiwan's experience and expertise, particularly in relation to public health.
Countries could unilaterally enhance their exchanges with Taiwan. Unofficial relations do not preclude this. In this area the United States has led the field. Last year saw then-U.S. Secretary of Health and Human Services Alex Azar travel to Taiwan to meet with the country's Health and Welfare Minister Chen Shih-chung, and members of Taiwan's Centers for Disease Control. If other countries wanted to learn from Taiwan successes, they could do the same.
They could also hear from Taiwanese health experts at a workshop hosted by the Global Cooperation and Training Framework (GCTF). This new platform, established by Taiwan and the United States, already ran a session, during the summer last year, on preparing for a second wave of COVID-19. The beauty of the GCTF is that it facilitates multilateralism free from Beijing's lobbying and vetoing by bringing together participants from governments, the private sector, and civil society to discuss an array of cross-border challenges. With engagement from countries as far away from Taiwan as the United Kingdom, the Netherlands, and Sweden, and with plans to expand the platform further, this may be the most expedient way for Taiwan to share its knowledge with likeminded countries. Other groupings may wish to emulate this approach, perhaps even the G-7 itself.
The irony may not have escaped some that a grouping of the world's leading democracies, which does not include Taiwan, is complaining about Taiwan's exclusion from the international community. It is a situation made even more absurd given that Australia, India, and South Korea have been invited to this year's summit as a possible precursor to the D10 "club of democracies." Why not Taiwan?
Taiwan's democratic credentials are undisputable and while the size of its economy may not match the rest, the critical role the country plays in the global supply of semiconductors ought to warrant it a seat around the table. Of course, One China policies and a lack of diplomatic recognition will complicate things, but it's not an excuse for inaction. Perhaps U.K. Prime Minister Boris Johnson, as the host of this year's summit, could reach out to Taipei and get their input into the G-7 Health Track.
This may need to be done via a specially appointed envoy for the sake of maintaining the appearance of unofficial relations. However, the point is it can be done. Liberal democracies can also step up their bilateral exchanges with Taiwan, and their participation in the multilateral GCTF. All these steps can be undertaken while liberal democracies call for and work toward ensuring Taiwan's participation in established bodies like the WHO.