Afghan Children Are Paying the Price for Global Vaccine Inequality
If Afghanistan is any example to go by, it is blindingly apparent that we have failed to live up to big promises of global solidarity.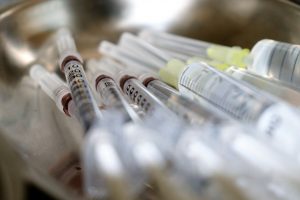 After the WHO declared a pandemic in March 2020, many countries, especially wealthier nations, paid little attention. It wasn't until countries like Italy and Spain collapsed under the strain of the first wave of COVID-19 that much of the world began to realize how devastating the virus could be.
As nations with strong healthcare infrastructure began to feel the strain, the first cases of COVID-19 began to crop up in places like Afghanistan or crowded refugee camps. Concerns grew exponentially; if countries with abundant resources were struggling to cope, how could the world support those without? At the beginning of the pandemic, there was much talk about how there would be no "business as usual," about global solidarity and protecting the most vulnerable. Would our global systems, meant to protect human rights, dignity, and equality, do what they were actually supposed to do and ensure no one was left behind?
More than a year later, if Afghanistan is any example to go by, it is blindingly apparent that we have failed on all accounts.
As is so often the case, it is children who are paying the harshest price. With cases in Afghanistan at a record high, schools across the country have closed once again. Meanwhile, wealthy, vaccinated, nations celebrate a return to normal life – a normality that is simply not accessible for countries without deep pockets.
Afghanistan has received less than 1 million vaccine doses – some half a million AstraZeneca vaccines donated from India, and Sinopharm vaccines purchased from China. As of today, less than 1 percent of the population has been fully vaccinated. Afghanistan is not even close to their initial target of vaccinating 20 percent (just under 8 million) of the population by the end of 2021.
Since May 1, cases of COVID-19 in Afghanistan are estimated to have risen by over 700 percent — and this figure is likely to be hugely underreported. Last week it was reported that, due to supply chain issues, the next shipment of 3 million doses promised by the World Health Organization through COVAX will be delayed for months. With supplies exhausted, Afghanistan's vaccine drive has come to a standstill.
With schools now closed again to control the virus, Afghan children – who have already lived their entire lives affected by war – have again had their only chance to build a better future stripped away from them. Recent data from Save the Children show that Afghan children may have lost up to 13 percent of their lifetime schooling, with figures as high as 21 percent for girls. These numbers are now likely to become much higher.
Further research by Save the Children in late 2020 found that 82 percent of child respondents in Afghanistan have been learning "a little bit" or "nothing at all" during school closures due to poverty, lack of access to learning materials and teachers, and, especially for girls, increased household chores. Save the Children and its partners will continue to work alongside the government of Afghanistan to reduce the impact of the pandemic on vulnerable communities, but only so much is possible without equitable access to the vaccine.
Over the last year we've learned some hard lessons. We've learned about loneliness and loss. We've learned how fragile our health systems are, even in the most developed nations. We've learned that the only way to end a pandemic anywhere is to end it everywhere. And, most recently, we've learned of the threat we face from new, more contagious and deadly variants, or worse, variants that are able to evade our vaccines entirely.
In a bid to reduce the risk of new variants, countries like the U.K. have delayed the second dose of the vaccine by up to 12 weeks, as the scientific evidence showed clearly that it was much more effective to vaccinate more people with one dose than fewer people with two.
That this same logic is not being applied to countries like Afghanistan (who are unable to purchase or produce a vaccine) to give them a chance to start supplying a first dose to their populations is nothing short of hypocrisy. Statements of global solidarity ring hollow without the actions to back them up.
While almost 60 percent of people in some countries have had two doses, countries like Afghanistan – now in the grip of a third wave comparable to the devastating first waves that swept Europe last year – have seen their vaccine supplies run dry.
The international community, especially nations with surplus vaccines, must urgently meet their global obligation to distribute the vaccine to countries like Afghanistan, which do not have the means to purchase or produce it themselves.
Until this shameful global injustice is rectified, it will be Afghan children who learn the hardest lesson of all.