American Pacific Islanders Deserve Protection – In the Pacific
It's past time to provide U.S. maritime protection to American Samoa.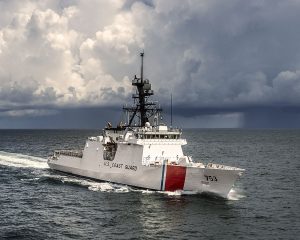 When I represented the United States at the 7th ASEAN-U.S. Summit in Bangkok in 2019, I had a clear message for our allies and adversaries in the region: America is a Pacific power. America's Pacific orientation does not arise just from our continental West Coast. We are a Pacific Island nation comprised of Alaska's Aleutian Islands, Hawaii, the often overlooked territories of American Samoa, Guam, and the Commonwealth of the Northern Marinara Islands, and nine Pacific possessions, together with their vast exclusive economic zones (EEZs).
The Pacific Islands have enjoyed over 75 years of post-World War II peace secured by the United States military. Thus, it is easy to forget that they were once on the frontline of the battle for freedom. Shortly after the attack on Pearl Harbor, on January 11, 1942, Naval Station Tutuila on American Samoa, an essential link in the chain of islands that preserved communications and sea lanes connecting the United States, Australia, and New Zealand, was raided by an enemy submarine.
Nine days later, a Marine brigade arrived to protect Pago Pago, the deepest natural harbor in the South Pacific. American Samoans enlisted in the Fita Fita Guard and the Maligi Samoa Marines. Had the Battle of Midway not been a pivotal victory for the United States, American Samoa could have been the next major target.
American Samoa, the only American territory south of the equator, continues to have the highest proportional military enlistment rate of any state or territory in the United States and its geographic importance has not changed. Yet unlike Hawaii, Alaska, or Guam, there is almost no U.S. military or maritime law enforcement presence in this American territory.
Samoans have a fierce and proud seafaring tradition. Their fisheries are essential, both economically and culturally, to the well-being of the territory. However, in the last decade, American Samoa's tuna catches have declined sharply, and island canneries have had to be shuttered or abandoned. A major cause is that Chinese fishing vessels have been unlawfully and irresponsibly harvesting the resources of American Samoan sovereign waters.
China's strategy for dominating the Pacific, at least until recently, has been quieter and more nuanced than was imperial Japan's. Illegal, unreported, and unregulated (IUU) fishing in the sovereign territories and EEZs of Pacific nations is one part of its overall strategy. China operates a maritime militia also known as "little blue men" comprised, in part, of its vast commercial fishing fleets that range farther south and east into the Pacific every day.
Like they do in other Pacific locales, Chinese trawlers overfish American Samoan waters, thereby forcing American canneries to close. Then Chinese companies offer to "partner" with American Samoans to re-open the same canneries they effectively shuttered in the first place. China thus gains a foothold in the local economy and political leverage in a strategic American territory. The same playbook is used around the region.
Watching this situation develop, the Trump administration's National Security Council determined that it was time to take action. In October 2020, I announced that funds had been secured to conduct a feasibility study to permanently base a U.S. Coast Guard cutter in American Samoa.
As I said at the time, the Coast Guard, with its growing fleet of National Security, Fast Response and, soon-to-be-built Offshore Patrol Cutters, is ideally suited to conduct maritime security missions, such as fisheries patrols; enhance maritime domain awareness and enforcement efforts in collaboration with regional partners, who have limited offshore surveillance and enforcement capacity; and ensure freedom of navigation in the Pacific Islands. In addition to the new cutters slated for basing in Hawaii and Guam, it makes sound geopolitical and economic sense to base a cutter in American Samoa.
Over the past several months, the Biden administration has rightly expressed a desire to protect members of our Asian American and Pacific Islander communities. American Samoans, with their proud legacy of contributing to our national defense, should have their territory, economy, and way of life secured in their Pacific home as well as on the U.S. mainland. Restoring the infrastructure of Naval Station Tutuila and the permanent deployment of a U.S. Coast Guard cutter to Pago Pago would be a good place to start.