Bilateral Bond Between Pakistan and Russia Deepening
Both countries believe that a political settlement in Afghanistan is necessary for regional peace and stability.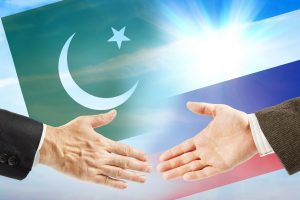 In the past decade, Pakistan and Russia have made concerted efforts to establish the foundation for a mutually beneficial relationship amid deteriorating regional security and dramatically shifting geopolitical competitions.
Last week, Russian Foreign Minister Sergey Lavrov and his Pakistani counterpart Shah Mehmood Qureshi agreed to work closely for a negotiated political settlement of the Afghan conflict. The phone call came two months after Lavrov's trip to Islamabad – the first visit by a high-level Russian official in nearly a decade.
Both Islamabad and Moscow suffered an economic crisis and diplomatic fallout in the aftermath of the Soviet war in Afghanistan. Yet, bilateral ties remained strained due to Pakistan's proactive pursuit of the United States' strategic objectives and Russia's continuing strong ties with India.
It was only around 2010 that the relationship between Islamabad and Moscow improved remarkably, with high-level visits and arms sales. In April 2018, General Qamar Javed Bajwa became the third consecutive Pakistani army chief to visit Moscow. His trip resulted in the setting up of a Joint Military Commission between the two countries.
When U.S. President Donald Trump ended Pakistan's participation in its International Military Education Program, Islamabad went on to sign a Security Training Agreement with Moscow for training of Pakistani military officers in Russian military institutions for the first time in its history.
Meanwhile, the regional security situation has deteriorated further in recent years. With the U.S. fast-tracking a withdrawal of its troops from Afghanistan and talks between the Taliban and the Afghan government stalled, violence in Afghanistan has intensified. The possibility of a civil war looms and regional stakeholders are apprehensive that a civil war in Afghanistan would have spillover effects for neighboring countries.
Instability in Afghanistan has increased homegrown militancy in Pakistan especially in the western provinces of Khyber Pakhtunkhwa and Balochistan and along the tribal belt.
A volatile relationship between the U.S. and Pakistan, the mounting confrontation between Moscow and Washington, and the growing U.S.-India strategic partnership have given Pakistan and Russia a Machiavellian common cause to reassess bilateral ties.
The underlying motivation for Pakistan and Russia to come together lies in their shared rationale that the only viable solution for regional peace and stability is a political settlement in Afghanistan.
Parallel to the U.S.-Taliban peace talks, Russia has been hosting intra-Afghan dialogues. Interestingly, both the U.S. and Russia have excluded the current Afghan government from peace efforts. Pakistan is facilitating both initiatives.
Under a Shanghai Cooperation Organization mandate, Russia and Pakistan have pledged to jointly tackle growing threats such as the Islamic State in the region post-U.S. pullout.
Russia realizes the vitalness of Pakistan in any settlement of the Afghan problem. Meanwhile, Islamabad understands that Moscow is back in the game.
It has done well to avoid siding with any one side and has maintained its position as a regional stakeholder. It has preserved relations with major powers like Russia, the U.S., and China. With its ties with the U.S. eroding, Pakistan has kept its options open with Moscow and Beijing.
Russia, on the other hand, is finding new opportunities under changing geopolitical circumstances in South Asia as the Americans withdraw from Afghanistan.
Most recently, when Pakistan was facing a COVID-19 vaccine deficit due to India's halt of Oxford-AstraZeneca exports under the COVAX Facility, Moscow came to Islamabad's rescue by sending 50,000 doses of its Sputnik V vaccine.
Although India remains a bigger market for Russia, Pakistan's increasing geo-economic significance, courtesy China featuring the China-Pakistan Economic Corridor (CPEC) as its flagship Belt and Road Initiative (BRI) project, its influence over the Afghan Taliban, and the market it provides for Russia's defense industry underscore the fact that Moscow's interests in South Asia are not exclusive to India anymore.