Laos Establishes Task Force to Police Social Media Platforms
The Lao communist authorities fear that Facebook could become an incubator of anti-government sentiment.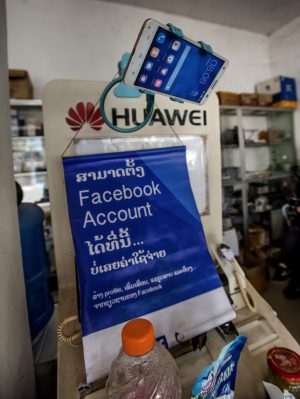 This week, Radio Free Asia (RFA)'s Lao service reported on the creation of a new Lao government task force to monitor social media use, focusing especially on so-called "fake news" and posts criticizing the government or ruling Lao People's Revolutionary Party (LPRP).
The report cited an official from the Lao Ministry of Public Security, who said that the task force, which was set up on May 21, includes police officers and members of the government's Media Department.
"Our job is to give advice and to lay out the rules and punishments for those who misuse social media," the official told RFA. "We'll give a warning to first-time offenders, and then fine people for a second offense." He added, "For a third offense, we will put them in jail."
The country had social media penetration rate equivalent to 49.1 percent of the total population in January 2021, up from 43 percent a year earlier. While this is relatively small by Southeast Asian standards – in neighboring Thailand and Vietnam, social media penetration stands at 78.7 percent and 73.7 percent, respectively – it continues to grow. As in other nations, this has resulted in citizens' increased use of this space to discuss important issues, including the airing of grievances against the government and ruling communist party.
This was seen last year, amid anti-government protests in Thailand, when demonstrators' savvy social media tactics spilled over the Mekong into Laos. Last year, I reported on the emergence of a Lao-language hashtag #ຖ້າການເມືອງລາວດີ ("if politics was good" in Lao), based on a similar Thai-language hashtag, which went viral in Laos. "We must be one to fight with dictatorship," one Lao user tweeted in English under the hashtag. "One day we [are] hoping Laos and other country will be free."
The rare surge of online dissent seemed to suggest that Laos might be inducted into the digital Milk Tea Alliance, the transnational anti-authoritarian movement that has united activists in Thailand, Hong Kong, and Taiwan.
As the formation of this task force suggests, however, the LPRP government is moving quickly to ensure that the Milk Tea Alliance does not gain a foothold in Laos. In August 2020, the Ministry of Posts and Telecommunications warned social media users against posting content criticizing the country's government. Last month, according to RFA, the Ministry of Information, Culture, and Tourism issued an order to provincial-level departments to register all owners of websites, Facebook pages, and other social media news outlets.
Recent years have also seen an upswing of surveillance and persecution of Lao citizens for critical comments posted online. A representative case was the September 2019 arrest of the social media influencer Houayheuang Xayabouly, then 30, also known as Muay, who was detained after she posted a video on Facebook criticizing the government's delayed response to floods caused by a dam collapse. She was subsequently sentenced to five years imprisonment.
The template for all these efforts is Laos' neighbor and longtime patron Vietnam, which over the past few years has tightened its grip on the internet and social media platforms. In late 2017, Vietnam formed a 10,000-strong cyber unit to combat "wrong views" online, and the country has recently seen multiple arrests of independent journalists, bloggers, and ordinary web users.
The new task force is an expression of the ruling LPRP's concern that Facebook could act as an incubator of anti-government and anti-party dissent. It also suggests that as long as the internet in general and social media in particular remain popular platforms for political discussion and activism, repressive governments in Southeast Asia will take steps to subject them to increasing degrees of control.