Rare Earths in Myanmar: Unobtanium?
Despite its present political turmoil, Myanmar controls the supply of critical metals for clean energy products.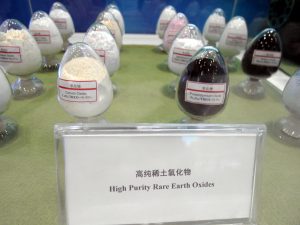 Kachin State in northern Myanmar has a long history of armed groups using illicit gold, copper, or iron deposits to fund insurgent activities.  Lately, reports have been trickling in about a free-for-all scramble for the control of another group of valuable metals: rare earths. The spurt in unauthorized mining, which began after the coup of February 1, appears to be taking place along the border with China. The Kachin State mining department released photos of ten-wheeler trucks, presumably from China's Yunnan Province, loaded with the ammonium sulfate used to extract the metals.
Myanmar is the world's third-largest source of mined rare earths. Prized for their "fantastic magnetic properties," the 17 lustrous metals are used in high-tech products like electric cars, wind turbines, and fighter jets. Myanmar has rich deposits of dysprosium and terbium, sought-after heavy rare earth elements (HREEs) that are otherwise in short supply. Soft enough to cut with a knife, dysprosium is a powerhouse among magnets and makes electric car motors considerably lighter.  A decade ago, the U.S. Department of Energy identified dysprosium as the single most critical element among rare earths, warning that bottlenecks could adversely affect the clean energy industry.
The rare earth mines in Kachin State have close ties to the Tatmadaw, Myanmar's armed forces. The Border Guard Forces who control the mines are so-called "ceasefire groups" that made their peace with the military a decade ago. Their members include ex-communist insurgents as well as former soldiers of the Tatmadaw. Ceasefire groups often partner with regional military commanders in various business ventures, including mining. Human rights activists suspect the military may be profiting from the mining of rare earths, even as Western governments have imposed sanctions designed to curb the military's extensive commercial interests. According to local environmental groups, there are more than 100 rare earth mines in Kachin State. When the civilian government was in power, the border was closed twice in 2019 to curb unregulated mining. But now that the army is back in charge, the floodgates have opened. As one activist told local media, "Currently, vehicles carrying heavy rare earth leave day and night."
Unlike metals such as gold, which occur in nature as pure elements, dysprosium and terbium must be chemically prized out of mineral-bearing clays. The process has toxic side effects. The old-school method for extracting the metals involves injecting ammonium sulfate into the ground to flush out ore-bearing fluids. China began shutting down illegal operators in 2010 when the environmental consequences of rare earth mining became too obvious to ignore. Landscapes ravaged by indiscriminate mining in Jiangxi Province were extensive enough to be visible from space. Following the crackdown, clandestine miners migrated across the porous border into semi-autonomous regions of northern Myanmar, where environmental enforcement is spotty at best. A Kachin State conservation group told The Irrawaddy that 20 villages were affected by mining, and that leachates – chemical effluent from the mines  – had turned the Chipwi Creek red on two occasions.
Another inconvenient truth about the supply chain is that illegally mined ores, funneled through a network of intermediaries, are an unavoidable part of the rare earth pipeline. China introduced stringent regulations on the industry in 2011, which reduced clandestine mining by 50 percent. Consequently, the sole global supplier of rare earths became "heavily dependent" on Myanmar for raw materials. Today the two countries dominate the rare earth supply chain and control nearly 90 percent of heavy rare earth output. David Merriman, an electric vehicles expert at Roskill, writes: "there are very few operational alternatives to Myanmar-derived production of HREEs such as dysprosium and terbium."
The price of dysprosium oxide shot up nearly 60 percent in March, amid fears that prolonged unrest in Myanmar could tie up shipments of ores and concentrates. Supply hiccups aside, mining in Kachin State brings up a more fundamental question about the upstream rare earth pipeline. Does the road to a clean energy economy run through murky mines in northern Myanmar?