Thailand Begins Mass Vaccination Campaign Amid Reported Supply Shortages
The country's health authorities are relying heavily on the local production of AstraZeneca vaccines.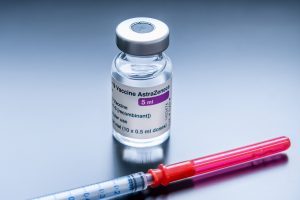 Yesterday, Thailand kicked off its long-awaited COVID-19 mass vaccination campaign, as health authorities continue to struggle to contain the country's most serious outbreak of the disease.
Prime Minister Prayut Chan-o-cha told reporters Monday that the government aims to administer 6 million doses this month, hoping to ease worries over the highly anticipated roll-out and concerns about supply shortages.
"The vaccines will be delivered as planned," Prime Minister Prayut Chan-o-cha said, as he paid a visit to a vaccination station at an indoor stadium in Bangkok. He added, "The government will ensure that everyone is vaccinated." The government has said it will produce 6 million doses in June, then 10 million doses each month from July to November, and 5 million doses in December.
Thailand is just one example of many Asian nations – from Vietnam to Japan – that contained COVID-19 with great success in 2020, but have been sluggish in the acquisition and distribution of vaccines.
Yesterday, health authorities reported another 2,419 new cases and 33 COVID-19-related fatalities, bringing the country's total to 179,886 cases, the fourth-highest in Southeast Asia, and the sixth-highest in per capita terms. The country's death toll now stands at 1,269. More than 80 percent of these infections and deaths have come since the beginning of this third wave in April, a surge that has had a disproportionate impact on the country's overcrowded prisons.
Authorities said yesterday that they had identified 235 cases of the Delta variant, first identified in India, had spread to nine provinces since it was first detected in Bangkok last month.
The third wave, and the accompanying struggle to secure sufficient vaccine supplies, has placed pressure on Prayut Chan-o-cha's government. In particular, the government faces criticism for its over-reliance on AstraZeneca shots produced by the Siam Bioscience, a local firm that has no experience in vaccine production but enjoys the incalculable advantage of being owned by the country's powerful King Vajiralongkorn.
In March, police charged opposition politician Thanathorn Juangroongruangkit with lese-majeste after he accused the government of giving an unfair advantage to the company due to its royal connections. Indeed, the difficulty of discussing anything touching on royal privilege and power has largely muted public criticism of Siam Bioscience or its performance in meeting production targets.
Siam Bioscience is contracted to manufacture 61 million doses of AstraZeneca's COVID-19 vaccine from this month, with which the government plans to vaccinate 70 percent of Thailand's 66 million-odd people by the end of the year.
However, yesterday's vaccine roll-out launch was accompanied by reports that supplies were falling short of demand from patients who had scheduled vaccinations for this week. Concerns over local AstraZeneca production also came to light last week after the Philippines said the first batch of a promised 17 million doses of vaccine from Siam Bioscience had been reduced and delayed.
Thai Health Minister Anutin Charnvirakul said last week that the 6 million AstraZeneca doses due for this month would be delivered on time, but did not specify how many would be from Siam Bioscience.
As political pressure over the slow pace of the rollout has mounted, the Prayut government has been forced to supplement its supplies from elsewhere. In April, it announced that it would order up to 10 million doses of the Pfizer-BioNTech vaccine. It has also announced plans to purchase Russia's Sputnik V vaccine, while China's government has supplied 6.5 million doses of Sinovac to Thailand, including 500,000 doses that arrived on Saturday.