The (Probable) Merger of Singapore's Sembcorp Marine and Keppel Offshore & Marine, Explained
The deal reflects the logic of Singapore's style of state capitalism, which gives the government a degree of control over strategic assets.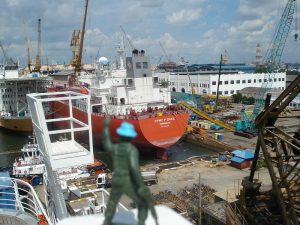 One of the keys to Singapore's success over the years is that the city-state has always been keenly aware of its natural comparative advantages (and disadvantages) and based its development strategies around them. Lee Kuan Yew and the other leaders of the People's Action Party in the 1960s knew that they had a small local market, and that therefore domestic demand would not on its own be a sufficient engine of growth. When the union with Malaysia fell apart in 1965, they saw that Singapore needed to leverage its natural strengths to make exports and trade the backbone of economic growth. And given its strategic location on one of the busiest shipping lanes in the world, shipyards were always going to play a key role.
In 1968, the Singaporean government took over the British Naval Dockyard, which became known as Sembawang Shipyard. The nominal purchase price was $1. It quickly became one of the more active and important ship repair stations in the region, and a vital cog in early-stage industrialization as Singapore's ambition to be a global shipping hub required adequate facilities for transiting ships to put in for repairs and upgrades. As time went on, the facilities were expanded to accommodate larger and larger vessels, and Sembawang became a major player in high value-added marine engineering and construction services, including offshore rig building. By the 1990s, the company had moved well beyond its shipyard roots to become a diversified conglomerate called Sembawang Corporation that had stakes in everything from engineering and logistics to hotels, food service, and cineplexes.
In 1998, Sembawang Corporation merged with Singapore Technologies Industrial Corp, another major state-owned engineering and construction company, and was renamed Sembcorp. The purpose of this merger was to consolidate the two companies and focus Sembcorp on a few core business areas, including high-value added construction and engineering services. It was also meant to send a signal to global markets that Singapore was ready to embrace the free market principles of the Washington Consensus. By slimming its state-owned conglomerates down so they didn't have a sprawling network of subsidiaries with preferential market access in every industry, the government was showing that the state would not unduly crowd out private capital.
This has come to epitomize the Singaporean style of state capitalism: The state, usually through its sovereign wealth fund Temasek, maintains full or partial ownership of certain businesses, but they are typically in sectors of national strategic importance. Since 2000, Sembcorp has widened its public float but Temasek has always retained just under 50 percent of the shares. This ownership structure is designed so that the Singaporean government can ensure a degree of control, insulated from market fluctuations, over an asset class that is vital to its strategic and economic interests: its shipyards.
By 2006, Sembcorp had trimmed most of the fat, divesting from nearly every periphery business other than utilities and marine engineering and construction (and a modest portfolio of industrial parks). One of the major earners during this period was a subsidiary called Sembcorp Marine, which specialized in building marine equipment and particularly offshore rigs. Driven by the mid-2000s commodity boom, Sembcorp Marine was booking billions for such projects. But as the boom came to an end, so did the profitability of this line of business. After several years of declining earnings, Sembcorp Marine posted net losses in 2018 and 2019.
Last year, Sembcorp Marine was de-merged from its parent company in a deal that saw Temasek take a direct equity stake of around 42 percent in the subsidiary. As of last week, it appears Sembcorp Marine will be merged with Keppel Offshore & Marine which has been struggling with its own offshore marine business and is a subsidiary of Keppel Corporation, another conglomerate in which Temasek holds about 20 percent of the shares. By merging the two companies, it is hoped their consolidated strengths in marine engineering will be sufficient to overcome the challenging market conditions while at the same time ensuring that Singapore's shipyards remain in the hands of companies that are majority owned by Temasek.
This really underscores the logic of Singapore's style of state capitalism. Sembcorp Marine operated for a long time as a competitive, profitable business, but when the business environment took a turn for the worse, the Singaporean state wanted the option of restructuring in a way that would protect its nationally strategic assets for the long run rather than responding to the short-term demands of the market. There is no way the state could let a struggling Sembcorp Marine go under or sell it to the highest bidder. And because of its ownership structure, it didn't have to.