70 Years on, the Refugee Convention Still Struggles to Gain Traction in the Asia-Pacific
The Asia-Pacific region counts the smallest percentage of state parties to the 1951 Refugee Convention and the 1967 Protocol – only 20 out of 48.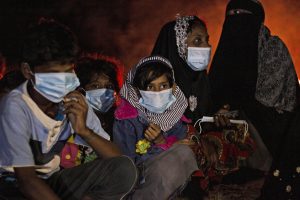 On the 70th anniversary of the Refugee Convention, fresh alarm over rising forced displacement has rocked the Asia-Pacific region. Following February's coup d'état in Myanmar, 175,000 people have been internally displaced, and 12,000 people have fled the country. But as Geneva marks the refugee law's 70th anniversary later this month, most of Myanmar's neighbors – the first responders to the deepening humanitarian crisis – are not signatories to the Refugee Convention. 
The region's relationship with international refugee law is a troubled one. In 2020 the Asia-Pacific hosted 9.2 million forcibly displaced people, including 4.4 million refugees and 2.3 million stateless people. However, high rates of forced displacement are met by low ratification rates of refugee law instruments. A quick scan of the region also illustrates that hospitality toward refugees and ratification of the Convention do not always correlate. 
This patchwork raises the question of what is next for the Refugee Convention, 70 years on. Ratification of legal instruments is important for standard setting and strengthening protection spaces. However, this is not sufficient. The diversity of experiences in the Asia-Pacific region shows that the key challenge on the Convention's anniversary is the need for effective and sustainable support to displaced people and local communities at the frontlines of humanitarian crises. 
The Asia-Pacific region counts the smallest percentage of state parties to the 1951 Refugee Convention and the 1967 Protocol – only 20 out of 48. Some of its largest refugee-hosting countries are not signatories: Bangladesh, Pakistan, India, Thailand, and Indonesia.
The reasons for the Convention's low regional uptake are diverse, but overall, history has a role to play. Originally drafted to assist refugees in Europe in the 1950s, today the Convention's definition of a refugee remains narrow and based on a post-World War II definition of individual persecution. It does not account for factors like state fragility or climate change – nor for colonial legacies on issues of citizenship and national borders. 
As a result, engagement with refugee law in the Asia-Pacific is varied at the national level and limited at the regional coordination level. The policy space is often fragmented and ad-hoc, where on the one hand, there is generous hospitality toward refugees, but on the other, plentiful examples of abuses faced by refugees and asylum seekers.
For example, despite UNHCR's call for states to offer protection to anyone crossing the border from Myanmar, China, Thailand, and India have intermittently closed their borders and reports of forced repatriation have emerged.  
Bangladesh and Pakistan meanwhile, both non-signatories of the Refugee Convention, host the region's largest number of refugees, due to protracted conflicts in neighboring Myanmar and Afghanistan, respectively. Bangladesh continues to host over 700,000 Rohingya refugees who fled Myanmar in 2017. Protection challenges for refugees in both countries are a continued concern – for example Rohingya refugees in Bangladesh do not have the right to work or to freedom of movement. Nevertheless, the important refugee-hosting role that Pakistan and Bangladesh both play needs to be acknowledged. 
On the flipside, countries that have ratified the Convention also have mixed records on refugee protection. Despite being one of the world's largest humanitarian donors, Japan has one of the strictest asylum systems and has historically accepted almost no refugees within its own territory. Australia's unlawful offshore detention of asylum seekers on Nauru and Manus Island is a severe human rights violation and has set an extremely poor benchmark for the region. 
Given this mixed picture, the Convention struggles to gain traction in a region that, at the outset, did not play a strong part in its drafting. And yet, despite its origins and need for reform, the Convention is arguably still the best tool in the box. In today's political climate, the prospects for consensus on a new or updated legally-binding instrument for refugee protection are unfortunately slim. 
Ratification avenues for the Refugee Convention should therefore be pursued in non-signatory states. Indeed, leading refugee law scholars, such as B.S. Chimni, have called on countries like India to ratify the Convention and develop a domestic refugee law to end ad-hoc systems of "strategic ambiguity" toward refugees. However, Chimni also points to low and middle-income countries' worry about the economic and political strain that comes with formally signing up to the global refugee regime. 
This is where international support needs to be stepped up. In the Asia-Pacific region, this includes forging and sustaining consensus to condemn the coup d'état in Myanmar and directing support to neighboring countries to absorb increased displacement pressures. It also includes a long-term shared plan for support and partnership with Afghanistan, following the U.S. troop withdrawal and a prospected reduction in donor aid and international presence within the country. 
As the COVID-19 pandemic rages on, the Refugee Convention's 70th anniversary is therefore not only an opportunity to assess its application. It is also an urgent reminder that for the Convention to be relevant, governments need to step up concrete financial commitments and political accountability toward forcibly displaced people and host communities.