Ardern's Foreign Policy Address Was Pro-US, But Not Necessarily Anti-China
New Zealand Prime Minister Jacinda Ardern delivered a keynote speech on foreign policy on Wednesday.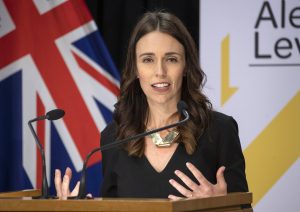 It was about APEC, and the Indo-Pacific. But most of all, it was about China.
Prime Minister Jacinda Ardern's keynote foreign policy address on Wednesday – at the annual conference of the New Zealand Institute of International Affairs (NZIIA) in Wellington – was another exercise in reading between the diplomatic lines.
Ordinarily, the biggest New Zealand foreign policy story of the week would have almost certainly been this speech. But Monday's surprise announcement that Ardern would host an impromptu virtual APEC leaders' meeting this Friday has stolen the show.
The unprecedented extra meeting – nominally on COVID-19 response – is something of a diplomatic coup for New Zealand, and for Ardern personally.
U.S. President Joe Biden and Russian President Vladimir Putin have already confirmed they will attend the virtual summit. And it seems quite likely that Xi Jinping, the Chinese president, will also be attending – although this has yet to be confirmed.
It therefore came as no surprise whatsoever that Ardern's speech was a stage-setter for New Zealand's hosting of APEC.
Ardern directly name-checked a huge number of APEC members – including Australia, Canada, China, Indonesia, Japan, Singapore, South Korea, Taiwan, the U.S., and Vietnam.
Southeast Asian APEC members that did not receive a direct mention included Malaysia, the Philippines and Thailand – but they were still indirectly acknowledged via a mini-discussion in the speech on ASEAN's importance to New Zealand.
The APEC economies that Ardern left out altogether were the peripheral ones – Russia, Chile, Mexico, and Peru. This was surprising, and something of a lost opportunity. Perhaps the logic was that they were not really central to the core theme of the Indo-Pacific.
But Ardern's deliberate mentions of the U.K. and the EU – with which New Zealand is currently trying to negotiate free trade deals – show that it might just be old-fashioned Kiwi pragmatism at work.
That was the APEC layer, but the speech clearly had other goals in mind too.
On the face of it, Ardern's address felt pro-Western and pro-U.S. and in many ways, it was. It referenced the "Indo-Pacific" – the new favored diplomatic code-word for signaling a pro-U.S. and pro-Western stance – some 15 times. The word China, by contrast, was explicitly mentioned just three times in the nearly 3,000-word speech.
Much of the content was clearly aimed at satisfying the audience's desire for a more pro-U.S. position from Ardern. She accommodated this by repeatedly speaking about New Zealand's "values."
A section mid-way through the speech as a whole – but close to the beginning of its substantive part – identified what Ardern called NZ's "fundamental principles." These pointedly began with a principle called "respect for rules." According to Ardern, this included "consistency with international law, including the United Nations Convention on the Law of the Sea, freedom of navigation and overflight."
Another principle identified by Ardern was "openness," another core tenet of the new Indo-Pacific doctrine and, in effect, a short version of the more direct – and slightly more provocative – "free and open Indo-Pacific" phrasing now heavily used by the U.S. and its allies.
If listeners to Ardern's speech had not already made the obvious connection between this section on New Zealand's principles and China's policies, it was made more explicit later on. Toward the end of the speech, Ardern said that New Zealand had "serious concerns over the situation in the South China Sea, including artificial island-building, continued militarization, and activities which pose risks to freedom of navigation and overflight."
But even this more explicit reference was carefully worded. It was the South China Sea that Ardern referred to, not China itself – a subtle, yet important difference. There were plenty of other references to China scattered throughout the speech, but like the section on principles, they were deliberately oblique ones.
For instance, in the conclusion to her speech, Ardern said that New Zealand would "encourage partners to continue on the pathway of democratic reform – just as New Zealand continues to improve its own political system – to protect the institutional enablers of democracy: free and fair elections, an independent judiciary, a free press, and freedom of assembly and association."
Ardern could claim plausible deniability on this one and to be fair, the comments could apply equally well to Russia (an APEC member) or Myanmar (an ASEAN one). But the paragraph was obviously scripted with Beijing in mind.
None of this was unexpected.
Wednesday's speech by Ardern in Wellington largely continued on from her address to the China Business Summit in May, at which she said the differences between China and New Zealand were "becoming harder to reconcile."
That speech was given amidst criticism that New Zealand had effectively "gone soft" on China, after Foreign Minister Nanaia Mahuta had openly stated her unwillingness to sign up to future joint Five Eyes statements that criticized China.
Ultimately, Ardern's May address was still fairly mild toward Beijing. While it referenced the Xinjiang and Hong Kong issues – and briefly touched on freedom of the seas – it was still very mild in tone and did not really go any further than what New Zealand had already stated on the record.
In fact, in some ways it was actually softer – with Ardern only speaking of the "human rights situation" of Uyghurs, rather than the "human rights abuses" language that Mahuta had used in March, in a joint statement with her Australian counterpart Marise Payne.
By barely mentioning any specifics, Ardern's address to the NZIIA on Wednesday was milder still when it came to China. It was far more of a pro-U.S. speech than an anti-China one.
It was consistent with New Zealand's balanced approach toward the United States and China. Wellington is trying to keep both major power blocs happy. And understandably so, some NZ$20 billion of exports go to China annually, easily making it New Zealand's biggest trading partner.
But ultimately, with Friday's surprise emergency APEC leaders' summit on the cards, Ardern was never going to use Wednesday's speech as a chance to ruffle Beijing's feathers. All eyes will now be on Ardern's hosting of Friday's virtual summit featuring Biden, Putin and – all going well – Xi.
This article was originally published by the Democracy Project, which aims to enhance New Zealand democracy and public life by promoting critical thinking, analysis, debate, and engagement on politics and society.