Australia Donates Vaccines, Aid to Virus-Hit Indonesia
The offer comes as the Southeast Asian nation struggles to contain an exponential increase in COVID-19 infections.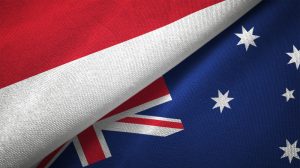 Australia has announced a donation of COVID-19 vaccines and pandemic-related support to Indonesia, as the government struggles to contain an outbreak of the coronavirus that is pushing the country's health system toward the point of meltdown.
In a statement yesterday, Foreign Minister Marise Payne said that Australia "stands with our close partner and neighbor Indonesia as it responds to a significant surge in COVID-19 cases," and that after discussions with her counterpart Retno Marsudi, would offer "immediate health support to Indonesia."
The support includes $12 million for oxygen-related and other medical equipment, including 1,000 ventilators, up to 700 oxygen concentrators, more than 170 oxygen cylinders and a range of consumables and other medical supplies. Australia will also donate over 40,000 rapid-antigen test kits and 2.5 million doses from its stockpile of AstraZeneca vaccine.
In addition to these supplies, Payne said that Australia "will extend rapid testing capacity, maintain existing health services and assist with emergency medical facilities as Indonesia responds to growing case numbers."
The pledge from Canberra came on the same day that Indonesia was experiencing an exponential jump in COVID-19 cases, fueled by the spread of the highly contagious Delta variant, which has seen a fourfold increase in official figures for COVID-19 cases over the past month. On the same day, the country reported 1,040 new deaths from coronavirus – the first time the daily total passed 1,000 – as well as a record 34,379 infections.
Despite the tightening of lockdown orders in densely populated Java and Bali, and pledges from the government to provide more hospital beds and supplies, the outbreak shows no signs of slowing. Yesterday, Luhut Binsar Pandjaitan, the government minister in charge of Indonesia's pandemic response, said the country was bracing for up to "70,000 [cases] per day at worst."
Overall, Indonesia has reported nearly 2.4 million infections and almost 63,000 fatalities from COVID-19, the highest figures in Southeast Asia. Those figures are widely believed to be a vast undercount due to low testing and poor tracing measures. Indonesia's COVID-19 death toll is now on track to reach or exceed India's during the height of its last wave, relative to population.
The runaway COVID-19 outbreak has battered Indonesia's health system, with hospitals in many urban centers straining under the sudden deluge of patients. According to the Indonesian Hospitals Association, a fourfold increase in the number of infections over the past month has meant that the numbers needing hospitalization have gone up by "three to five times," pushing many beyond full capacity.
The surge has also led many hospitals to run out of concentrated oxygen. According to Reuters, stocks of portable oxygen had run dry in six cities in Java as of  yesterday, including Yogyakarta and Solo.
Indonesia has flown in emergency oxygen supplies from Singapore to help meet demand, while government officials have held talks with several other nations,  including China and Russia, in search of assistance. Foreign Minister Retno welcomed Australia's contributions yesterday, posting on Twitter that her nation "appreciates Australia's offer of vaccines, ventilators & oxygen-related supplies to deal with the latest surge of COVID-19."
On top of the latest offer, Australia has promised $100 million to help Indonesia's vaccine rollout, and has also extended it a $1 billion loan to help it deal with the financial shocks caused by the pandemic.
In this context, Australia's offer of help will no doubt be gratefully received, but it can and should do more. As a wealthy developed nation in close proximity to Indonesia, and with a strong interest in its continued health and prosperity, Australia arguably has a special role to play. Indeed, with COVID-19 looming as a medium-term challenge for many nations in Southeast Asia, Canberra's assistance will be vital in helping the region escape the pandemic's grip.