Australia's Hawke, American Informant
The beloved Australian prime minister was a U.S. informant, new research shows.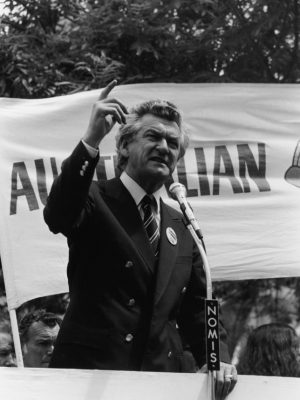 Author and journalist Craig McGregor wrote in his 1990 book "Headliners" that Australian Prime Minister Bob Hawke was a "common man, an absorber, a listener and in some mysterious way, a bit of a mirror of the qualities and demands and inputs which Australians project upon him."
From a recent contender for the top spot declaring they'll win the election "for Bob," to a popular beer being named after him, Hawke, who served as head of the Labor party and as prime minister from 1983 to 1991, remains one of Australia's most beloved leaders.
During his tenure, he revolutionized the Australian economy, launched Australia's first affordable, universal system of health insurance, struck an industrial relations agreement with unions, outlawed gender discrimination in the workplace, and passed a law that enabled the government to protect world heritage sites from threatening actions. 
Now, two years after his passing at 89, new research has found that "Hawke gifted information about the Australian government, the Australian Labor Party, and the labor movement, assisting the intelligence gathering efforts of" the United States. 
A new paper by Cameron Coventry, "The 'Eloquence' of Robert J. Hawke: United States informer," published in the Australian Journal of Politics and History, notes that Hawke divulged information not only about the Australian government under Whitlam (1972-75) and Fraser (1975-83), but also Labor Party and labor movement machinations, which the U.S. considered a threat to its interests.
As president of the Australian Council of Trade Unions (ACTU) in the early 1970s, Hawke was the "front man for industrial militancy," but secret embassy cables now show that Hawke said one thing to his supporters and something rather different to the U.S. Embassy in Canberra. 
The cables reveal how Hawke blamed wage demands on rampant inflation, sought an extension of the ANZUS defense treaty despite publicly backing an "independent non-aligned Australia," and was all too willing to deradicalize the labor movement. 
On one occasion in 1973, an American Labor attaché contacted Hawke about a possible union dispute at the Harold E. Holt Naval Communication Station in Western Australia. The cable reported that Hawke "volunteered to intervene" as he felt "concern and surprise at the militancy" of workers.
Hawke even denigrated various unions as "industrial idiots" and disclosed information about their long-term financial viability. 
Of particular importance to the United States was Hawke's role as a counterbalance to Prime Minister Gough Whitlam. 
Under Whitlam, the Australia-U.S. relationship became strained. James Curran, author of "Unholy Fury: Whitlam and Nixon's Alliance Crisis" said in the hands of Nixon and Whitlam, "a relationship that had endured the heights of the Cold War veered dangerously off course and seemed headed for destruction." 
Whitlam opposed the Vietnam War, walked back Australia's support for Israel, and critically, and publicly, questioned the presence of U.S. intelligence and military facilities on Australian soil.
Hawke, on the other hand, was described as a "friend" of U.S. officials in Australia, in a cable sent in 1978. 
"In 1973 he told a US official that Australia and the US must remain close for a long time to come. He said that while the style of cooperation might change the basic principle of working together must be persevered. [I]n late 1975 he said that his personal attitude on foreign policy questions was very close to the United States," the cable read. 
The cables also show that Hawke informed his U.S. embassy friends of conversations with senior British Labor Party figures such as Jim Callaghan.
Beyond his importance as an informant, the U.S. also saw Hawke as someone worth cultivating, given his ambition, charisma, power, and intellect, the cables show. 
A cable sent back to Washington from the U.S. ambassador to Australia at the time emphasized the importance of an upcoming visit by Hawke to the United States.
"There is little doubt that he has major potential as a Labor Party leader. Now 44, he has every prospect of being a major figure on political scene for next 20 years or so, and it will be worth our while to make a real effort to develop a worthwhile program for him," it said.