Blinken Must Urge Modi to Repeal Repressive Laws
While in New Delhi, Blinken should press Modi to repeal and amend laws that jeopardize human rights.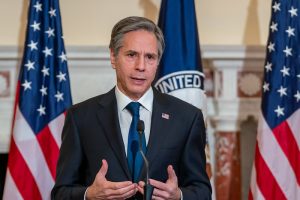 U.S. Secretary of State Antony Blinken will travel to New Delhi July 27 and 28 for meetings with Indian Prime Minister Narendra Modi and Foreign Minister S. Jaishankar. The trip comes at a critical time for the India-U.S. relationship. India, the world's most populous democracy, is expected to be invited to President Joe Biden's long-promised Summit for Democracy and has long been seen as a critical U.S. ally in the region. But the Indian government's increasing abuse of legal and political tools to suppress dissent, criminalize free expression, and persecute religious minorities has led to widespread human rights violations that undermine the government's credibility.
While in New Delhi, Blinken should press Modi to repeal and amend laws that jeopardize human rights and to reform the overbroad legal frameworks that authorities have used to target activists, opposition leaders, and human rights defenders.
India is historically viewed by the U.S. government as a key ally and strategic security partner of the U.S. and a regional example of the rule of law. These perceptions, however, have been increasingly undermined by the Indian government's misuse of the judiciary to punish dissent and facilitate violations of human rights. In particular, the BJP-led government has weaponized laws purporting to be "anti-terrorist," such as the Foreign Contributions Regulation Act and the Unlawful Activities Prevention Act, using these laws against human rights defenders, activists, and religious minorities.
An amendment passed in September 2020 to the Foreign Contribution Regulation Act (FCRA), which regulates foreign income sources for NGOs, has been criticized by rights groups as a tool to suppress and constrain India's vibrant civil society. The amendment dramatically reduces the ability of NGOs and civil society organizations in the country to access foreign funds by prohibiting subgranting (allowing one nonprofit to regrant money from a funder to other nonprofits), requiring recipients to open State Bank of India accounts, and mandating pre-authorization of fund transfers. The FCRA prohibits the use of foreign funds to support activities that might endanger "public interest," "economic interest," or "security," overbroad terms that allow for inconsistent, arbitrary application of the law and place at high risk of persecution groups and organizations that have been critical of the government.
While the FCRA has been used to undermine organizations, the Unlawful Activities Prevention Act (UAPA) allows Indian authorities to target individual activists, protesters, human rights defenders, and religious minorities. The UAPA compromises the right to a free trial by restricting the right to bail and extending the length of time suspects can be detained with trial. It is a tool of harassment used to target, intimidate, and imprison those who are critical of the government. Slow investigative processes and stringent bail provisions have allowed Indian authorities to detain those accused under the law for years.
In practice, both laws have had devastating impacts on Indian civilians, civil society, and human rights. The FCRA resulted in catastrophic disruptions in access for humanitarian organizations working with local NGOs and CSOs during the second wave of COVID-19, which left an estimated 4 million dead in the country. Among those lost to COVID-19 were Father Stan Swamy, an 84-year-old human rights defender with Parkinson's disease who had been jailed under the UAPA and whom Indian authorities refused to release despite widespread outcry.
Blinken must underscore to Modi that the Indian government's use of purportedly "anti-terrorist" laws to crush opposition and target activists undermines the strategic partnership with the United States. There is a political cost to the Modi government's continued efforts to erode and abuse India's political and legal institutions to violate human rights. A government that misuses its own anti-terrorism laws to shore up political power, extinguish dissent, and target minorities is not a reliable security partner. Blinken should insist to Modi that a strong India-U.S. partnership depends on the Indian government's urgent repeal or amendment of these repressive laws.