Concerns Rise as Kyrgyzstan Enacts New NGO Controls
Kyrgyzstan has added additional reporting requirements for NGOs in the name of financial transparency, but opportunities for misuse concern activists and foreign governments.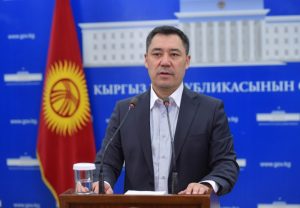 NGOs in Kyrgyzstan were already required to provide details of their activities and finances to the state, but in late June President Sadyr Japarov signed into law additional reporting requirements. 
As Eurasianet's Bermet Talant pointed out earlier this week, the news that Japarov had signed a controversial new NGO bill into law broke more than a week after it came into force. NGOs in Kyrgyzstan had urged Japarov to veto the bill after it was adopted by parliament on June 17, but it was submitted for his signature on June 26. He signed it into law.
Reports about it surfaced a week later on July 7.
Its approval drew criticism. On July 8, the U.S. State Department issued a statement from the department's spokesman Ned Price expressing "deep concern" about the new law, which it said imposed " onerous financial and programmatic reporting requirements on non-governmental organizations (NGOs)." Without naming names, the statement noted that '"Similar laws have been misused in other countries to target organizations critical of the government and political figures, infringing upon freedom of expression."
This week the International Partnership for Human Rights (IPHR) and the Coalition against Torture in Kyrgyzstan issued a lengthy statement about the law, urging Kyrgyz authorities to ensure that the new law does not impede NGO activities in the country.
The new law, IPHR summarized, "requires NGOs, which carry out their work on the basis of grants and donations, to annually prepare and submit a report about their sources of funding, the expenditure of these funds, and their acquisition and use of property for publication on the website of the state tax service." The procedures are to be determined by the government and remain unclear but the penalties are quite clear: failure to comply could result in the forced closure of NGOs.
IPHR notes that although the new law was justified by its sponsors as necessary to ensure transparency, "This is an important objective, but it is already met under pre-existing legislation, which requires NGOs to regularly provide detailed information about their activities and finances to the tax service, statistical authorities and other state bodies." Furthermore, while the new law generates additional reporting requirements for NGOs, it specifically does not apply to non-commercial organizations affiliated with state institutions. Public associations, foundations, and institutions are "singled out for additional oversight compared to other non-profit organisations, such as religious associations or political parties, or to commercial organisations."
The bill's sponsor, Deputy Baktybek Raiymkulov positioned it as important in protecting "Kyrgyz statehood from interference from other countries, preserve the traditions and culture of the people."
Japarov deflected criticism by pointing to NGO reporting requirements in other countries. As Eurasianet reported, clips appeared on social media of Japarov justifying the law to European ambassadors: "Do you have NGOs in your country? Do they have to file financial reports to a tax office?… We, too, want to see where money comes from, and where it goes… We are not taking their money, not shutting their mouths, not violating their rights. We only demand financial transparency."
As pointed out by IPHR, financial reporting laws already exist in Kyrgyzstan and the framing by Japarov and Raiymkulov suggests ulterior motives. While other countries do have financial reporting requirements, the overriding interest is not in "where the money comes from." For example, the U.S. State Department's fact sheet on NGOs in the United States notes: "There is no prohibition in U.S. law on foreign funding of NGOs; whether that foreign funding comes from governments or non-government sources." Later, the fact sheet notes that while there are other applicable laws, such as those regarding terrorist financing, political lobbying, and money-laundering, "these laws are applicable to everyone and to all organizations, not exclusively NGOs."
The biggest concerns about Kyrgyzstan's new law are in its implementation and potential selective enforcement. Organizations that take in Western funding have long been accused by nationalists across Central Asia of working to foment regime change via "color revolutions." 
IPHR points to this concern, worrying that the new law might result in increased pressure on NGOs focused on government accountability regarding corruption and human rights. "These concerns are reinforced by the fact that proponents of the law have used stigmatising and discrediting language against NGOs, accusing them of 'serving Western interests', undermining so-called traditional values and threatening national security because of their efforts to defend fundamental rights and freedoms."
Now the law has been passed, Kyrgyz NGOs will need to try to comply. We'll see in due time whether the state is actually interested in financial transparency or rather in making it more difficult for NGOs to operate in spaces political leaders would prefer them not to. As the U.S. State Department statement notes, however, similar laws have been misused and that's certainly the expectation.