Connecting the Vertices: Prospects for Australia-Taiwan Relations
As the U.S. tightens ties with both Taiwan and Australia, it's time for Canberra and Taipei to do the same.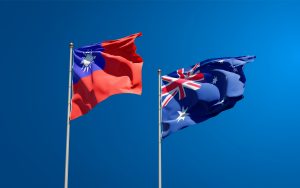 On March 25, U.S. American Institute in Taiwan Washington Headquarters Managing Director Ingrid Larson and Taiwan's Taipei Economic and Cultural Representative Office in the United States Representative Bi-khim Hsiao signed a memorandum of understanding to establish a coast guard working group between the United States and Taiwan. One week later, U.S. Charge d'Affaires to Australia Michael Goldman revealed that the U.S. government is undertaking "strategic planning" with Australia to consider possible responses to war over Taiwan.
One can conceive of the United States, Australia, and Taiwan as three vertices of a triangle. Since the United States is enhancing security ties across the Pacific Ocean with Australia (in the "second island chain") and Taiwan (in the "first island chain"), respectively, it makes sense for the latter two vertices to harden their bilateral relations.
Australia and Taiwan are both peace-loving, democratic, and similar in their international trade policy. As the Australian government's 2017 Foreign Policy White Paper points out, "Australia's prosperity will continue to rely on the competitiveness of our economy and our ability to seize opportunity globally." Australia's trade policy coincides with Taiwan President Tsai Ing-wen's "New Southbound Policy," which also aims at promoting international trade between Taiwan and countries in South Asia, Southeast Asia, and the Pacific. Prospects for economic cooperation between Australia and Taiwan are, therefore, promising.
Over the years, Australia and Taiwan have had stable economic relations, and bilateral trade has been growing steadily. In 2018, for example, Australia-based Macquarie Capital invested in offshore energy in Taiwan. In terms of agricultural products, Taiwan has been among Australia's top 10 beef export markets for over 20 years. Additionally, cultural exchanges and tourism are welcome by Taiwan people. Before COVID-19, working in Australia while enjoying the scenery on "working holidays" was one of the favorite travel options for young adults in Taiwan.
Lastly, utilizing solar energy has become a reality and rooftop solar panels can be seen everywhere in Australia. While a majority of solar panels installed in Australia are made in China, it's logical to consider Taiwan as a substitute supplier. The island has the know-how and skilled labor to manufacture solar panels that could be exported to Australia. Taiwan can also become a major supplier in the electric vehicle industry.
Strictly from a security perspective, increased cooperation also makes sense. Taiwan is located in the center of the first island chain and could serve as a buffer between Australia and China. Similarly, Australia controls Taiwan's backyard and could help resist the spread of China's influence in the Pacific islands, where four of Taiwan's formal allies (the Marshall Islands, Nauru, Palau, and Tuvalu) are situated. Thus, security cooperation and intelligence sharing between Australia and Taiwan could be a win-win situation.
Bilateral military cooperation between Australia and Taiwan is difficult to accomplish, but its meaning is becoming more significant as time goes on. Even though the Republic of China Navy (ROCN) has been conducting the "Friendship Flotilla" exercise by visiting harbors of allies and friendly countries in the Pacific Ocean, Caribbean Sea, and Africa on an annual basis, it has never visited Australia in the past. Since the flotilla always visits Taiwan's allies in Oceania, it makes sense to make Australia a port of call in the future.
Additionally, Taiwan has also struggled to find sufficient training fields. There is room to consider allowing Taiwan's troops carry out trainings and military exercises in remote areas in Australia. It will be even better to conduct combined exercises between Australia and Taiwan. Another possibility is to allow Taiwan troops visit Manus Island and maybe participate in combined exercises with Australian and U.S. troops together.  Military cooperation could be clandestine in nature, but the Australian government could disclose it depending on the situation in East Asia.
To a lesser extent, there could be cooperation in trainings and exchanges at the coast guard level. Taiwan's Coast Guard Administration has accumulated experience over the years dealing with Chinese human trafficking, smuggling, illegal fishing, and, more recently, gray-zone conflict. After the memorandum of understanding to establish a coast guard working group was signed between the United States and Taiwan, it makes perfect sense for Australia and Taiwan to also cooperate on the same matter.
2021 marks the 40th anniversary of the establishment of the Australian Office in Taipei, the de facto Australian Embassy. The timing is good for the Australian government to decide whether to enhance bilateral relations with Taiwan to another level. The proposals mentioned above may have been unrealistic just several years ago, before China attempted to expand its influence in the South Pacific and back when Australia and China enjoyed smooth relations. Even though it is suboptimal for Australia to abandon its "one China" policy, it might make sense for Australia to broaden and deepen bilateral ties with Taiwan to make Australia less vulnerable to China. After all, Australia and Taiwan are two vertices of a triangle that have not yet been robustly connected.