Do Cambodia's Human Rights Groups Ignore Ethnic Vietnamese?
After decades of depredations, both real and imagined, Vietnam remains the main bogeyman of Cambodian nationalism.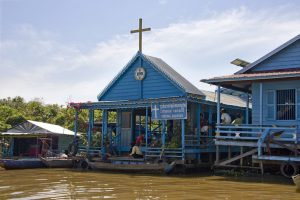 Prominent Cambodian human rights organizations ignore discrimination and violations committed against ethnic Vietnamese communities in the country, fearful of backlash from nationalists and supporters of the now-dissolved opposition party, according to sources who spoke to The Diplomat.
Since early June, for instance, Cambodian authorities have been evicting hundreds of ethnic Vietnamese people from their floating homes on the banks of the Tonle Sap river, ostensibly as part of a "clean up" of the capital ahead of Cambodia's assumption of the ASEAN chairmanship next year and its hosting of the Southeast Asian Games in 2023.
Yet the issue has received only limited attention, mainly comments in news reports, from human rights groups. In a June 15 article by Voice of America, Seoung Senkarona, the spokesperson for the local rights group Adhoc, was paraphrased as saying that he "supports the eviction order, but the authorities should listen to the requests from the river people and give them enough time to relocate."
Adhoc regularly reports on alleged undocumented Vietnamese nationals working in Cambodia and has often taken a vocal stance against illegal immigration, even when it's not clear if said migrants, usually ethnic Vietnamese, are Vietnamese nationals or people who have lived in Cambodia for generations. Provincial Adhoc coordinator Cheap Sotheary was quoted just last month appealing to authorities to do more against illegal immigration. "In Preah Sihanouk province, foreigners come, stay and do business illegally and they also take Cambodian jobs," he said.
The issue of ethnic Vietnamese in Cambodia is complex. For more than a century, Vietnam has been the bete noire of Cambodian nationalists (of which more later). According to official census data from 2013, there are around 63,000 ethnic-Vietnamese people in Cambodia, but the true number may be much higher. One organization puts it between 400,000 and 700,000. While some ethnic Vietnamese in Cambodia today are new migrants, many have lived in the country for generations. Yet official discrimination means that a significant number are unable to claim citizenship or proper legal documents – around 90 percent, according to the Phnom Penh-based Minority Rights Organisation. This means they are denied the rights of voting, land ownership, and even access to schools, and so are essentially stateless.
According to sources in Cambodia, most of whom requested anonymity because of the sensitivity of this topic and the fear of public backlash, leading human rights organizations rarely report on official discrimination and human rights violations committed against ethnic Vietnamese communities. It is claimed that these organizations either do not care about such issues or are wary of reporting on them, perhaps also fearful of receiving threats from the wider public if they speak too loudly in support of ethnic Vietnamese communities.
"Anti-Vietnamese sentiment runs deep in Cambodia, even among self-proclaimed defenders of human rights," said a source familiar with the issue, who added that it is "not at all surprising that they have remained quiet in light of these events."
Indeed, none of this is new. In 2000, Licadho, one of the country's three most prominent human rights groups, closed a program specifically to aid ethnic minorities after public backlash. In 2014, Ou Virak, then-head of the Cambodian Centre for Human Rights (CCHR), received death threats after he criticized the racist language used by opposition politicians. At the time, Licadho's President Pung Chhiv Kek refused to comment on the matter. Indeed, there was little solidarity from other groups. But Tom Fawthrop, a journalist, asserted that Pung Chhiv Kek had told him in the 2000s that "she was bitterly disappointed that so many of her NGO staff at Licadho harbored resentment towards any application of human rights principles to cover discrimination against Vietnamese residents in Cambodia."
Non-exhaustive searches of the archives of the three human rights groups finds scant attention to the issue of ethnic Vietnamese discrimination, even though there have been several large evictions of ethnic Vietnamese communities in recent years, most by force, as well as the perpetual issue of their statelessness. While Licadho's director, Naly Pilorge, has spoken out against the ongoing evictions of ethnic Vietnamese residents, the last significant statement by the organization on the issue appears to have been in 2015 under the headline, "Cambodia Should Register, Not Return, Vietnamese Asylum Seekers." No specific statement on discrimination against ethnic Vietnamese appears to have been published by the CCHR since 2014 or 2015. Adhoc's archives are also sparse.
"When it comes to human rights issues that affect Viet-Cambodians, the big three human rights NGOs (Adhoc, Licadho, CCHR) have a history of keeping silent. No doubt they are cautious about upsetting their nationalist supporters,"  said Tim Frewer, a researcher who has studied ethnic Vietnamese communities for years. "Human rights organizations in Cambodia have backed these people without acknowledging their ultranationalist ideas and have made themselves popular amongst nationalists," he added.
Vietnamese are the historical bogeyman of Cambodian nationalism, because of Vietnam's slow expansion south into regions of the Mekong Delta once controlled by the Cambodian kingdom, attempts to invade the country in past centuries, and perceptions that Vietnamese were treated better under French rule, with Vietnamese nationals often employed as civil servants and tax collectors in colonial Cambodia.
After military chief Lon Nol overthrew the Norodom Sihanouk government in 1970, creating a short-lived Khmer Republic, his government orchestrated an ethnic "purification" campaign of ethnic Vietnamese communities. After Lon Nol's government fell in 1975 to the Khmer Rouge, the ultra-Maoist regime led its own genocide against Cambodia's ethnic groups, mainly Vietnamese, Chams, and Chinese.
However, today's polarized views of Vietnam and its people revolve around the events of January 1979, when the Khmer Rouge regime was overthrown by Vietnam, which "invaded" along with Hanoi-trained communists and defectors from the Khmer Rouge – including the current prime minister, Hun Sen – who were installed as a new Vietnam-backed socialist regime.
For one side of the debate, national salvation came in 1979 when the Khmer Rouge was overthrown and, by the 1990s, the country's civil war was over, peace had returned and the country's economic development restarted. In this narrative, Cambodia's salvation is owed to the ruling Cambodian People's Party (CPP) and Vietnam's assistance in overthrowing a genocidal regime.
For the other side, led by many of those who cut their political teeth in exile or in armed opposition to the Vietnam-backed government in the 1980s, "national salvation" remains a goal still to be achieved. They claim that Cambodia needs to be saved from the legacy of 1979 that has since left Cambodia a rump client of Vietnam. For people of this persuasion, everything bad in Cambodia is rooted in Vietnam's alleged continued domination of the country, with Hun Sen presented as a mere puppet of Hanoi.
Even the name of the now-dissolved opposition Cambodia National Rescue Party (CNRP) is a direct reference to this clash of historical interpretations. The group of Cambodian defectors. who followed Vietnamese troops into Phnom Penh in 1979, was called the Kampuchean United Front for National Salvation.  The Khmer term for "national salvation" is sangkros cheat – the very same phrase that appears in the CNRP's name.
The opposition movement has made anti-Vietnam and anti-Vietnamese sentiment core to its campaigns since the 1990s, although it tends to blur the distinctions between the state of Vietnam, Vietnamese nationals, and ethnic-Vietnamese who have lived in Cambodia for generations. Sam Rainsy, the main opposition figure since the mid-1990s, has repeatedly denied that he uses racist language, including his repeated use of the word yuon.
In 2014, he claimed accusations of racism were a "foreign-entertained controversy" whipped up by those ignorant about Cambodian culture. For instance, samlor m'chou yuon is "sour Vietnamese soup," a dish found in many restaurants whose name is considered inoffensive. However, context matters. On the campaign trail in 2008, Sam Rainsy stated: "If I win this election, I will send the yuon immigrants back." In a speech in 2013 he stated: "the yuon are taking the Khmer land to kill the Khmer people… In yuon companies, they only employ yuon managers, but the Cambodians are only workers."
In fact, Rainsy was censured by U.N. authorities ahead of the 1993 general election over his use of racist language. On that occasion, he admitted the racist connotations of his language. "Maybe 'youn' is slightly pejorative. But it's a habit and I am not here to educate the people," he said.
Kem Sokha, the co-founder of the CNRP when it merged with his Human Rights Party in 2012, was previously the founder of the CCHR, the human rights group. Kem Sokha has in fact often gone further than Sam Rainsy in his anti-Vietnamese tirades. In 2010, a stampede on a Phnom Penh bridge during a local holiday killed 353 people and left hundreds injured. Four years later, speaking to a crowd at a pagoda, Kem Sokha accused the Vietnamese of being behind the tragedy. "They created the scene to kill Khmers at Koh Pich," he said, referring to a small island in the capital. It was, he said, a plot to "eliminate the Khmer race, tradition, and culture."
Sopheap Chak, executive director of the CCHR, said that Kem Sokha's comments were made after he left the organization. "Regardless of when these comments were made," she added, "they are absolutely not reflective of CCHR's work, mission, or values." Officials from Adhoc and Licadho failed to respond to requests for comment. But Sopheap Chak responded to the accusations by stating that "CCHR has been vocal on the topic of the discrimination that ethnic Vietnamese face in Cambodia."
In September 2013, she noted, CCHR issued a statement welcoming the CNRP's apparent commitment to anti-racism, and in December that year published a press release admonishing Sam Rainsy for going back on this pledge after again using racist language. It also signed a press release in February 2014 after the mob-killing of an ethnic Vietnamese man in Phnom Penh.
Phil Robertson, deputy Asia director of Human Rights Watch, an international group that has also been accused, by some sources, of overlooking this issue, said his organization is "seriously concerned by the continued discrimination and abuses suffered by ethnic Vietnamese communities in Cambodia… There's no doubt that ethnic Vietnamese are among the poorest, and most vulnerable people in Cambodia, and a major reason why is their lack of legal status and the systematic discrimination enabled by that lack of status."
In Cambodia, "ethnicity and history are intertwined inseparably," noted Sophal Ear, associate professor of Diplomacy and World Affairs at Occidental College in Los Angeles. "Of course it's clouded by politics; everything in Cambodia is clouded by politics, but we have to rise above this," he said.
Other sources, however, were more severe. "At some point external donors need to ask: if you don't defend the rights of all groups in Cambodia, do you really qualify as a human rights organization? Do you really deserve external funding?," said one source. "It is a question that has been kicked down the road by too many for far too long."