Indefinite Hosting of Rohingya Refugees a Growing Concern for Bangladesh
Since 2017, Bangladesh has hosted nearly 1.1 million Rohingya refugees in crowded camps that pose increasing challenges for the country.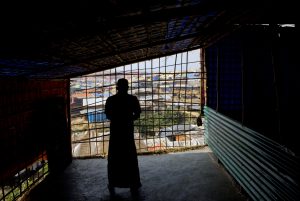 On June 23, 2021, during the ninth Moscow Conference on International Security, Bangladesh's Prime Minister Sheikh Hasina reiterated a request for global cooperation to ensure the dignified and peaceful repatriation of Rohingya refugees, stating that "they are posing huge security threat to Bangladesh as well as the region." Earlier, on June 16, expressing similar concers, the foreign minister of Bangladesh, A.K. Abdul Momen, during a bilateral meeting with the United Nations Special Envoy on Myanmar Christine Schraner Burgener at the Bangladesh Permanent Mission in New York, sought a clear roadmap from the U.N. for repatriation of Rohingya refugees to Myanmar. Momen said that if repatriations did not start soon, it would only deteriorate the overall situation in Cox's Bazar, where large numbers of Rohingya are camped, and create instability in the region and beyond. 
Bangladesh's recent calls for repatriations yet again raise the unresolved issue of the Rohingya crisis more broadly and Dhaka's intensifying concern over hosting nearly 1.1 million Rohingya, most of whom have been in the country since August 2017, following a military crackdown by Myanmar. Moreover, the onset of a political crisis in Myanmar, following the military's coup in February 2021, has distracted international attention from Rohingya refugees to the country's domestic political situation. While the solution to the crisis lies in the safe and sustainable return of the Rohingya to Myanmar, it is equally important to acknowledge Bangladesh's growing concern over hosting the refugees. The protracted presence of Rohingya refugees has put pressure on Bangladesh's resources, causing conflict and insecurity for locals, which is detrimental to the internal political stability of the country. Additionally, it also strains Bangladesh's relations with Myanmar.
Amidst the uncertainties over repatriation, Rohingya refugees continue to live in Bangladesh, which has the ninth-highest population density in the world. They are hosted in overcrowded, densely populated camps in the Cox's Bazar district of Chittagong Division, bordering Myanmar, which is said to be the home to the world's largest refugee camp. About 40,000 to 70,000 people per square kilometer are living in camps side by side, which is more than 40 times the average population density of Bangladesh. This makes these camps the most densely populated human settlements on the planet, an especially dangerous situation given the COVID-19 pandemic. In addition, the influx of Rohingya has adversely affected not only the Cox's Bazaar region but also the national economy of Bangladesh. Bangladesh's economy spends an estimated $1.21 billion a year supporting the Rohingya and the cost may go up with their population growth, inflation, and decline in foreign funding.
Since the influx of Rohingya refugees, Bangladesh had witnessed a number of demonstrations surrounding the issues of the refugees. Demonstrations were staged against the persecution of Rohingya refugees at the hands of Myanmar military forces as well as the inability to protect the rights of Rohingya in their home country. Demonstrators including various influential Islamist and religious groups have been raising their voices demanding the Bangladesh government to cut its diplomatic relations with Myanmar as well as to put pressure on the latter to accept the Rohingya back. Moreover, on September 15, 2017, following the Rohingya refugee crisis in Myanmar, Hefazat-e-Islam (HeI), an Islamist group, held a nationwide program in which the leaders of the group threatened to launch jihad against Myanmar to liberate Rohingya from Myanmar's Rakhine State. On many occasions, the refugees have also demonstrated, asserting their right to peaceful protest against the military aggression in Rakhine as well as demonstrating against the attempts to send them back to Myanmar.
The presence of Rohingya refugees in Cox's Bazar has given rise to mounting tensions between them and host communities, which consider them outsiders. Many in host communities believe that with all the assistance given by humanitarian organizations to the refugees, their own needs are sidelined. Inflation, increased levels of poverty, and strains on infrastructure further add to the concerns of host communities. On many occasions, sporadic clashes have been reported between Rohingya and host communities in the region. Some Rohingya have also engaged in acts of violence against civilians, as well as armed clashes with law enforcement authorities in Cox's Bazar.
Some Rohingya have been reported as being involved in various criminal activities ranging from robbery and abductions, to smuggling of arms and drugs in the region. In recent years Rohingya have also become the targets of human trafficking networks focusing on refugee camps. Nonetheless, the deteriorating security situation in the camps, including the involvement of some refugees in drug smuggling, human trafficking, and conflicts between refugee groups, is becoming a major government concern. It thus makes the management of law and order in the Cox's Bazar region a formidable challenge.
Bangladesh also has concerns over the recruitment of refugees into extremist networks by banned groups such as Hizb-ut Tahrir and Jamaat-ul-Mujahideen Bangladesh (JMB), as well as by radical Islamist groups such as HeI. Reportedly, HeI's influence in the refugee camps is growing among frustrated and traumatized Rohingya, which could fuel militancy not only in Bangladesh but across the wider region. Moreover, Rohingya militant groups active in bordering Myanmar — such as  theArakan Rohingya Islamic Front (ARIF), Arakan Rohingya National Organization (ARNO), Rohingya National Alliance (RNA), and Rohingya Solidarity Organization (RSO) — could also recruit refugees, further threatening Bangladesh's internal security.
In February 2021, Bangladesh decided that it would not accept any new Rohingya and conveyed that the country is under "no obligation" to do so. Bangladesh's domestic compulsions surrounding concerns for security and political stability prompted the government to look for alternative arrangements for hosting refugees in the country in near future.
Since December 2020, Bangladesh has been relocating Rohingya refugees from Cox's Bazar to a remote island called Bhashan Char. Since then, some 20,000 Rohingya have been relocated to the island thus far. These are the part of 100,000 Rohingya that the government of Bangladesh plans to relocate in its move to decongest the refugee camps in Cox's Bazar. While the Bangladesh government has been determined on the relocation plan, which began in 2015, others have been skeptical of the move regarding safety and concerns over forcible relocation and violation of international human rights obligations. International agencies including the United Nations, Human Rights Watch, as well as Refugees International, have called for a halt to the relocation process saying the island, which emerged from the sea 20 years ago and has never been inhabited, is flood-prone and vulnerable to cyclones. 
On May 31, thousands of frustrated Rohingya refugees staged protests against the living conditions in the island camp during a visit by U.N. officials. A section of demonstrators allegedly became "unruly" and clashed with police; several refugees were injured. While the U.N. refugee agency (UNHCR) issued a statement raising concerns over the incident, Bangladesh's Foreign Ministry stated that international media and civil society organizations were campaigning against Bhasan Char and Rohingya relocation with "distorted information misrepresenting the facts." Amid such circumstances, the Rohingya find themselves caught between the perpetual limbo of the refugee camps and an insecure homeland in Myanmar.
At a time when repatriation is still a distant dream for most Rohingya refugees, their prolonged and indefinite stay continues to pose a challenge to Bangladesh's internal stability. The world community must recognize Bangladesh's concern and make concerted efforts to address the challenges surrounding the complex situation.