Myanmar Plunges Into Deadly Third COVID-19 Wave
COVID-19 vaccination efforts have become fatally entangled in the hostilities unleashed by the February coup.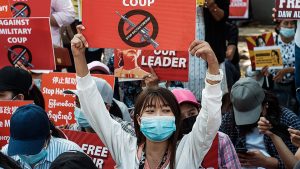 Since early July, Myanmar has reported daily record-breaking numbers of confirmed COVID-19 cases and deaths in what is a rapidly escalating third wave. The Ministry of Health and Sports (MOHS), now under the control of the State Administration Council (SAC) junta, reported 5,200 new cases and 281 confirmed deaths on July 19.
With testing severely limited since the pandemic began and further hampered by the political crisis, the actual figures are probably much higher. Cases started climbing in late May and Myanmar soon confirmed cases of the more infectious Alpha, Delta, and Kappa variants.
On July 19, the junta mouthpiece MRTV made an indirect admission of the scale of the death toll in Yangon by reporting that the city's crematoria had handled over 1,100 extra bodies on that day than at the start of the month, when the third wave had barely begun.
Myanmar appeared to be approaching the trough of its second wave on February 1, when the coup plunged the country into chaos. The medical sector spearheaded the Civil Disobedience Movement (CDM) against the coup, with doctors and nurses walking out of public hospitals and COVID centers in protest. This led to medical staff being targeted by the junta, including widespread warrants, arrests and deaths as well as the military occupying hospitals at one point. The health system has all but collapsed with many major hospitals having had to shutter and turn away patients. The turmoil saw COVID-19 testing collapse as millions took to the streets of many cities demanding that Aung San Suu Kyi be freed and democracy restored.
Things have ground to a halt on the vaccination front as supplies have dried up. The SAC said that around 1.75 million people, or only 3 percent of the population, have been fully vaccinated as of mid-July. In early January, the then-government had bought 30 million doses of Covidshield from India and implemented one of Southeast Asia's earliest vaccination drives. However, only 2 million doses were delivered before India banned exports. China donated 500,000 jabs while no vaccines have materialized from the World Health Organization's COVAX facility, allegedly because the junta has refused to share vaccination plans. The junta has since turned to Russia and China, with 6 million doses of an unspecified Chinese vaccine expected to be delivered by August.
After initial disruption due to the coup, MOHS quietly resumed vaccinations but has faced considerable resistance. Widely-shared posts on Facebook made ludicrous claims, such as that striking doctors had sabotaged the vaccines, that the junta demanded signed statements of support in exchange for jabs, or had simply sold the vaccines to Thailand. This severely hampered uptake of the meager vaccines available. Remaining medical staff as well as people who received the vaccines were denounced as junta collaborators. There was also strong peer pressure not to get vaccinated until Aung San Suu Kyi was freed and vaccinated. People took to Facebook to proclaim that all inhabitants of their streets or workplaces remained unvaccinated as a sign of resistance.
The junta's brutal tactics and mismanagement, such as reopening schools, have come home to roost. Many of the key medical and civil society figures who led Myanmar's relatively successful COVID-19 response back in 2020 are now in exile, in hiding, or under arrest. Medical staff remain wary of returning to work even as cases mount. Some have returned to work but report that they fear being labelled as traitors by fellow protesters. Others run parallel medical networks to provide what they can, but operate in fear of arrest. Open letters from doctors and medics have claimed that they will return to work only when democracy was restored. Revulsion against the junta is so deep that health staff who remained in service have been subject to threats, social punishment, and online vitriol.
In ethnic minority areas, ethnic health organizations have stepped up testing and ad-hoc treatment efforts as previously threadbare health services collapsed amid the political chaos. The situation was dire for the hundreds of thousands living in displacement camps before the current crisis, and more than  100,000 have been displaced since. Most camps lacked basic services even before the coup and are perfect COVID-19 tinderboxes.
Scenes of people queuing for oxygen, reports of rampant deaths, and videos of packed crematoria are fueling anger towards the junta, while a disinformation war has erupted on Facebook. Widely shared official-looking documents supposedly from the main border crossing with Thailand claim that the junta has suspended imports of all medical supplies to conserve foreign currency. Meanwhile anti-junta platforms claim that the military has occupied oxygen plants and is confiscating oxygen tanks. In mid-July, rumors circulated that the junta had ordered all pharmacies to shut for one month at the threat of being shot. While the junta has repeatedly clarified that the letters were fake and that it was prioritizing oxygen to public hospitals, its messages received very little traction as panic spread. And despite mounting suffering and deaths, many citizens say that the military is deadlier than COVID-19 and do not fault the striking doctors. Netizens and volunteers have again risen up to confront COVID-19 but are now forced to navigate an extremely dangerous and toxic landscape.
The junta's ruthless determination to hold onto power, its opponents' efforts to undermine the military at any cost, and the advent of the Delta variant mean that the third COVID-19 wave is bound to devastate Myanmar. Even without COVID-19, untold thousands have died due to health service disruptions. The country was already on the brink of economic collapse after the second wave, and faces state failure and a possible broadening of the country's civil war after the senseless military coup. This deadly COVID-19 wave will see thousands of avoidable deaths and unnecessary suffering, and the only thing most Burmese can do is pray.