Nepal's COVID-19 Crisis Exacerbates Hardships for Women
The economic and health impact of the pandemic has disproportionately fallen on women – especially single women.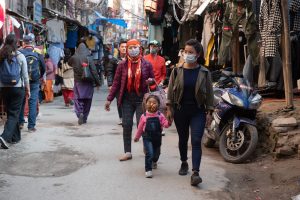 Nepal's second deadly wave of COVID-19 and subsequent lockdown have severely affected many citizens throughout the small South Asian country. Historically marginalized groups including single women – or women who are widowed, divorced, or in a female-headed household – face especially difficult circumstances as the pandemic exacerbates existing social and economic hardships and creates unanticipated challenges.
As of May, Nepal had one of the highest COVID rates in the world, alongside a major vaccine shortage. As of July 22, Nepal had reported a total of 9,661 COVID-related deaths and 674,726 confirmed COVID-19 cases since the pandemic began, surpassing the death toll from the country's devastating 2015 earthquakes.
Although cases are slowing down in Kathmandu Valley after a two-month lockdown, COVID-19 has been surging in rural parts of Nepal where health facilities are not equipped to handle such emergencies. With less than 5 percent of the population fully vaccinated, there is the looming possibility of a third wave.
The pandemic has been economically difficult for daily wage laborers and domestic workers, which make up a large percentage of Nepal's labor force. This has disproportionately impacted women, who make up two-thirds of domestic workers in Nepal. More than 90 percent of women who work in Nepal are part of the informal economy with no social protections against the loss of jobs or income.
A study conducted by the government of Nepal assessing the gendered impacts of the pandemic found a 337 percent rise in the number of women not involved in any paid work. Of the study's 465 respondents across 12 districts, 83 percent reported losing their jobs and income during the pandemic. The study also found that women's unpaid care workload increased during the COVID-19 lockdowns due to school closures and restrictions on mobility outside the home.
The situation for many single women during the pandemic has been precarious as the sole income-earner and caretaker for their family. There is currently a lack of accurate data about single women during COVID-19 because it has been difficult to collect data during the pandemic and lockdowns, and existing sex-disaggregated data does not specify marital status.
Women for Human Rights, Single Women Group (WHR), a Nepali NGO dedicated to improving the rights of single women, recently conducted focus groups through Zoom with single women across different provinces of Nepal to understand the challenges single women are facing during COVID-19 throughout the country.
During these focus groups, women across rural parts of Nepal reported that people with COVID-19 symptoms are often choosing not to get tested because PCR testing is too expensive or is not easily accessible. Some women explained that feeding their children during the pandemic and paying for household expenses has been difficult, so paying 1,000 Nepali rupees (approximately $10) for a PCR test is simply not feasible. Some women also discussed fears of social discrimination or stigma associated with testing COVID-positive, which has further prevented people from getting tested.
Many of the single women discussed their personal experience with COVID-19. A single mother in Rukum, in midwestern Nepal, shared her struggle after testing positive. She lives with her two young children in a rented one-room space, so isolating at home was not a possibility. Despite a lack of income during the pandemic, she decided to rent a nearby hotel room to self-isolate and protect her children from COVID-19 transmission. After one month in the hotel, she recovered and returned home, but now has a significant loan to repay and is worried about how she will manage financially.
Other women in Nepal have become widowed as a result of COVID-19, placing them in a new socially and financially precarious position. This was the case for a woman living in Dharan, in eastern Nepal, whose husband worked as a mechanic and was the sole income earner for the family. During the second wave of COVID-19, her husband became infected and developed pneumonia. She tried to admit him to the local hospital, but no ICU beds were available, so they traveled to Biratnagar. He was admitted to the hospital there but died on the second day. She is now dealing with debt from the hospital bill, as well as struggling to pay for their home's rent, food, and school fees for her children.
Although single women in Nepal have different lived experiences based on factors such as age, caste or ethnicity, class, family support, and location, economic hardship seems to be a common thread heightened by the pandemic.
Economic insecurity exacerbates other challenges for single women in Nepal. Many widows have reported experiences of being stigmatized or ostracized from parts of Nepali society. Widows in particular are sometimes considered inauspicious, unlucky, promiscuous, or even responsible for their husband's death. Rituals such as banning widows from wearing a red tika or clothing, breaking a widow's bangles, and excluding widows from community gatherings are still commonly practiced in some Hindu parts of Nepal.
Over the past few decades, however, these social norms have been shifting. WHR led a movement in Nepal for widows to reclaim the color red and has provided skills training and human rights workshops for single women across the country. Moreover, WHR's advocacy efforts have helped to pass several laws protecting the rights of single women, including the right to retain a deceased husband's property after remarriage, the right to inherit marital property regardless of age, the right to obtain a passport without a male family member's consent, the right to sell or transfer property without permission from adult children, and the right to receive a single woman social security allowance from the government regardless of age. These legal rights are instrumental in building transformative change for single women in Nepal at the societal level, but there is still a long road ahead.
During the COVID-19 pandemic, WHR and other women's rights organizations in Nepal have been hard hit by funding losses and shifting priorities. Most local funding sources were reallocated to support the COVID-19 emergency response. But despite shrinking budgets, women's rights organizations have been adapting to the changing needs and leading the way in community initiatives during the pandemic. In Kathmandu, WHR created a community kitchen during both lockdowns to provide daily meals for frontline workers. WHR also used its shelter space, usually designated for single women, to operate a women's only COVID-19 quarantine center that housed more than 100 migrant women returning to Nepal.
Yet despite such local efforts, women's rights organizations in Nepal have largely been left out of the COVID-19 response planning and decision-making processes at the national level. The government of Nepal has not adequately incorporated gender-sensitive issues into its pandemic response policies. Moving forward as part of its COVID-19 response, the government should allocate funding to and incorporate input from women's rights organizations to ensure that the realities and challenges of single women's lives are addressed during this unprecedented time.