Torture in Myanmar: Don't Let the Junta Normalize Cruelty
Torture – and the fear that it engenders – has been central to the military junta's efforts to quell popular resistance.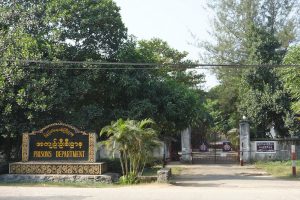 On June 26, CNN reported the story of American-Burmese journalist Nathan Maung, who was released by the Myanmar military after three months of detention, during which time he experienced severe torture. On June 22, Human Rights Watch published the account of a 17-year-old boy, who endured repeated beatings with a bamboo stick filled with cement, blows to the head with the butt of a rifle, and burial up to his neck in a mock execution.
These are just two of the hundreds if not thousands of survivors of the military junta's rampant use of torture since the coup of February 1. Verified reports of mutilation and execution of profiled political activists – including the dismembering of victims' bodies in apparent acts of organ-theft or cover-up – hit local and global media weekly. The flood of narratives about beatings and coercive interrogations, threats, and humiliation from formerly detained Myanmar citizens, bears witness to the routinized torture that the more than 6,000 post-coup detainees suffer every day.
We are confronted by testimonies of rounded-up protesters forced to kneel while they are beaten with pipes and chains, and of rape and sexual assault that leave female detainees bruised and bleeding, unable to walk or speak. There are some who do not survive this torture. The Assistance Association for Political Prisoners (AAPP), which has documented the extent of the military junta's unlawful arrests, killings, and kidnappings, reported on June 26 that at least 24 people have been tortured to death since the coup. Social media is equally brimming with accounts of security officers' violent attacks on unarmed protesters and bystanders. This is apparent proof that torture – not only during detention, but also on the streets and in peoples' homes – is central to the military junta's efforts to quell civil disobedience.
This is not simply lamentable; it is absolutely unacceptable and illegal. Torture has poisoned the lives of people in Myanmar for decades, but right now this destructive practice is doing its damage in a particularly explosive way. The fact that the serious international crime of torture is being committed by police officers and soldiers serving the military junta without restraint daily, should provoke us into action.
We are part of a team of researchers from DIGNITY – the Danish Institute Against Torture – who have studied the history and contemporary practices of imprisonment in Myanmar. Our fieldwork-based analyses show that colonialism and military dictatorship have inscribed cultures and practices of torturous violence deep into the Myanmar state. One example is the infamous pon san torture techniques of painful stress positions, which remain a common punishment in Myanmar prisons today.
Yet our research also shows that the recent decade of democratic reform, while ambiguous and in many ways incomplete, led to embryonic improvements in protecting prisoners against torture. During this period, the security apparatus showed some interest in implementing less violent practices, while the room for the media, civil society, and academics to address this sensitive issue expanded. The junta that ended this period of democratic progress now wants to halt such fledgling but important developments and plunge Myanmar once more into the shadow of state terror.
It has become axiomatic for the anti-torture movement that torture does not work. In one sense, this is true. Torture does not generate credible evidence. Yet, torture still performs a function: It destroys people and undermines public resolve in ways that state terrorist organizations like the Myanmar military strive for and thrive on.
While the increasing state violence has effectively halted democratic progress made over the last decade or so, it simultaneously works to live in the minds of individuals, eating away at their rationality and trust in each other. Security officers are coaxed and coerced to kill, and dissent or defections are rare, as soldiers are compelled to protect their economic interests and shield themselves and their families from the threats of their superiors.
This culture of submission, silence and dependency is based on the junta's strategic isolation of the rank and file from society, while dissidents and civilians are vilified, dehumanized, and turned into enemies by racist and nationalistic propaganda. Whilst we should not jump to ascribing pathological tendencies to perpetrators, we should be ready to understand the power behind such acts. Torture produces deeply damaged perpetrators and deeply traumatized victims. It soils the social fabric and cripples the public and private institutions – from courts to families – that may challenge and resist state terror.
Myanmar's present junta is not a regime that is likely to be stopped by international outrage. It is accused of committing nothing less than a genocide in the last half decade and knows that international justice is slow at best and illusory at worst. But while the international criminal justice system has so far not held a single member of any military regime to account in Myanmar, documentation remains key. We must ensure that these horrors are recorded in such a detail that they evoke visceral responses for generations to come. Any pursuit of accountability must speak to memory, truth, and justice – broadly and inclusively conceived. Research shows very clearly that torture is not just an event. It is process and it is imperative to disallow torture and its afterlife to stabilize, in the here and now, but especially in the long run.
Innovative work is currently being done by the U.K.-based Myanmar Accountability Project to bring Myanmar perpetrators of torture to justice. Myanmar NGOs and community organizations are seeking to systematically document the atrocities on the ground and capture the narratives of torture survivors to facilitate redress and recognition. Additionally, activities to counsel torture survivors in the remote border areas are being established.
Multipronged approaches are needed to both delegitimize practices and cultures of torture, prosecute perpetrators, rehabilitate survivors, reconcile social groups, develop the capacity of professionals, and inhibit the intergenerational damage already done. The international community has a crucial role to play here in supporting local actors that fight torture in Myanmar and to keep advocating repeatedly: torture must not be allowed to stabilize, and must never be accepted as the norm.
The coup has shown that a democratic government in Myanmar has no room for power sharing with the military. The violent core of the Myanmar military cannot be allowed to linger in government when the coup falls apart again. The National Unity Government, comprised of ousted elected officials and representatives of many ethnic groups, has so far confronted deep-seated prejudices in a way that no previous government has before, such as pledging to abolish discriminatory citizenship laws. In realizing the outline of a new future for Myanmar, a legal and institutional framework that breaks the cycles of violence must be formulated. Nobody should be tortured, dehumanized, and degraded. The foundation stones have to be set right this time.