US Imposes Fresh Sanctions on Myanmar's Military Junta
The announcement followed reports that security forces killed at least 25 people in central Myanmar.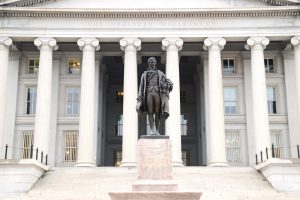 On Friday, the U.S. government announced a new round of sanctions against Myanmar's military junta, and warned of further "increasing costs" over "the military's suppression of democracy and campaign of brutal violence" against anti-coup protesters.
In a statement, the U.S. Department of Treasury announced that it had blocked the assets of 22 individuals connected to the regime, including three members of the State Administration Council (SAC), as the coup regime refers to itself, and four military-appointed cabinet members. It has also sanctioned 15 adult children or spouses of previously designated officials, "whose financial networks have contributed to military officials' ill-gotten gains."
In a simultaneous announcement, the U.S. Department of Commerce said it was imposing trade sanctions on Wanbao Mining, Ltd and two of its subsidiaries, which "have long been reportedly linked to labor rights violations and human rights abuses," particularly at the Letpadaung Copper Mine in central Myanmar. It also sanctioned King Royal Technologies, a telecommunications company that "provides satellite communications services in support of the Burmese military."
The announcements extend the now extensive network of sanctions that have been imposed by the U.S. government since the military's takeover at the start of February, which have targeted SAC members, junta ministers, and the sprawling conglomerates that funnel profits toward the armed forces, or Tatmadaw. In a separate statement, U.S. Secretary of State Antony Blinken said that Washington would continue to target the military government with sanctions unless it agrees to step down from power.
"Today's measures further demonstrate that we will continue to take additional action against, and impose costs on, the military and its leaders until they reverse course and provide for a return to democracy," Blinken said in the statement. "The United States is committed to promoting accountability for the Burmese military, the SAC, and all those who have provided support for the military coup."
Given that the previous rounds of sanctions have failed to deter the Tatmadaw from its chosen course, these additional measures are unlikely to have a determinative effect on the ground.
The U.S. announcements came the same day as Myanmar security forces killed at least 25 people in a confrontation with opponents of the military junta at a town in central Myanmar. According to local media reports, the clash took place in Depayin, in Sagaing Region, when a local People's Defense Force set up to resist the junta attacked Tatmadaw troops.
Reporting on the Depayin clash, the state-run Global New Light of Myanmar described the attackers as "armed terrorists" that had ambushed security forces patrolling there. The Depayin People's Defense Force said on its Facebook page that 18 of its members had been killed and 11 wounded, according to Reuters.
Recent weeks have seen a raft of similar clashes, as the junta's opponents, facing a determined and ruthless foe, turn increasingly to armed resistance to undermine its control of the country. If these attacks indicate a population that is unwilling to accept any prominent political role for the Tatmadaw, let alone a new era of military dictatorship, the generals are also showing little inclination of yielding even an inch to those it considers traitors and "terrorists."