Escapades in Papua: Understanding JAD's Attempts in Indonesia's Easternmost Province
A deeper analysis of the recent arrests of JAD members in Papua suggests that they were independent efforts rather than the result of a coordinated expansion.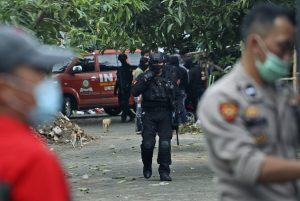 On May 28, Indonesia's Special Detachment 88 (Densus 88) arrested 12 members of Jema'ah Ansharut Daulah (JAD), the country's homegrown pro-Islamic State terrorist organization, in Merauke, Papua. During the arrests, police found that the members had acquired firearms and explosives which they planned to use against the district's churches and police headquarters. Notably, this cell was not native to Papua, as all its members were migrants from Java and Sulawesi. Additionally, while the cell was reportedly "interrelated" with the group's Makassar bombing cell, it is unclear if its members knew about the Makassar bomb plan at all.
This arrest marks the third time JAD members were found to have developed a cell in Papua. The first recorded attempt was done by Cecep and Choirul, two JAD members originating from Sumatra and Java, respectively, who tried to establish a training ground in Mimika, Papua, between December 2017 and May 2018. A second attempt was led by Rudi Hananto, the leader of JAD Bandar Lampung, who fled and established training grounds with seven others of his cell members in Jayapura, the capital of Papua province, between June 2018 and December 2019
The arrests of JAD members in Papua in 2018, 2019, and 2021 have led some to conclude that JAD has been making a concerted effort to migrate to and develop a base in Papua. With its complex security landscape and consistently poor governance, Papua was perceived as an attractive region for JAD as it provides an advantageous alternative for the group to flee from mass arrests, accommodate training, and find targets. Some experts believe that JAD's concerted effort to establish a cell in Papua began as early as 2017, when some JAD members who relocated to Papua and West Papua were reported to have gone there "looking to buy land for setting up training camps."
While anecdotal accounts suggest that JAD is making a concerted expansion to Papua, a close examination of each attempts shows otherwise. Court decisions regarding JAD members who were arrested in Papua show at least two facts that signal the establishment of a Papua cell had not been borne of JAD's strategic intention. First, that the decisions to go to Papua never involved any collective deliberation or coordination with central leadership, and second, that these attempts never resulted in any collective resource mobilization within the group. These court decisions instead indicate that JAD's multiple escapades to Papua were independently made and resourced decisions, which only coincidentally resulted in similar attempts.
No Collective and Coordinated Deliberation
The first sign that JAD is not aiming to expand into Papua is that the decisions for members to go there never involved any collective deliberation or coordination with the group's central leadership. As shown in both the 2018 and 2019 attempts, the two instances of JAD buildups in Papua were more coincidence than carefully coordinated strategy. And while both cells had strategic justifications in going there, the initial motivations were more personal than strategic.
During JAD's 2018 attempt to develop a Papua cell, the idea was not proposed by any rank-and-file member but instead a newly radicalized member, Cecep. Cecep was radicalized online in North Sumatra and went to West Java to work and meet other JAD members. However, due to his new status and anonymity, Cecep was not well received and failed to meet anyone. In his frustration, in December 2017 Cecep proposed establishing a training site in Timika, Papua to a JAD Telegram group. From the group, only one person responded: Choirul, who was also newly radicalized. The two went to Papua in January 2018 without the approval of, nor coordination with, any other members.
While Cecep did have strategic justifications for choosing Timika – he perceived that it was a more fitting and conducive place to conduct i'dad (training) than Poso, a known center of militant activity in Sulawesi – the initial decision to go was largely motivated by a personal issue. Cecep's court documents noted that his desire to establish a training site in Papua was preceded not by a strategic analysis of what JAD needed, but by a desire to "prove himself" to other members. He believed by going to Papua he would be recognized by his peers and could "attract other JAD members so he can finally meet them." Notably, strategic justifications came after a personal reason established the imperative to go. 
A similar dynamic occurred during the development of JAD's second Papua cell in 2019. This time, the idea came from JAD Bandar Lampung's cell leader, Rudi Hananto. Rudi made the decision to go to Jayapura, Papua immediately after Densus 88 began arresting members of JAD Lampung, including its leader, Ujang Saeprohman. In making the decision Rudi only deliberated with one other member of his cell, Ust. Sholihin. During this process, he never once referenced knowledge of other JAD members' attempts to go to Papua, nor did he deliberate with other cell leaders in Lampung. Importantly, Rudi also did not seek council from JAD's central structure. Once again, the decision to go to Papua was decided by individual members at a cell level, not JAD as a group.
Indeed, court records of Rudi's cell members showed that there was strategic thought behind their decision to go to Papua. Rudi himself argued that Papua is a good place to hide as most Papuans were Christians and thus no one would suspect jihadists to be there. Rafii justified moving to Papua because its security forces would be too preoccupied with the Free Papua Movement (OPM) to search for them. Busro stated that Papua is ideal because of its poor governance, which even allowed "corruptors to escape there." Despite these strategic reasons, however, it cannot be forgotten that their justification only came after the group's survival was threatened by mass arrests – without which such intention to move to Papua would not have manifested. 
No Collective Resource Mobilization
A second sign that JAD was not aiming to expand in Papua is that these multiple attempts never resulted in any collective resource mobilization within the group. Notably, as exemplified by the two cases in 2018 and 2019, JAD's central leadership and its various other cells never showed concerted effort to commit or support any Papua cell. They never collectively mobilized any organizational resources to aid their development. The one time that a different cell did help it was not coordinated through any formal organizational channel, but through personal ties between cell members.
In Cecep and Choirul's 2018 attempt to establish a base in Timika, for example, all of the pair's activities were exclusively funded by their own personal funds. This included funds for them to go to Timika via boat, conduct three training excursions between March and April, and develop a bomb to attack members of the Indonesian military and police force. The two also tried to fundraise through a financial front under the name of Yayasan Masyarakat Muslim (Muslim Community Foundation), but failed to do so because none of them were willing nor felt able to lead it. Notably, no other JAD cell or member came to their aid throughout this process.
Rudi's 2019 attempt to establish a cell in Jayapura was similarly self-funded. As he flew to Papua, Rudi brought with him JAD Bandar Lampung's savings of 85 million Indonesian rupiah. This money was used to find safehouses, support members' families, buy airsoft guns for the two i'dad sessions, and even fund two members to study how to assemble explosives with members of JAD Bekasi. Unlike Cecep's 2018 attempt, however, Rudi successfully used these funds to develop a sustainable financial revenue for the cell, namely monthly taxes from a food stall's revenue. From this food stall, the cell was able to collect around 1.3 million rupiah per month.
It is important here to discuss JAD Bekasi's assistance to Rudi's Papua cell. In February 2019, JAD Bekasi agreed to teach Rudi's cell members to assemble explosives. Soon after, two members of Rudi's cell, Tarippudin and Sholihin, flew to Bekasi where they were provided a handler that assisted them throughout the training. However, it was agreed that Rudi's cell had to fund their own accommodation and the purchase of bomb materials and themselves. By April 2019, after several practice sessions, Tarippudin and Sholihin began to make their own explosive devices. But, as they were planning to use the explosives in Bekasi in May 2019, they were quickly arrested.
Notably, this assistance from JAD Bekasi is the only recorded cooperation that a JAD cell in Papua received from another JAD cell. While this might signal a degree of collective resource mobilization, it is important to note that this cooperation was not established through a feat of organizational coordination, but through personal connections. Specifically, it was the friendship between Samuel, the handler from JAD Bekasi, and Tarippudin, an ex-member of JAD Bekasi who went to join JAD Lampung and fled with Rudi to Papua, that enabled the cooperation. It was Taripuddin who proposed to train in Bekasi because he knew of and was able to contact Samuel, and it was Samuel who convinced JAD Bekasi's leader to accept Taripuddin by vouching for his credentials. Without these personal ties, such cooperation would not have occurred.
Lessons for Understanding JAD
This analysis offers three important takeaways. First, evidently, JAD never had any strategic intention as a group to expand to Papua. In both instances, the decisions to go to Papua were made as ad hoc measures by individual members or cell leaders without collective deliberation with JAD's central leadership or leaders from other cells. More importantly, once the decision was made, no organizational resource were mobilized to aid these nascent Papua cells. In the single instance that logistical support was given to a Papua cell, it was established not through formal organizational coordination, but through the personal connections that members between the cells had previously established. 
Second, although JAD as an organization has no recorded interest of strategically expanding to Papua, some members and cells might still see Papua as an attractive destination for training. However, one should not overestimate the threat posed by these individual cells. Past records show that cells which relocate to Papua have limited resources to conduct activities as other cells often do not know or do not want to commit to supporting them. While the smallest of terrorist activities in any region should be a concern, over-hyping the threat of a group's presence is unproductive as it generates unnecessary fear and provides a skewed portrayal of success that can inspire and boost morale of other members who might want to imitate, and perfect, their attempts.
Third, as evidenced by JAD Bekasi's assistance to Rudi's Papua cell, interpersonal ties are crucial in facilitating JAD's operations. Without the friendship that Taripuddin and Samuel developed, the two cells would have lacked the connection that enabled communication and built trust between them – two crucial variables allowed the collaborative explosives assembly training to occur. As shown by their multiple use of family cells to conduct attacks, notably in the 2018 Surabaya bombing and the recent Makassar church bombing, JAD is an organization that is infamous for its exploitation of interpersonal ties to conduct operations. This exposition of JAD in Papua if anything only further solidifies this thesis.