Former Khmer Rouge Head of State Begins Genocide Appeal
Khieu Samphan's legal team are seeking the dismissal of the genocide conviction handed down by the U.N.-backed court in 2018.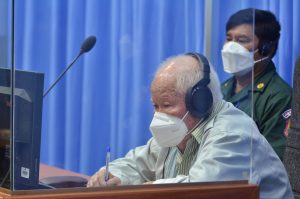 Khieu Samphan, the last surviving senior leader of Cambodia's Khmer Rouge, has begun his appeal against the life sentence for genocide that was handed down by a United Nations-backed court in 2018.
The appeal hearing opened this morning at the special tribunal in Phnom Penh and will last until Thursday. This morning, Khieu Samphan's defense team argued that the tribunal, formally known as the Extraordinary Chambers in the Courts of Cambodia (ECCC), had taken a "selective approach" to witness testimony and not given proper weight to evidence in their client's favor. They also claimed that the ECCC had convicted Khieu Samphan, 90, on the basis of legal criteria that he could not have known when the alleged crimes took place.
Due to COVID-19 restrictions, Khieu Samphan and his defense team were forced to sit in a separate room from the judges in the main courtroom, while seating in the public gallery was restricted.
In April 1975, in scenes reminiscent of the Taliban seizure of Afghanistan's capital Kabul this week the Khmer Rouge, led by "Brother Number 1" Pol Pot, marched into Phnom Penh and seized power. The communist movement immediately evacuated the city and put the Cambodian population to work on vast rural labor communes in a bid to strip away old attitudes and fashion a pure agrarian utopia.
By the time they were overthrow by a Vietnamese invasion in January 1979, Khmer Rouge rule had cost an estimated 1.7 million Cambodians their lives from overwork, starvation, and executions.
In 2006, the ECCC was established by the U.N. and the Cambodian government to try senior surviving leaders of the Khmer Rouge and "those most responsible" for crimes committed between 1975 and 1979.
In November 2018, the ECCC convicted Khieu Samphan of genocide and a litany of other crimes, including forced marriages and rape, along with the regime's "Brother Number 2" Nuon Chea. Both men were jailed for life. Nuon Chea died in 2019, leaving Khieu Samphan the sole surviving Khmer Rouge leader to challenge the genocide ruling.
Khieu Samphan and Nuon Chea were previously handed life sentences by the tribunal in August 2014 for crimes against humanity over the violent forced evacuation of Phnom by Khmer Rouge troops shortly after their seizure of the capital. Their life sentences were upheld on appeal in 2016.
Khieu Samphan is expected to testify at the close of the appeal hearing, court spokesperson Neth Pheaktra told Agence-France Presse last week, which could see a reprise of the angry denials that the former leader made during his trial in 2017.
"The term 'murder,' I categorically reject it," Khieu Samphan said during the trial, repeating the old Khmer Rouge line that the crimes of the regime were carried out by Vietnam, which the regime viewed as an irreconcilable enemy.
Khieu Samphan's appeal hearing figures as the final chapter for the ECCC, a hybrid court that pairs Cambodian and international judges, but has been troubled by protracted proceedings and divisions between the two sides about the limits and purpose of the trials.
Since its establishment, the tribunal has managed to convict just three people at a cost of more than $300 million. The tribunal's first case, Case 001, reached its culmination in 2012 with the life imprisonment of Kaing Guek Eav, alias Comrade Duch, the Eichmann-like figure who managed Phnom Penh's terrifying S-21 security prison (today's Tuol Sleng Genocide Museum.)
In Case 002, however, the ECCC has been forced to race the clock, with all four of its defendants of advanced age and in poor health. In addition to Khieu Samphan and Nuon Chea, two other defendants, former Khmer Rouge foreign minister Ieng Sary and his wife Ieng Thirith, died before they could be convicted. Pol Pot died in 1998 without facing trial, while another jailed leader, Ta Mok, passed away in 2006.
Likewise, two future cases – Case 003 and Case 004 – have ground to a halt over disagreements between the Cambodian and international co-prosecutors over whether they should proceed to trial. Cambodia's Prime Minister Hun Sen, who fought for the Khmer Rouge before defecting to Vietnam in 1977 to avoid internal purges, has publicly opposed the cases in order to ensure that they run along politically predictable lines, a position that has been echoed by Cambodian court personnel.