Is There Space in Pakistan for Women on Their Own?
The expected arc of a woman's life in Pakistan is living in her parents' home and then that of her husband. But more women are striking out alone, seeking independence.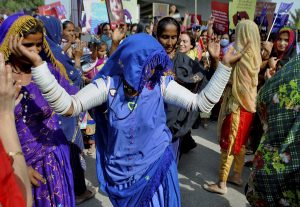 In 2016 Nighat Dad arrived at her office with her 9-year-old son and her younger sister after leaving their family home. Dad, 40, who is a lawyer and a women's and digital rights activist, was well aware of the limitations in the kind of housing two women, both divorced, would be able to secure in Lahore. For a year and half, the three of them lived in a room on the top floor of the office, keeping it a secret from outsiders. 
Slowly, it became difficult to maintain the status quo with her son getting older, unable to leave their room during office hours, and with no kitchen to be able to cook food. Dad and her sister decided to look for another place — only to find out that because of their gender and relationship status they could not rent a place in any of the city's good localities. Someone mentioned a housing authority to them that gave places to single women easily at reasonable prices and Dad quickly grabbed at the opportunity.
"Our neighbors could not believe that two women were running the household," said Dad. "They could not imagine a family unit without a man."
There seems to be no space in Pakistani culture for women living alone. The common and expected arc of a woman's life consists of first living in her parents' home and moving out only when moving into the home of her husband and his family. Women who seek independence are often thought to be bringing shame upon the family by doing so and are severely criticized by relatives — close and distant alike. But in recent years, the country has seen a change in which more women are choosing to live independently, whether it's by relocating to a different city for work, leaving abusive domestic situations, or even simply wanting to dip their toes in some form of liberation in a country determined to shackle them in one way or another. However, for most of these women, the decision to live independently brings with it its own set of challenges. They often have to put themselves in potentially dangerous situations in order to live a life devoid of control and confinement.
According to Mazhar Lodhi, a real estate agent based in Islamabad, finding places for women is fairly easy. "They can find accommodations in hostels, apartments and even portions or rooms in houses," he said. 
For some women it might be easy to get a place, but living there seems to be a different story. 
A few years ago, Momina Mindeel, 27, convinced her family to let her live by herself for a few months before she left for graduate school in New York. After looking at a bunch of places, some too pricey and some too dingy, she finally moved into a portion of a house in Lahore that she rented with another girl. The landlord lived in another city, but he had hired another man to look after the house. 
"We already told him that we will be having male and female friends over and to not bother us later," Mindeel said. But the man became increasingly interfering in their lives, constantly calling and asking about the guests visiting, or complaining about trivial matters. Because of him, Mindeel's apartment mate left abruptly and Mindeel decided to finish the month before leaving, too. 
"Sometimes I would find him using her keys and getting into the portion I was renting — often sitting on the bed smoking." When Mindeel finally mustered up the courage to ask him to stop doing this, he replied that if her other friends could come over, why couldn't he?
"While it was a terrible experience and I know all of it was because I was a woman," said Mindeel. "I would be open to trying it again because of the freedom it afforded — but maybe just be a little careful of who the landlord is." 
While for Mindeel it was the person in charge of the house who tried to take advantage of the two single women residing there, for Yusra Jabeen, 31, it was men who lived in the same apartment building as her. 
Jabeen has been living independently for the last six years, for work and to avoid a toxic domestic situation. 
"Just moving in and out of my apartment became uncomfortable," said Jabeen. "Men continuously stared like what I was doing was something unusual." 
She eventually began wearing a burqa to cover her face, thinking maybe that would help with the anxiety her living situation was causing. 
"I sometimes thought that if I had married someone maybe it would be better," she laughed. "But then I quickly remind myself that I'm the only one making decisions for my life with all the freedom in the world — both of which would be non-existent in the former situation."
According to Nayab Gohar Jan, an activist based in Lahore, it's a cost-benefit analysis in which some women are willing to go through a lot as a price for independence or freedom. 
"Normally, the limitations in their mobility and ability to make their own decisions lead them to make this huge and difficult step," said Jan.
Dr. Nida Kirmani, a sociologist and a professor of gender and urban marginality in South Asia, believes it is extremely difficult for women in Pakistan to move out of traditional family structures and only possible for a subsection of the elite. Jan disagrees. 
"If you look at whatever little housing options women have, there are hostels accommodating single women of which a lot are coming from smaller cities as well," said Jan.
According to her, it is a prevalent belief that in most cases upper and middle class women are getting a better bargain when they choose to live in traditional family structures in terms of comfort and resources — making it worth it to give up some freedom — unlike women belonging to the lower and working class. "The limitations to women's bodily autonomy and decision making is not limited to one class, it happens across the board." 
Speaking with women across different ages and socioeconomic backgrounds, it is evident that the journey isn't easy in a place like Pakistan, but because of the basic mobility and freedom it brings, for some women the impediments are less and less daunting. 
For women who do decide to live independently, apart from the security concerns, moral policing is also a recurring theme in their journeys. 
In January 2020, Sidra Amin, 26, moved from Peshawar to Islamabad for work. "I had heard horror stories of women dealing with landlords and landladies so I found someone who already had an apartment and moved in," she said. The building she lived in had two complexes — one for bachelors and one for families. Her apartment was on the first floor, which she found to be noisy and also unsafe. "I asked the real estate agent if I could be moved to the family complex, to which I was told that for that my parents need to visit at least once a month and I can never have any male friends over, which they will be monitoring through a security camera," she said. "I don't understand the moral policing of women by everyone and the need to prove that there is a family backing me up to feel safe." She added that it is exhausting having to plan her entire day around trivial tasks for security reasons like ensuring that she's not alone in the apartment when calling over an electrician or plumber. 
The recent surge in violence against women in Pakistan has increased the security concerns faced by women in the country. 
Afshan Khan, 44, left an emotionally abusive marriage in 2015 and decided to not live with her parents; instead she rented part of a house in Islamabad. "I keep checking if the doors and windows are all locked and have kept unarmed guards," she said. "But hearing the recent stories of femicide in the city has made me increasingly cautious." Khan said she knows she is extremely privileged to be able to rent in a really safe area of the city and to be able to hire security guards. According to her, her financial independence during her marriage was the reason this decision was easier and while the security concerns have her worked up on most days, the independence she enjoys now is critical.
"All my life I have been dependent on someone; first my family and then my husband," she said. "But now that I know what freedom feels like, I will never give it up again."
The most common concern raised by those who are against women living on their own is a lack of safety. "There is a misconception that women who live independently are worse off in terms of safety and security than those who live with their families because if you look at statistics, 70 to 90 percent of gender-based violence happens with close partnerships or relations," said Jan. "The problem isn't security as much as it is this patriarchal anxiety attached to women deciding they can survive on their own." 
Anecdotally speaking, Jan believes there is already a rise in the number of women living alone, which can be seen from the albeit limited resources that are now available, including real estate agents and landlords that do entertain the idea of women living independently — something that did not exist not so long ago. "If more women do live independently, it would be a great challenge to the traditional patriarchal family structure," said Kirmani. "It would give women the option to leave unhappy and abusive situations and normalize it for others in the process." 
While there are no official statistics available, there does seem to be a change taking place in which many women are doing what it takes to be on their own and are ready to endure the challenges such a move brings. 
"Sometimes our insecurities and fears are so overpowering for us that we continue to live in unwanted, toxic, and even abusive situations because it provides a sense of familiarity and security," said Dad. "But if just once women realize what it means to have the freedom to control their own lives, they'll do anything and everything to grab onto it."