Myanmar Junta Forms Caretaker Government, Promises Elections in 2023
But the announcement will do little to convince the large proportion of the Myanmar public opposing military rule.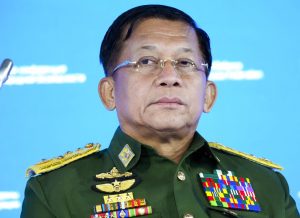 Myanmar's military junta has formed a new caretaker government and pledged to hold elections, six months after it overthrew an elected civilian government, coup leader Sen. Gen. Min Aung Hlaing said yesterday.
The general, who has assigned himself the role of prime minister in the new government, said in a televised speech the junta would hold elections by August 2023 and that it was was ready to work with a future ASEAN-appointed envoy on Myanmar.
Min Aung Hlaing's announcement came six months to the day after the Tatmadaw's February 1 seizure of power from a civilian government that won a resounding victory of elections in November. The military claims the elections were marred by fraud, and officially annulled the results last week.
"We must create conditions to hold a free and fair multiparty general election," Min Aung Hlaing said in his speech. "We have to make preparations. I pledge to hold the multiparty general election without fail." He also pledged that the election would lead to "the establishment of a union based on democracy and federalism."
The new timeline significantly extends Myanmar's state of emergency beyond the junta's initial promise to hold elections within a year of its seizure of power. There is little chance that the election, if is held according to the current schedule, will be anything approaching free and fair. Rather, any election will function as a ploy to veil military rule in the language and institutions of democracy. It is a similar strategy to that employed by Thailand's military at tightly circumscribed elections in 2019, which gave the government of Gen. Prayut Chan-o-cha, which seized power in a coup in 2014, a patina of democratic legitimacy.
But the junta's electoral maneuvering do nothing to convince those nations – mostly Western democracies – that have been most critical of the military takeover. Neither will it win over the large swathe of the country's population who have expressed its opposition to the coup. As Ko Aung Thu, a leader of the nationwide resistance to the coup, told The New York Times, "we must continue to protest until they somehow fall."
By setting a new timeline for elections and rebranding itself a caretaker government, Myanmar's new regime is attempting to project a sense of permanence and solidity to audiences both at home and abroad. The move may also be an attempt to glean some legitimacy by comparing the current interregnum with 1958-60, when the Tatmadaw held power as a "caretaker government."
In practical terms, the junta's move is likely designed to create the space for the military to wait out and neutralize the burgeoning anti-coup movement that has led near-daily protests, civil disobedience strikes, and work stoppages since February, in addition to increasing acts of violence against the junta and its representatives.
Most interestingly, Min Aung Hlaing said the interim administration "is ready to work on ASEAN cooperation within the ASEAN framework, including the dialogue with the ASEAN special envoy in Myanmar." The appointment of a special envoy to promote dialogue between the junta and its opponents was one of the five points of consensus that the Southeast Asian bloc agreed at a special summit on April 24. Since then, ASEAN has been unable to agree on a candidate; nor has it made any progress on the other four points of consensus, which included calls for peaceful dialog and an end to the violence in Myanmar.
ASEAN's foreign ministers are set to meet virtually today, and are aiming to finalize the appointment of a special envoy, Brunei's second minister of foreign affairs Erywan Yusof said last week. Yusof confirmed that he is one of the four potential candidates for the role. Indonesia, Thailand, and Malaysia have also each put forward nominees.
In his speech yesterday, Min Aung Hlaing said that Thailand's suggested nominee, former deputy foreign minister Virasakdi Futrakul, was his preferred choice for envoy. This reflects the close relations between Myanmar's military and Prayut's administration, which has so far been muted in its criticisms of the military takeover in Myanmar.
This indicates that Myanmar's military will try to use the ASEAN-led diplomatic process to legitimize its rule, and will only comply to the extent that it does nothing to loosen its hold on power. During his speech, Min Aung Hlaing referred to anti-coup protesters as "terrorists," suggesting – if any suggestion was still needed – that his regime has no intention of entering into negotiations into the shadow National Unity Government and other organizations opposing its rule.
However military rule is euphemized, Myanmar's political turmoil seems set to drag on for the foreseeable future.