Taliban Claim Attack in Kabul as Cries of Defiance Echo
An hour after the blast in Shirpoor, Afghans in Kabul and elsewhere took to their rooftops to cry "Allahu Akbar" into the night in defiance of the Taliban.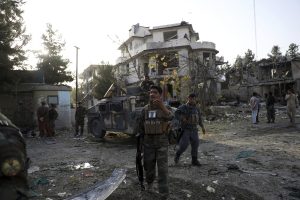 On Tuesday evening around 8 p.m. a car bomb exploded outside the home of Afghanistan's Acting Defense Minister Gen. Bismillah Mohammadi in the Shirpoor neighborhood in Kabul. After the blast, TOLO News reported, four gunmen entered a nearby house and engaged security guards there. Some reports suggest Mohammad Azim Mohseni, an MP from Baghlan who also lives near where the blast occurred, was the target. At least eight people were killed in the attack, and more than 20 wounded; however, Mohseni and Mohammadi and their families were not home when the attack occurred.
The Taliban later claimed the attack, with Zabihullah Mujahid, a Taliban spokesman, saying, "The suicide attack was in reaction to the actions of … the Kabul regime" and those "ordering attacks against innocent people, and bombings of civilian populations."
An hour later, chants of "Allahu Akbar" echoed through Kabul. The cries were in defiance of the Taliban and support of the Afghan National Security Forces, following the first such rooftop chanting protest in Herat on Monday. The chanting echoed similar protests in the 1980s, during the Soviet occupation – except this time, videos circulated rapidly on social media. The videos show dark cities, speckled with flickering points of light, and filled with the sound of people raising their voices together. 
"Last night, the people of Herat showed exactly who represents the cries of Allahu Akbar," Afghan President Ashraf Ghani said on Tuesday morning. Inspired by Herat, people in Kabul, Nangarhar, Khost, Kunar, and Bamiyan provinces orchestrated similar protests for Tuesday night. 
On social media, several journalists and analysts remarked that average Afghans seizing the "Allahu Akbar" chant — which means "God is greater" — for their rallying cry was an act of defiance and more. RFE/RL's Frud Bezhan put it like this: "Chants of 'Allah Akbar' — rallying cry for national resistance against Taliban in #Afghanistan — is significant. Taliban claims it's waging 'jihad' to establish 'pure' Islamic system. But this rallying cry is a powerful rejection of Taliban's distorted, alien, version of Islam."
Mujahid, the Taliban spokesman, posted a statement on Twitter claiming "Allahu Akbar" was the Taliban's motto. "This is not the motto of American slaves and secularists."
One Twitter user remarked that the Taliban was making copyright infringement allegation.
Viewing the Taliban's reaction and the timing of the attack in Shirpoor together, one sees Afghan defiance despite Taliban pressure. With the United States' withdrawal nearly complete, and the Taliban making seeming gains across Afghanistan, the overriding narratives in most media are varying shades of bleak outlooks. But what maps of district control don't display so well is the Afghan people and what they want.