Taliban's Return Has Afghan Women Living in Fear
For Afghan women, the threat from the Taliban is very real.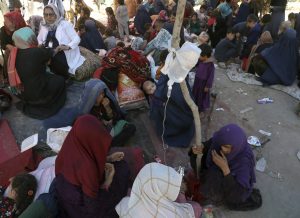 When the United States invaded Afghanistan in 2001, safeguarding the rights of women and children was one of its supposed prime objectives, alongside eliminating al-Qaida for its role in the 9/11 attacks. Then-U.S. President George W. Bush pledged funds to support the women and children of Afghanistan and his wife, Laura Bush, became particularly vocal in this pursuit of women rights – a cause also often cited to justify the U.S. invasion. "The fight against terrorism is also the fight for the rights and dignity of women," she had said.
In the ensuing years, a great number of young Afghan girls started attending schools in what seemed a positive development for Afghan society. Laws were enacted to protect human rights after Taliban rule and subsequently Afghan women entered the public sphere as doctors, teachers, lawmakers, and public administrators. But with the Taliban in control of Kabul shortly after the U.S. forces' withdrawal, what does the future hold for Afghan women?
As the Taliban furthered their control in Afghanistan and captured major cities at a lightning speed amidst the U.S. forces' withdrawal — including the capital of Kabul — fears of mass human rights violations have been resurrected. Indisputably, it is women and young girls who are likely to bear the brunt of restrictions under the Taliban and their imposed doctrine, as seen in the past. The last time the Taliban were in power, they curtailed women's freedom of movement and freedom of expression and suppressed their right to education. Moral policing and wide-scale corporal punishments were a regular occurrence. Women were publicly flogged and given heinous treatment during this time and now they fear history repeating itself.
Hadia Ibrahimkhel, a senior economics student at Kabul University, tells me from the Afghan capital that "her life just isn't the same anymore" ever since the Taliban have started to gain control again amidst the U.S. forces' withdrawal.
"Every day, I go to the university thinking it might be my last day. I fear the Taliban will take over Kabul University and I am reminded of the time when they attacked our university in November 2020 and killed many of my classmates and took many others hostage," she says.
Ibrahimkhel is a woman with goals and ambitions. For her, the Taliban's arrival means "losing my house, ambitions, freedom and everything else!"
Another Afghan woman, who considers herself a feminist, tells me that now, 20 years on, her country is entering "a new situation" that holds a "dark future" for its women.
In a similar vein, a women's rights activist, Mariam Atahi, told German broadcaster DW that she is afraid the Taliban will come and kill her, fearing punishment because of her 20 years of work for women's rights. That very much goes against the ideologies of the insurgents, who project and propagate patriarchy and a conservative version of Islam.
"People are stressing out that tomorrow night or the night after tomorrow, the Taliban will take Kabul and they are going to go back to the same situation as they were in 1996," she said in that interview. Since then, the Taliban have indeed taken Kabul, and few take their promises of expanded rights for women at face value.
The realities of life under Taliban control are already evident. An Afghan woman and school teacher, told the Associated Press that women were no longer allowed to go out to the market without a male guardian.
The Wall Street Journal, quoting Afghan civilians, also reported the prevalence of sexual violence in the recent onslaught and detailed that the Taliban commanders have demanded that communities turn over unmarried women to become "wives" for their fighters.
According to the Afghanistan Independent Human Rights Commission, nearly 1 million people have been displaced in the country already over the past few months, of which 70 percent of the displaced have been women and children.
In an already misogynistic social construct, the growing Taliban influence and control is likely to further exacerbate inequalities against women, who make up 48.7 percent of Afghanistan's population. This is despite seeing an improvement in women's role in the country in the past, with more women gaining access to education and careers. Under Taliban rule, women are more prone to being subjected to a renewed set of restrictions, violence, and injustices and are vulnerable to being displaced, trafficked and even attacked.
A recent U.S. National Intelligence Council report too expressed concern that the Taliban "would roll back much" of the progress made for Afghan women's rights if they regain national power, adding that the insurgents will further resume the harsh treatment that was inflicted upon young girls and women during their rule between 1996 and 2001.
Safeguarding women's interests in a sustainable manner and ensuring the security of civilians while pursuing a solution to the long drawn conflict is imperative and will be a litmus test for the stakeholders and international powers involved. As troops withdraw, a reduction in aid programs is anticipated, which too will hamper progress made toward women's empowerment.
What becomes evident here is that the women of Afghanistan, being the most affected by a dogmatic regime, will have to be included and involved in any sort of peacebuilding and negotiations – a premise backed by the U.N. Security Council Resolutions 1325 and 1889, which state that "creation of stable peace hinges upon the full involvement and participation of women." The world must stand behind Afghan women.