Myanmar's Coup Has Put Women in Harm's Way
Seven months after the military's seizure of power, women in Myanmar are facing a rise in threats to their livelihoods and health.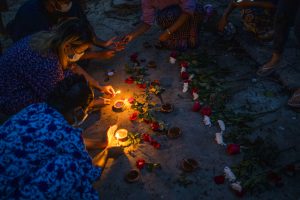 Women and gendered minorities in Myanmar are experiencing devastating impacts on their health as the military tightens control on the country's healthcare system. Without proper access to health services, women are struggling to survive. Health experts and community leaders working with the most vulnerable are fearful that women and children are more susceptible to COVID-19 due to a lack of access to services.
"The junta's attacks on health, and on civilians in general, became a double-edged sword that not only disabled a health system that was just starting to get stronger under the civilian government, but also shattered any trust the people had in the government health ministry," said Sandra Mon, a senior researcher at the Center for Public Health and Human Rights at Johns Hopkins University's Department of Epidemiology.
"This in turn crippled any existing healthcare infrastructure, facilities, and workforce that would otherwise have been poised to deal with the devastating third wave of COVID-19."
She added that women and gender minorities lack fair opportunities to be as healthy as possible, highlighting health disparities across socio-economic lines. "There is little agency given to women and gender minorities to advocate for themselves and seek care, which puts them at a disadvantage," Mon said.
This issue is even more pertinent for ethnic minority women who are fleeing violence and conflict in rural parts of the country. Immediately following the coup, state-sponsored violence began displacing hundreds of thousands of civilians.
Access to healthcare, already limited in Myanmar, has only deteriorated since the coup. Today AAPP estimates that over 1,000 civilians have been killed since February 1. The crisis has forced hundreds of health workers underground as the military, also known as the Tatmadaw, continues to target them for their involvement in the resistance movement. Even in the face of a deadly third wave of COVID-19, the junta has refused to allow doctors to help those in desperate need.
But the Tatmadaw's violence is spilling over to female health workers as well.
On February 28 of this year, Dr. Troy Maung, watched state security forces launch an attack on a group of female medics at a protest in Yangon. The founder of the recently established Myanmar Doctors for Human Rights Network, which treats both patients and collects evidence of the military's human rights violations, said he was only a few feet away when he witnessed the horrifying assault. He said the women were simply trying to do their jobs, but it did not stop the military soldiers from brutalizing them.
"They used extreme violence, and were firing rubber bullets at us," said Dr. Maung. "One of the most shocking images I saw was a female medical student who was attacked. Her nose began bleeding when they hit her head."
Dr. Maung added that when the junta began pushing health professionals underground, the situation started to get even more severe for people fleeing violence in rural areas.
"We see women giving birth in IDP camps by people without experience," said Dr. Maung.  "This poses a great danger for the mother and child. There are risks including unhygienic conditions and challenges for safe delivery without equipment. Intense pain is common after birth, as are infections which threaten the health of new mothers," he added.
According to recent estimates by the United Nations High Commissioner for Refugees, around 210,000 civilians have been internally displaced since the coup, with another 3 million in dire need of humanitarian assistance. Among those displaced, more than 80 percent are women and children.
Civil society organizations have called on the international community, including the United Nations Secretary General Antonio Guterres, for a ramped up humanitarian response plan to address the needs of those suffering from the surge of COVID-19 and increased internal conflict.
A spokesperson from the Karenni National Women's Organization (KNWO), who wished to remain anonymous for safety reasons, told The Diplomat that women throughout Myanmar, particularly those fleeing violence, feel insecure.
"There is not enough food to survive, and it is difficult to get all the essential nutrients for pregnant women and children, especially without clean drinking water," the KNWO spokesperson said. "Some babies have died under these harsh conditions as their mothers attempt to escape the presence of the junta."
The COVID-19 pandemic has made the situation  more challenging for groups like KNWO, which are working to meet the needs of communities in Kayah State, where one-third of the population has been displaced. Beneficiaries have told KNWO that there is nowhere safe for them to go and that fighting is "everywhere." They are constantly worried for their children's education and security – and ultimately, their survival.
The Myanmar military has long been notorious for conflict-related sexual violence and other forms of gender-based violence. Cases have increased since the coup, highlighting another challenge that women, including female health care workers, are now forced to grapple with.
On top of a crackdown on aid,  the price for personal protective equipment has skyrocketed. Pharmacies are closing and hospitals are becoming overwhelmed with COVID-19 patients.
Dr. Maung has urged the U.N. and all international bodies to resist providing any aid that might legitimize the junta. He says that aid must be funneled through ethnic health providers, international non-governmental organizations, and trusted underground groups, in order to avoid working with the military.
Groups like KNWO have called for a safety zone where IDPs have access to humanitarian aid, which is safely administered by civil society organizations and relief groups. Dr. Maung also emphasized the need to reestablish hospitals as a neutral workplace where patients and healthcare workers must be protected.
Today, calls are being amplified for both short and long-term solutions to the many challenges associated with the junta's mishandling of the pandemic. And in the face of so much risk, ethnic health workers and civil society organizations have been providing services through long-established networks along the Thai-Myanmar border.
"Hospitals should be a place for protection regardless of political spectrum," said Dr. Maung. "Health and human rights are connected. We need to stand for what is right."