Report Illustrates Snap-Freezing of Cambodia's Online Space
Since nearly losing an election in 2013, Prime Minister Hun Sen's government has taken a range of steps to establish a firm grip on digital communications technologies.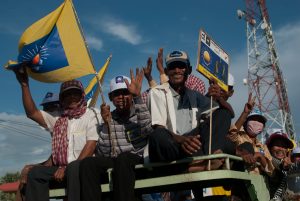 Internet freedoms in Cambodia have experienced a "drastic regression" in recent years as the ruling Cambodian People's Party (CPP) has waged a severe political offensive on its opponents, according to a new report.
Released yesterday by the Bangkok-based Asia Centre, the report documents the drastic narrowing of Cambodia's once freewheeling online space, and reviews the various pieces of legislation that the government has used to justify its increased surveillance of personal communications and persecution of critics for comments made online.
"Cambodia's slew of legal measures has created a highly surveilled digital landscape that is causing anxiety among those who want to express dissent," the report states. "Faced with threats and social media manipulation, critics and human rights defenders have retreated into self-censorship and withdrawal from political engagement to ensure their survival."
All this is a contrast to a decade ago, when Cambodia saw a boom in internet access, enabled by the sudden proliferation of cheap, web-enabled smartphones. The boom was sudden and dramatic: internet users shot up from a tiny 0.53 percent of the population in 2009 to 52.6 percent of the population (8.86 million people) this year.
Straight away, this new technology demonstrated its political potency. At the national election of July 2013, the use of Facebook helped to power the impressive showing of a new political party, the Cambodia National Rescue Party (CNRP). The elections were a wake-up call for Prime Minister Hun Sen and the CPP, which saw its 90-seat majority in the National Assembly slashed to just 68 seats.
As the 2018 election heaved into view, the government began clamping down on any and all sources of opposition, banning the CNRP, exiling one of its leaders and arresting another on charges of treason. It forced the closure of two foreign-owned newspapers, and levied criminal charges against government critics, human rights activists, and opposition figures for relatively innocuous comments.
This crackdown also had its online component, which consisted of dual efforts to harness the internet and social media for the government's own ends, and to prevent the use of this technology by the opposition. Hun Sen took to Facebook with all the zeal of the convert, quickly amassing an incredible 13.7 million followers (a figure likely inflated by online click farms). At the same time, the government hastened to enact what the Asia Centre report refers to as "a slew of vaguely-worded laws and propose draft legislation to silence these online users and curb the advent of cyberspace as an important site to mobilize and launch political opposition to its continued rule."
Its purpose, the report rightly states, is "to create fear [and] eliminate critical dissent" from the online sphere, something it has now at least partially achieved. "Self-censorship is omnipresent in Cambodia," said Dr. James Gomez, the Regional Director of the Asia Centre, in launching the report. "Whatever one says privately or publicly is being monitored, shared and used for legal persecution."
The Asia Centre report details the various legal mechanisms on which the Cambodian government has based its restrictions of online speech. It cites five provisions of the country's 2009 Penal Code – including elastic provisions on "disinformation" and "incitement to commit a felony" – and various newer regulations that effectively give the government the right to commandeer telecoms networks in the event of loosely defined national emergencies.
Among the potentially most far-reaching rule is a sub-decree that was passed earlier this year, establishing a National Internet Gateway that will allow online traffic to be more closely controlled and monitored. According to the sub-decree, internet service providers will be given 12 months to re-route their networks through the single gateway, although the law gave no timeframe for its launch.
According to the decree, the operator of the gateway will support authorities with "measures to prevent and disconnect all network connections that affect national income, security, social order, morality, culture, traditions, and customs" – a formulation that could be taken to mean just about anything.
During the launch of the report, representatives from the Asia Centre and U.N. experts issued a call for a personal data protection framework that could help "to improve privacy rights and mitigate the acute self-censorship in Cambodia."
The problem, of course, is that the law in Cambodia has nearly always been subservient to political power. Dozens of laws passed since the early 1990s, on everything from environmental protection to anti-corruption, have either been ineffective or implemented in support of the CPP's prerogatives. As such, there is little likelihood that new legislation will help loosen the government's tightening hold over the online space. Whatever the solution, it will more likely come through political rather than legal channels.