Thailand's 2022 Budget Takes Shape
The government has been criticized for directing money to royal agencies and questionable submarine purchases during a time of economic uncertainty.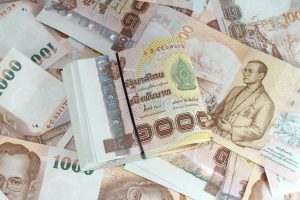 The government of Thailand is finalizing its budget for the 2022 fiscal year, which will kick in on October 1, 2021. According to the Bangkok Post, the budget will clock in at 3.1 trillion baht, a slight reduction from 2021's 3.28 trillion budget. This lower amount reflects the government's aversion to running budget deficits and its desire to return to pre-pandemic levels of spending.
Thailand borrowed to finance the deficit last year as it tried to shore up a battered economy, but it was mostly short-term borrowing and it's not something they want to make a habit of. Put simply, Thailand doesn't like to borrow to finance public expenditures, and that is especially true now with foreign exchange from tourism drying up and the current account swinging into deficit.
The problem is that planners built the 2022 budget based on the assumption, per Reuters, that the "economy will expand by between 2.5 percent and 3.5 percent this year and 4.0 percent to 5.0 percent in 2022." While that might have been an optimistic but not-completely-terrible assumption earlier this year, the resurgence of COVID-19 casts serious doubts on the validity of such rosy projections. Not only will the economy probably not grow at that rate, the government may need to pump more stimulus into it and borrow more heavily to do so.
And that's where this budget, as currently constructed, has been controversial. One criticism is that money is not being spent wisely. One obvious example is that royal agencies have been allocated 8.76 billion baht in 2022, down slightly from the previous year but double the 4.2 billion allocated in 2018 under healthier economic conditions.
The Defense Ministry has likewise moved forward with plans to purchase some Chinese submarines at a cost of 22.5 billion baht. While the ministry's total budget was actually reduced in 2021 and looks like it will be cut further in 2022, the optics of directing money to royal agencies and questionable submarine purchases during a time of economic uncertainty comes across as somewhat tone deaf.
What people would probably rather see is more money going to direct cash subsidies and social assistance for those who have lost jobs during the pandemic. They likely want to see more money going toward the Ministry of Health, to shore up the hospital system as COVID-19 cases spike. And in fact, the 2022 budget contains a bump of about 10 billion baht for the Health Ministry, which is noteworthy given most ministries are seeing budget reductions.
But the central budget, which includes a pool of money over which the prime minister exercises control,  remains the largest single line item in the 2022 budget, with an allocation of 571 billion baht. That is a reduction from last year but it still represents 18.4 percent of the entire budget and an increase of 151 billion baht from what was allocated in 2018. By comparison, the entire Health Ministry budget for 2022 is 153 billion.
There may be legitimate reasons to have a pool of money controlled by the executive which can be deployed quickly in an emergency. But again, it comes down to a question of optics. For Prime Minister Prayut Chan-o-cha to aggregate these funds under a budgetary mechanism over which he has wide discretion – when it could be going directly into social assistance or healthcare – is going to be unpopular.
I think most people understand that a government may have to borrow during an economic crisis. But what the social contract implicitly promises is that the liabilities incurred on the country's balance sheet will be channeled back into the collective welfare of the people to boost aggregate demand, offset contractionary pressure, and provide better public services like healthcare when they are needed most.
When you come out with a budget that not only reduces expenditures based on very optimistic projections about growth and which sets aside large sums for royal expenses, for the prime minister's discretionary spending and for the purchase of submarines, it can undermine the foundation of this social contract. Prime Minister Prayut's political support seems to be holding for the moment, but a revised budget that explicitly blocks out more money for fiscal stimulus, healthcare and social assistance, and less money for submarines and the executive branch, would probably be a wise move.