The BJP is Playing the Communal Card Again
The Uttar Pradesh chief minister alleged that Muslims are cornering most of the state-subsidized food-grain rations.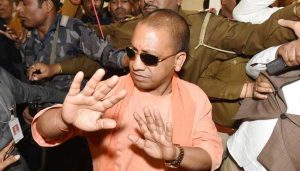 On September 12, at a public meeting in Kushinagar, a town bordering Nepal in India's Uttar Pradesh, Chief Minister Yogi Adityanath said that before 2017 (i.e. before his tenure), those saying "abba jaan" (literally, "dear father") – code for Muslims – used to enjoy the benefits of subsidized food rations meant for the poor. But now under his administration, all communities are benefitting equally from development, he said.
Adityanath accused the Samajwadi Party (SP) and the Bahujan Samaj Party (BSP), which were in power pre-2017 in Uttar Pradesh, of distributing state-subsidized food rations only to Muslims and appeasing the community. Under the guise of speaking on welfare and development, Adityanath was essentially engaging in communal rhetoric and targeting the Muslim community.
"Today, there is development of everyone and appeasement of none. Earlier, when there was politics of appeasement, there wasn't development but riots, corruption, anarchy, terrorism, oppression and injustice," the Bharatiya Janata Party (BJP) leader said.
A Hindu nationalist party, the BJP is in power at the center and in several states including Uttar Pradesh. Its leaders routinely engage in vilifying Muslims, stereotyping the community and ridiculing their culture and way of life.
At a rally in Jharkhand in December 2019, for instance, Prime Minister Narendra Modi said: "From the visuals on TV, those setting fire can be identified by their clothes." He was using clothes as a marker of religious identity to say that Muslims were behind the violent protests against the controversial Citizenship Amendment Act. During the West Bengal elections, another BJP leader made a remark about "lungi-clad terrorists" to identify Bangladeshi Muslims as terrorists.
The aim of such remarks by BJP leaders is to polarize society to win the votes of Hindus, who constitute the overwhelming majority of India's population.
With a population of over 200 million people, Uttar Pradesh is India's most populous state and accounts for a large chunk of seats in India's parliament. Muslims comprise 25 percent of the state's population. Adityanath's claim is being seen as an attempt to communalize the atmosphere in Uttar Pradesh in the run-up to state assembly elections next year.
Government data reveals that Adityanath's allegations are groundless. The Samajwadi Party government's subsidization schemes, for instance, covered at least 75 percent of the state's population in 2016. This would not have been possible had the food subsidies benefited the state's Muslims alone.
Adityanath's remarks evoked criticism and ridicule on social media. "Jo nafrat kare, woh yogi kaisa!" (What kind of yogi propagates hate), Congress leader Rahul Gandhi tweeted. Before long, "abba jaan," an endearing word that Muslims use to address their father, which Adityanath turned into a tool to mock the community, was a trending hashtag on Twitter with many expressing solidarity with Muslims. Many Twitter users came out in support of the Muslim community as they posted photos with their fathers with #AbbaJaan and #HumareAbbaJaan.
Adityanath targets Muslims not just in his speeches but in his policies too. Since becoming chief minister he has introduced laws and policies, including the Uttar Pradesh Prohibition of Unlawful Conversions Ordinance, 2021, to curb "love jihad," a conspiracy theory propagated by the BJP alleging that Muslim men are converting Hindu women to Islam through marriage, and the controversial Uttar Pradesh Population (Control, Stabilisation and Welfare) Bill, 2021.
Prior to becoming chief minister, Adityanath was a firebrand Hindu cleric, who led mob attacks against Muslims. He founded a Hindu-extremist organization, the Hindu Yuva Vahini, which is responsible for systematic, targeted and organized lynching of Muslims over the mere suspicion of eating beef or even transporting cattle.
He has carried his Hindu supremacist beliefs to absurd lengths, changing Muslim names to towns to Hindu sounding ones. For instance, he changed district Allahabad's name to Prayagraj, justifying it as a name borrowed from Hindu scriptures. He is considering changing Aligarh district's name to Harigarh, from a Muslim to a Hindu sounding name and recently, introduced a ban over meat and liquor sale in the Hindu pilgrimage town of Mathura.
Attacks and arrests of Muslims in Uttar Pradesh are growing too. Muslims are being forced to utter Hindu religious chants and beaten. Out of the eight major anti-Muslim incidents across India in August 2021, three of them happened in towns across Uttar Pradesh.
With elections just a few months away, targeting of Uttar Pradesh's Muslims to polarize society is growing.