COVID-19 Is Reshaping Global Pharmaceutical Competition – to Asia's Benefit
The valuable experience gained by Asian companies during the pandemic could upset the West's monopoly in high-value drugs more generally, with implications for global access to medicines.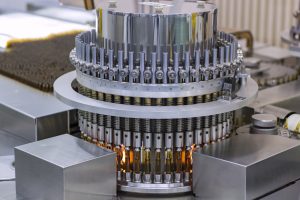 COVID-19 has created a multi-billion dollar market for the vaccines needed to prevent deaths, reopen economies, and begin the transition to a new normal. As outbreaks of the more infectious Delta variant prove that high immunization rates cannot ward off new strains of the virus, much of the developed world is beginning to administer boosters to vulnerable individuals. Meanwhile, only a third of the global population and just over 1 percent of those in low-income countries are fully vaccinated.
At the end of August, WHO Director General Tedros Adhanom Ghebreyesus warned that "the longer vaccine inequity persists, the more opportunity the virus has to spread and evolve into even more dangerous variants, which could evade the vaccines we have, prolonging the pandemic." If the world finds itself locked in a seemingly endless battle with new COVID-19 strains, the long-term demand for vaccines will be astronomical, sustaining a highly lucrative business for pharmaceutical companies.
Pfizer and Moderna predict combined earnings of over $52 billion from their vaccines in 2021 alone and billions in annual sales of boosters for years to come. Although Johnson & Johnson and AstraZeneca have pledged to sell their vaccines at cost price until after the pandemic, this period technically ended for AstraZeneca in July and there is nothing preventing either company from shifting to a for-profit model for new vaccines.
With the exception of China's Sinopharm and Sinovac, the WHO-approved vaccine list is dominated by Western pharmaceutical companies. This lack of diversity in vaccine developers reflects a deeper asymmetry in the trillion-dollar global drug industry, where eight of the ten most profitable companies are based in the United States or European Union.
Until the 1960s, fledgling American and European pharmaceutical firms benefited from relatively open access to knowledge to innovate and develop their technical capacities. As these firms matured and globalization exposed them to emerging foreign competition, Western governments dramatically expanded global intellectual property (IP) standards to protect their technology and solidify a competitive advantage in high-value medicines. These stringent regulations denied developing countries the same opportunity to industrialize through open innovation and undermined public health by granting a handful of Western corporations exclusive rights to produce essential drugs. This was a particularly hard pill to swallow for countries like India, Brazil, and Thailand, whose strong generic pharmaceutical manufacturers were blocked from producing low-cost alternatives to patented Western drugs or moving up the value chain.
Despite the enormous damage inflicted by economic disruptions, COVID-19 could drive long-term gains in productivity and growth by forcing businesses to adapt, embrace new technology, and identify emerging areas for expansion. These pressures and unprecedented demand for vaccines have triggered innovation and investment among non-Western pharmaceuticals companies that could upset the West's monopoly in COVID-19 therapies and high-value drugs more generally, with implications for global access to medicines.
Since the onset of COVID-19, vaccine candidates have been in the works across South America (e.g. Cuba and Mexico), Africa (e.g. Nigeria), and the Middle East (e.g. Iran and Turkey). However, outside of the U.S. and EU, most vaccine development is taking place in Asia. The region is home to a dynamic pharmaceutical sector that has maintained a capacity for low-cost drug manufacturing while becoming more innovative and capable of carrying out complex production processes.
As of October, China has the second highest number of COVID-19 vaccine developers in the world (46) after the United States (120), followed by India tied in third with Canada (24). Although China has an impressive array of local vaccines in the pipeline, the competitiveness of these immunizations will be undermined by growing skepticism about their efficacy and a lack of publicly-available, peer reviewed data to dispel these doubts. India's Baharat Biotech weathered early criticisms over insufficient data for the quick domestic approval of Covaxin, which could become a top contender on the global vaccine market if granted WHO approval in the coming week. Not far behind, Zydus Cadila recently received emergency approval from Indian authorities for the world's first DNA-based immunization. The three-dose vaccine features an easy-to-use, needle-free applicator that reduces the risk from unsterile needles.
Elsewhere in the region, Chulalongkorn University in Thailand is working on an mRNA vaccine that has preliminary human efficacy rates rivalling Pfizer's at a more competitive price. Another Thai vaccine could cost as little as $2 per dose and two nasal sprays will start clinical trials before the year's end. The South Korean government is investing $2 billion to become a top global vaccine producer by 2025, with five indigenous immunizations currently in clinical trials. Japan has similarly pledged $3 billion for local vaccine development and, after relaxing tough regulations to expedite trials, Shionogi's protein-based candidate may be ready for use by the end of 2021. Once they obtain regulatory approvals and begin exports, these new immunizations will boost global vaccine supply and drive down prices.
Asian firms will also reap dividends from agreements to produce WHO-approved vaccines. While these agreements protect vaccine technology from wider use, regional manufacturers must invest in necessary facilities and human resources that can be repurposed for homegrown vaccines. In South Korea, SK Bioscience has spent $132 million on capacities to make vaccines for AstraZeneca and Novavax while its protein-based candidate begins final clinical trials. Likewise, Japan's Daiichi Sankyo has a production agreement with both AstraZeneca and another Japanese vaccine developer as well as its own mRNA vaccine close to completing human trials. South Korean firms will also have Samsung Biologics' new mRNA production line at their disposal, which the company is establishing to provide services for Moderna.
Some of these production arrangements have exposed the shortcomings of regional partners, such as the rocky start to Siam Biotech's contract to manufacture AstraZeneca vaccines in Thailand. Rather than indicating an inherent inability to operate on the same level as their Western counterparts, however, such cases highlight how the pandemic has afforded these firms an invaluable opportunity to gain accelerated experience in vaccine production. Manufacturers in the West have also not been immune to these challenges, either. Johnson & Johnson lost millions of doses following errors at a U.S.-based factory and contaminated Moderna vaccines produced in Spain have ended up on the Japanese market.
Asia's pharmaceutical companies are set to emerge from the pandemic as better equipped, more experienced competition for the West. Production agreements and homegrown vaccines are invaluable sources of expertise, technology, facilities, and profits that can kick start research and development (R&D) of new therapies for both COVID-19 and other diseases. Diverse research within pharmaceutical companies produces internal synergies and spillover effects that benefit the development of treatments targeting different diseases. Although such research is notoriously expensive and thus normally undertaken only by the largest firms, the pandemic has generated resources for R&D of COVID-19 treatments that could have further applications.
Asia's pharmaceutical growth spurt comes at an opportune time, as deeper structural shifts in the global drug market undermine the West's traditional edge. Over the last 10 years, patents have begun to expire on some of big pharma's most profitable drugs, sapping revenue needed to produce and maintain profits from high-value products. Meanwhile, there has been an enormous growth in emerging markets where cheaper generic drugs are in high demand. These trends are forcing the West's pharmaceutical giants to diversify toward generic production, where they lack the advantage of IP protections. Now they must compete with well-established generics manufacturers in countries like India and Thailand who are free to produce and sell their own versions of newly "off-patent" drugs at a fraction of the price. Asia's pharmaceutical companies are in a favorable position to compete in the increasingly lucrative generics market while expanding into higher-value products on the back of the pandemic as big pharma's portfolio of these products shrinks.
COVID-19 has also produced pressure to reform the current global IP system, which has been criticized for impeding emergency public health responses. Most COVID-related IP is owned by a small group of Western pharmaceutical companies that have engaged in minimal technology transfer to the developing world. In October 2020, India and South Africa requested a temporary IP waiver for COVID-19 treatments with the backing of a group of developing countries. The proposal – which is under discussion at the WTO – was vehemently denounced by Western pharmaceutical companies but received a surprising endorsement from the Biden administration. If successful, the waiver would benefit vaccine competition by divulging technical knowledge on COVID-19 immunizations as well as increasing the supply of affordable vaccines. Even if the waiver is unsuccessful, COVID-19 has increased the likelihood of long-term changes to make IP rules more suitable for addressing future global health crises triggered by our growing encroachment on nature.
While innovation by Western pharmaceutical giants delivered vaccines that have been essential for combatting COVID-19, the pandemic could alter global pharmaceutical competition to their detriment. The entrenched concentration of pharmaceutical profit-making in the U.S. and Europe has deep historical roots and will not change overnight, perhaps not even for decades to come. Yet, the opportunities provided by the pandemic to level the playing field and secure more equitable access to medications cannot be ignored, especially given the existing structural changes taking place in the global pharmaceutical market. Like the rest of the world, big pharma must face the reality of a post-pandemic new normal.