Does It Matter If Myanmar's Junta Leader Is Banned From the ASEAN Summit?
Despite uninviting Min Aung Hlaing from the summit, it remains unclear whether the Southeast Asian bloc has a longer-term plan.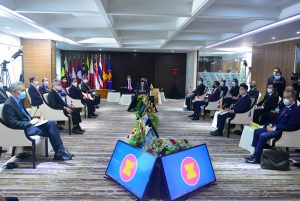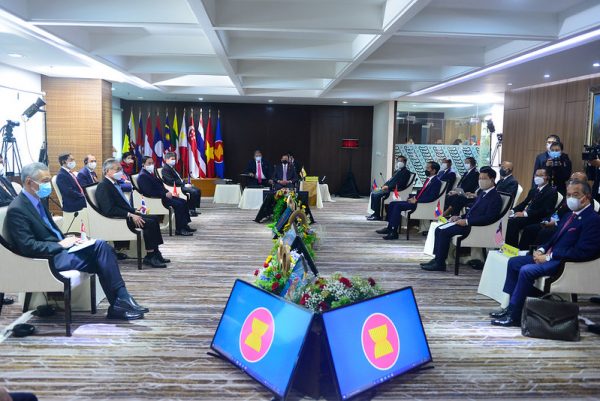 On October 15, ASEAN announced that Myanmar's junta leader Sen. Gen. Min Aung Hlaing will be banned from attending the bloc's regional leaders summit later this month.
It is a public embarrassment for the military junta. The decision, meanwhile, was a major PR boost for the ASEAN bloc, now lauded, by some, for finally showing a backbone and doing something to make Myanmar's junta rethink its actions. The ostensible reason was that the military junta has failed to keep to the bloc's Five-Point Consensus, especially after the first planned visit to Myanmar by ASEAN Special Envoy Erywan Yusof was cancelled earlier this month after it was made known he couldn't visit the detained Aung San Suu Kyi, who was ousted in the February 1 coup.
But that justification is shaky. Myanmar's junta has done nothing to implement the Five-Point Consensus since the day it was signed in April. Erywan would have probably liked to meet Aung San Suu Kyi and other prisoners, but such a meeting would in no way alter the course of the Myanmar crisis. Neither does Min Aung Hlaing's disinvitation affect the junta's violence at home; it is by no means clear whether military representatives won't be welcomed again for ASEAN internal summits, nor that the rest of the bloc is prepared to discipline the Tatmadaw in more adverse ways. (The junta's decision this week to "pardon" thousands of jailed anti-coup protestors, as an apparent goodwill gesture to ASEAN, is a distraction.)
Instead, the decision appears to have been made more with an eye on ASEAN's reputation, not the situation in Myanmar. Singaporean Foreign Minister Vivian Balakrishnan described it as a "difficult but necessary decision to uphold ASEAN's credibility." Philippine Foreign Minister Teodoro Locsin said that by continuing with "neutrality" over the Myanmar issue "our credibility as a true regional organization disappears… We're a bunch of guys who always agree with each other on worthless things."
For ASEAN itself, disinviting the junta comes with few costs. Not only won't it have to face criticism from international voices for inviting along the junta. It also gets Myanmar off the agenda. By inviting only a "non-political actor" from Myanmar (an imagined figure that doesn't exist today, and which the junta still has the responsibility of choosing) ASEAN can assert that the upcoming summits are no place to discuss Myanmar. Instead, the regional bloc can focus on the things it's good at; talking economics with key global actors. For the rest of ASEAN's nine members, what they want from the summits is to secure pledges of more trade, investment, and aid from outside powers.
A junta spokesperson has blamed "foreign intervention" for ASEAN's decision, alleging that the bloc was pressured into the move by the likes of the United States and European Union. Though a self-seeking accusation, it is most likely true that the bloc's decision was motivated by how outside powers would have responded. Earlier this month, United Nations Secretary General Antonio Guterres postponed a call with Southeast Asian ministers to avoid also talking with Myanmar's military representative. Reuters quoted two sources as saying that there was fear "Hlaing's presence would deter other world leaders from attending East Asia's biggest summit."
Whether this is a significant move by ASEAN largely depends on if one thinks the bloc can have a positive impact on the Myanmar crisis. Had Western leaders been forced to either boycott the summits or rub shoulders with Min Aung Hlaing, it might have also forced them to rethink their own attitudes toward the Myanmar crisis – and their continuing policy of trusting ASEAN to sort out the matter. But because of this decision they can now claim again that ASEAN is on the right path, whether or not this is true.
Some scholars have suggested this will be the moment the bloc truly reconsiders its principle of non-interference in members' domestic affairs. But it could be argued this is the first instance of ASEAN following strict neutrality, having not invited neither an official from the junta nor the rebel government, the National Unity Government (NUG). In past months, junta representatives have attended ASEAN's internal meetings and ASEAN has insinuated it is prepared to work with the junta towards it holding new elections sometime in the future.
Neither was it a unanimous decision. We know that Indonesia, Malaysia, the Philippines and Singapore wanted this outcome, with Brunei, the ASEAN chair this year, apparently making it 5-4 against the mainland Southeast Asian states that seemingly were content with the junta leader being in attendance. This is likely to more permanently enforce the split between mainland states (mostly authoritarian and completely wedded to the idea of non-interference) and the maritime states (somewhat more democratic and more open to changing ASEAN's internal relations.)
But this schism will be tested next year when Cambodia takes over ASEAN's rotating chair. Cambodia, arguably the region's loudest proponent of strict "national sovereignty" and non-interference, will push back against any apparent attempt to reform how the bloc deals with interference. The decision this month smacks of too little, too late, not least because many other ASEAN diplomats have made it known in private of their concerns about where Cambodia will try leading the bloc, including over the Myanmar crisis, where Cambodia will push for little regional action.
The decision to not invite Min Aung Hlaing to the upcoming summits is either a slap-on-the-wrist for a regime that ASEAN wants to bring back to the negotiation table, or it is an ultimatum. Sebastian Strangio, writing here in The Diplomat this week, noted that it "is just the latest sign that the region's leaders are running out of patience with the Myanmar junta after months of stonewalling." But running out of patience doesn't mean knowing what to do next.
Indeed, where is the potential follow-through in all of this? What precedent does this set? Will the junta's officials be banned from internal ASEAN meetings? Will tensions ease if the ASEAN envoy is allowed to meet Aung San Suu Kyi and other prisoners, a meeting that would bear almost no outcome on the Myanmar crisis? Is it a threat that ASEAN could one day shift formal recognition to the NUG? If ASEAN members were so narrowly split on this issue of Min Aung Hlaing's attendance to a conference, it seems almost impossible to get a majority to agree to shifting recognition. (And, indeed, unanimity would likely be needed over such a decision.)
It was neither a "realist" nor "idealist" move by ASEAN. The "realists" have been arguing since February that ASEAN should simply accept the new status quo in Myanmar and work with the junta to mediate the least-worst outcome, which would likely be an unfair election sometime next year. The "idealists" say ASEAN should cut off all negotiations with a junta that cannot be trusted and work instead with the NUG.
The decision appears more desperate, even opportunistic: get Myanmar off the table for now for the sake of the rest of the region. And once the summits end, get back to the same policy that has been failing since February. As Bertil Lintner wrote this week: "ASEAN is stuck with an ostracized member that [has] dragged its reputation in the mud and there is little it can do about it than what it has done already: wait and see what happens next."