How Asia's Rice Producers Can Help Limit Global Warming
Rice-producing countries could contribute decisively to meeting the new EU-U.S. target to cut global methane emission.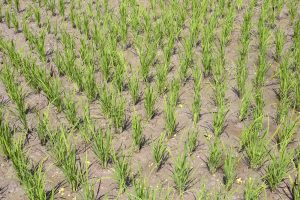 The United States and European Union want countries from around the world to join them in slashing methane emissions by 30 percent by 2030. The recent EU-U.S. pledge recognizes that rapid reductions in methane emissions are critical to limiting global temperature rise to within 1.5 degrees Celsius above pre-industrial averages. Unlike carbon dioxide, which remains in the atmosphere for centuries, methane has a half-life of a decade. Therefore, achieving deep reductions now in emissions from methane, which has a Global Warming Potential 28 times greater than carbon dioxide, can help rapidly stabilize global temperature within the time horizon set out in the Paris Agreement.
Given that flooded rice paddy fields account for 12 percent of global anthropogenic methane emissions, equivalent to 1.5 percent of the total warming effect of all greenhouse gases, it is critical that rice production forms a key component of the new EU-U.S. pledge. Mitigation of methane in rice production would not only help the EU-U.S. plan meet its reduction targets, but also support adaptation and a just rural transition for some of the world's poorest smallholder farmers. However, among the world's top 10 rice methane emitters, only Indonesia has so far indicated it will join the new EU-U.S. initiative.
There are already several validated management options to mitigate methane emissions in rice, which maintain or improve yields, enhance profitability, and increase climate resilience. For example, integrating locally adapted best management practices with water-saving techniques, such as Alternate Wetting and Drying (AWD), reduces methane emissions by 30-70 percent. In Vietnam, this has also improved farm profitability by up to 13 percent (around $100 per hectare).
Therefore, investment in best management practices and improved irrigation infrastructure for AWD deployment is one of the best ways to achieve the EU-U.S. methane reduction pledge. It would also deliver financial returns through increasing yields and reducing chemical inputs and water consumption. A recent assessment by the International Rice Research Institute (IRRI) and CGIAR Climate Change, Agriculture and Food Security Program (CCAFS) estimates that AWD deployment across suitable rice areas in Vietnam's Mekong River Delta region alone could annually mitigate 5.6 million tons of carbon dioxide equivalents, roughly equivalent in impact to removing 2.9 million passenger cars from roads.
Implementation of rice mitigation strategies builds upon many existing national guidelines on good agricultural practice that incorporate low-emission rice production principles. This approach also aligns with the Sustainable Rice Platform's (SRP) rice cultivation sustainability standard, where water-saving is a core requirement.
However, due to rice farming's fragmented nature, smallholders often lack knowledge and the access to finance required to adopt low-carbon technologies. Successful implementation also requires long-term investment in irrigation infrastructure and post-harvest facilities, which are often challenging to finance in developing countries. Therefore, adoption of low-carbon production technologies in rice-producing countries remains well below the levels needed to make a discernible impact on GHG emissions.
The EU-U.S. methane reduction pledge represents a new opportunity to support policymakers, businesses, and investors to address these current barriers and scale up mitigation outcomes. For the upcoming U.N. COP26 meeting in November, we recommend three actions aligned to the new EU-U.S. initiative that can transition rice value chains to a low-carbon pathway:
Include rice production as a key component of national mitigation targets: Under the Paris Agreement, governments must define mitigation targets in their Nationally Determined Contributions (NDCs). However, only some countries, such as Vietnam, have set rice production targets. All major rice-producing countries can prioritize rice in their NDCs, as well as develop strategies and investment plans to deliver on targets and measure progress. This can help guide business and direct capital flows to transform rice onto low-carbon emission pathways.
Scale up sustainable finance for methane mitigation in rice: Large investments are needed across rice value chains to transform the sector. To achieve this, governments can leverage public finance to attract private investment. For example, the Thai Rice NAMA project in central Thailand uses Overseas Development Assistance grants to finance a revolving fund for AWD adoption in combination with Land Laser Levelling to facilitate private sector involvement. More initiatives like this one are required to bridge current financing gaps. Sustainable investors could also immediately include rice in their portfolios and investment strategies.
Mobilize rice consumers as agents for change: Rice feeds 4 billion people worldwide and there is growing evidence that rice consumers increasingly care about food sustainability. Businesses and governments can work together to provide consumers with access to transparent information and green labels, such as the SRP standard. Furthermore, companies and governments could also develop and promote carbon footprint labels for rice products.
Through joining the EU-U.S. methane reduction pledge, rice-growing countries can increase visibility for their actions and foster cross-country cooperation to deliver significant reductions in methane emissions. While rice is critical to global food security and highly vulnerable to climate change, it has often been overlooked in climate change policy and as an investment opportunity for GHG mitigation. Transforming rice production is vital for achieving the targets of the Paris Agreement and would support a just climate transition for 144 million smallholder families currently engaged in rice cultivation worldwide. The new EU-U.S. pledge and upcoming COP26 mark the moment to finally deliver on this promise.