India's Main Opposition Party Suffers a Crisis in Punjab
Internal bickering within the Indian National Congress will likely lead to the party losing one of the few states it rules.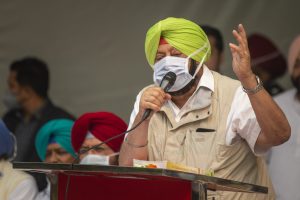 To win, an army needs not only generals to lead it, but also mid- and low-rank officers to command separate units. And yet, the Indian National Congress, India's largest opposition party, now faces the problem of leadership on various levels. First, it is uncertain who is to be the field marshal, as the current leader, Rahul Gandhi, wanted to resign in the past but a part of the high command is not letting him go. Then there is a coterie of generals who are not allowing younger officers to replace them. And now, to make matters worse, the mutiny of one captain – Amarinder Singh, the party leader in Punjab – is likely to cause the party's collapse in that state.
In one of my previous texts for The Diplomat, published in April 2020, I described Singh as the best leader the Indian opposition could jointly field against Prime Minister Narendra Modi, in terms of a face that they could put up as a rival to Modi's image. Singh is an elderly, highly experienced politician, born in a royal family and a former soldier – hence he is often called "captain." With hindsight, I could not have been more wrong. I assumed that to have an opportunity to rise in the party ranks and lead it on the national level, Singh "would have to win the 2022 state elections to keep his chances higher." As we see, it is 2021 and Amarinder Singh is not even in the Indian National Congress anymore. 
What apparently happened over the course of the past few months is that Singh's long conflict with his party colleague –  another Congress leader in Punjab, Navjot Singh Sidhu – reached an inflection point, and the party high command did not react in a way which Singh wanted it to. Otherwise, details are murky but even Singh admitted in a fresh interview for The Print that the internal bickering was only a personal tussle, not a battle for principles or policies. He was disenchanted with how the high command did not side with him against his rival, and how it treated him.
In anger, Singh not only resigned as chief minister of Punjab but quit the party altogether, and announced he is launching a new one. Moreover, he has turned so bitter and vengeful that he is now declaring his openness to cooperation with the Bharatiya Janata Party (BJP), the party he was until now fighting under a Congress flag, and the party which is now ruling India.
What I did not take into account when making my past prediction is that Singh was not on good terms with the party high command even earlier. Thus, in a way, I could have been only hypothetically right – Singh could have been a good face to put up against Modi, but in retrospect, he probably never had a chance to reach that position, given his relations with the Congress' central leadership.
The question that needs to be asked now is what the crisis in Punjab means for India's main opposition party – not in that particular state (this I leave to those specializing in it) but for the overall political situation in the country.
For the Congress, the self-inflicted wound could not have been much worse, and for the BJP, the Punjab crisis is a gift. At present, Congress rules in five major to middle-sized states, out of which it is in majority in three (Punjab, Rajasthan, and Chhattisgarh), while it is a minor coalition partner in two others (Maharashtra, and Jharkhand). Thus, Punjab was one of the only three states where Congress' rule looked secure. It was Singh who led the party to a victory in state assembly elections in 2017, and he has been the chief minister of the state since. Moreover, Punjab is one of the states where the BJP, despite its dominance in national politics, has little footing, and was recently abandoned by its regional ally, the Shiromani Akali Dal. 
Captain Singh's mutiny may completely change that picture. While he floated the idea of a new party a few days ago, he may as well tear the regional chapter of his old party apart – all in a name of petty personal vengeance. The Congress still holds power (it has appointed a new chief minister) but the timing of events – the current crisis occurred barely four months before state elections – leaves it with less time to get its act together.
Moreover, as of now, the political landscape of Punjab is in complete flux with four parties fighting (Congress, BJP, Aam Aadmi Party, and Shiromani Akali Dal), and Singh's party hoping to emerge as a fifth. By the time of the elections, however, some alliances or temporary agreements will probably be forged. If a considerable part of Congress' politicians follow Singh to join a new platform, and if he indeed cooperates with the BJP in the upcoming state elections, the Congress in Punjab may break apart, or at least become weak enough to lose the vote. 
Such events have occurred in the past. Regional leaders like Singh are not just tall politicians – they are heads of powerful factions, which in case of internal conflict may turn out to have a larger following in a given state than the central party command. They may thus create their own regional parties and take local politicians with them, like princes rebelling against a distant emperor, joined in their fight by their dependent nobles and their own small armies. Some of India's current regional parties are in fact past splinter groups of the Congress, which had been led to break away by strong and charismatic leaders. This is the case of the All India Trinamool Congress in West Bengal (under Mamata Banerjee) and the Nationalist Congress Party in Maharashtra (under Sharad Pawar).
Losing Punjab will certainly not mean the end of the Congress in India, but it will deprive the party of one of its few regional pillars of strength. A question will thus once more arise if the Congress is still fit to lead India's opposition against the BJP and Modi. Recent events will certainly strengthen doubts about the capabilities of the party's current leadership, but as bad the Punjab crisis undoubtedly is for the Congress, it at least did not lead to Singh joining the BJP. If his promise of establishing a new party in Punjab turns true, this new platform will rather be an indirect source of strength for the BJP than a direct one: a likely ally at first but a separate entity nonetheless.
Thus, while Singh's exit is expected to leave the Congress weakened (we just do not know to what degree), it is unknown what side he will be taking in the future, and whether he will not ally back with his mother party one day — as some other Congress splinter parties have.