India's Tech Industry is Keeping the Indian Dream Alive
Tech unicorns like Freshworks are positioning India as a pioneer and leader in the world of Software as a Service.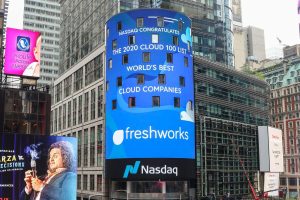 Freshworks, India's first tech unicorn, was listed on the Nasdaq last month with a whopping $10.3 billion valuation. Its CEO and co-founder Girish Mathrubootham, who built Freshworks from scratch, has not only ensured that the Software as a Service (SaaS) company made a spectacular entrance at Nasdaq but also that over 500 of his employees have become millionaires overnight.
The success of Freshworks is symbolic of a larger phenomenon: the role played by information technology companies and new age SaaS companies in India's growth story.
Over the past five years, the Narendra Modi government has been criticized by several renowned economists and analysts for engaging in crony capitalism, doing the bidding of a select few conglomerates, such as the Adani Group and Reliance Industries, which hail from the prime minister's home state of Gujarat. With some analysts even characterizing India as more of a Soviet Union-in-the-making than the East Asian-style export-led economy that in their view the Indian government was trying to emulate, the perception that Indian enterprise is nothing more than a few Gujarati energy companies persists.
But is this an accurate picture of Indian enterprise and the Indian economy?
While large energy companies such as Reliance Industries and Adani Enterprises play a sizeable role in the Indian economy – powering industry, households and the nation-at-large, and availing large debt from public sector banks – they are not the largest contributors to the country's GDP. That distinction goes to the services sector, which accounts for 53 percent of India's GDP.
The Indian economy is likely to remain a service sector-led economy and companies like Freshworks are finding new pathways for the sector, such as moving beyond information technology and business process outsourcing to enterprise cloud networks and SaaS. Following the lead of Zoho, Freshworks is positioning India as a pioneer and leader in the SaaS world.
Economists who draw parallels between the former Soviet Union and the current Indian economy view the latter through the prism of Gujarat. It is well established that the northern and western states dominate Indian politics by virtue of their size in terms of population and number of elected representatives. However, these states do not house the economy's largest export enterprises. Firstly, India's major exports are its software services and they run through the southern and central Indian cities of Chennai, Bengaluru, and Hyderabad, respectively. As of 2019, India's exports of refined petroleum was around $39 billion while that of software services was around $94 billion.
Secondly, among the 20 largest corporations by market capitalization in India, only one – Reliance Industries – is a petroleum refining corporation. The majority are IT conglomerates such as Infosys, Tata Consultancy Services (TCS), HCL, and Wipro, followed by banks and financial institutions such as HDFC, ICICI Bank, and Bajaj Finance.
Lastly, the argument that the political weight of the northern states translates to the central government mollycoddling enterprises from states such as Gujarat through lucrative contracts is misplaced. While it is true that several government contracts have gone to the Adani Group, several large Indian government contracts have also gone to tech majors such as Infosys and TCS.
Given its size, it has been hard for any government at the center to ignore the tech sector and its concerns. The Modi government has been no different.
Modi's administration has been the tech sector's most ardent and vocal champion in trade deals and bilateral negotiations. Time and again, it has raised concerns about H-1B and L-1 work visas with the United States. Visas that enable India's IT companies and SaaS companies such as Freshworks (office in San Mateo) to move their tech talent to the client site are vital for their success and probably even survival.
Even during the turbulent Trump years, when immigration was a complex issue to take on, the Modi administration using different channels lobbied for its tech sector to move their human capital freely across borders. In fact, a lack of provisions for Indian service sector worker mobility was one of the major reasons why India chose to stay out of the Regional Comprehensive Economic Partnership trade pact.
Founded in an air conditioning duct warehouse in 2010, Freshworks has risen spectacularly over a span of 11 years. If Adani's exponential rise over the course of a decade has been in the news for the wrong reasons, Freshworks' rise in the same decade has been for the right ones.
The success of India's technology firms should put to rest erroneous claims that India is going the way of the Soviet Union or it is attempting to emulate an East Asian economy. As Mathrubootham put it, "We wanted to show that world-class products can come from India." And rightly so: with SaaS, India's industry is going the Indian way, and keeping the Indian dream alive.