Indonesia and Malaysia Reiterate Concerns About AUKUS Pact
Their statements reflect the trepidation that many Southeast Asian governments feel about rising Sino-American tensions.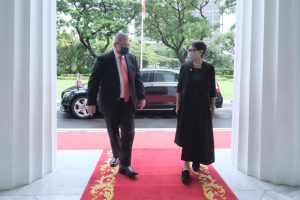 The foreign ministers of Malaysia and Indonesia have reiterated their governments' concerns about Australia's plan to obtain nuclear-powered submarines, saying that it "could attract the involvement of more powers in the ASEAN region." Last month, the United States, the United Kingdom, and Australia announced the establishment of AUKUS, a new trilateral security partnership that will see Australia assemble a fleet of nuclear-powered submarines.
After holding bilateral talks in Jakarta on Monday, Malaysian Foreign Minister Saifuddin Abdullah and his Indonesian counterpart Retno Marsudi restated the concerns that they stated in the immediate aftermath of the AUKUS announcement. "Although the country [Australia] stated that these are nuclear-powered submarines and not nuclear-armed ones, both our governments expressed concern and disturbance," Saifuddin told a joint news conference after the meeting.
Retno added that the situation would "certainly not benefit anyone." She said, "We both agreed that efforts to maintain a peaceful and stable region must continue and don't want the current dynamics to cause tension in the arms race and also in power projection."
AUKUS has met a mixed and ambivalent reaction from Southeast Asia's 11 governments. The Philippines, a U.S. treaty ally, has strongly backed AUKUS, saying it offers a necessary counterbalance to an increasingly assertive China. Other nations have struck a more neutral tone. Singapore has expressed hopes that the deal will "contribute constructively to the peace and stability of the region and complement the regional architecture," while Cambodian Foreign Minister Prak Sokhonn said that his country "expected that AUKUS will not fuel unhealthy rivalries and further escalate tension."
Reactions have reflected the trepidation that many Southeast Asian governments feel amid the rising strategic competition between China and the United States. The fact that the AUKUS partnership, like the recently revived Quad partnership between Japan, Australia, India, and the U.S., has implicitly been motivated by China's growing power and ambition, including its expansive claims in the South China Sea, Southeast Asian governments are understandably fearful of being caught in a hot war
In a recent article for East Asia Forum, Evan Laksmana of Jakarta's Centre for Strategic and International Studies said that Indonesia's trepidation about the AUKUS partnership reflected a fundamental strategic misalignment between Canberra and Jakarta.
Despite the fact that relations between the two capitals are closer than they have been in years, "Indonesia is unlikely to see China – or for that matter, the United States – in the same way that Australia does," he wrote. "ASEAN will also never be as central to Australia's foreign policymaking as it has been for Indonesia – much like Washington will never be as central to Jakarta as it has been for Canberra." Indeed, much the same could be said of the region as a whole.
In their recent statements, Washington, London, and Canberra have been fond of depicting competition with China not just as a proximate challenge to the status quo in Asia, but also as an ideological showdown between liberal democracy and authoritarianism. In the words of Australian Prime Minister Scott Morrison, AUKUS aims for "a world that favors freedom, that respects human dignity, the rule of law, the independence of sovereign states, and the peaceful fellowship of nations."
But Southeast Asian nations tend to view both the reality of American primacy and the challenges posed by China's growing power in more equivocal terms, not least because the region has benefited greatly in economic terms from its relationship to China. This was reflected this week in reports that Singapore had welcomed China's bid to join the Comprehensive and Progressive Agreement for Trans-Pacific Partnership (CPTPP), the successor agreement to the trade pact negotiated by the Obama administration.
There is a certain complacency in assuming that because the AUKUS powers claim to be advancing and defending universal values, that their threat perceptions are shared universally. The reality is that most of Southeast Asia is somewhere in the middle on the question of U.S.-China competition, valuing its ties with both superpowers, and reluctant to be drawn into a pattern of escalation between the two sides.