More Americans Are Unsure of Biden's North Korea Policy Than Under Trump
Love it or hate it, most Americans knew what the Trump administration was doing on North Korea – and what they thought of it.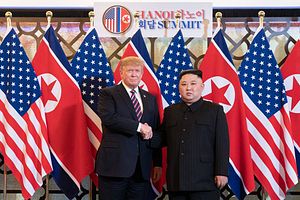 Ever since talks between the United States and North Korea fell apart in 2019 after a whirlwind diplomatic push, questions arose of how the U.S. would coax North Korea back to the negotiation table. The Biden administration completed its North Korean policy review earlier this year, which pitched a "calibrated, practical" approach as a middle path between Barack Obama's "strategic patience" and Donald Trump's "grand bargain" and reasserted the ultimate goal of complete denuclearization. North Korea also continues to be under heavy economic sanctions, though there are concerns that they may lack proper enforcement by other countries like China.
The Biden administration has also signaled its willingness to meet with North Korea. In a recent trip to Seoul, U.S. special envoy for North Korea Sung Kim said, "I continue to stand ready to meet with my North Korean counterpart at anywhere and at any time." However, there has yet to be any significant headway toward resuming North Korea-U.S. talks.
While still early in the administration, poll results indicate more Americans are unsure of the United States' approach to North Korea. In an annual KEI-YouGov poll conducted from August 30 to September 7, the results show that a significantly higher number of Americans are unsure about the Biden administration's handling of relations with North Korea (49 percent) compared to 2020, under the Trump presidency (30 percent). While those that disapprove decreased from 39 percent to 33 percent, those that approve fell even more sharply, from 31 percent to 18 percent. Even among self-identified Democrats, only 33 percent approved of the administration's handling of North Korean relations.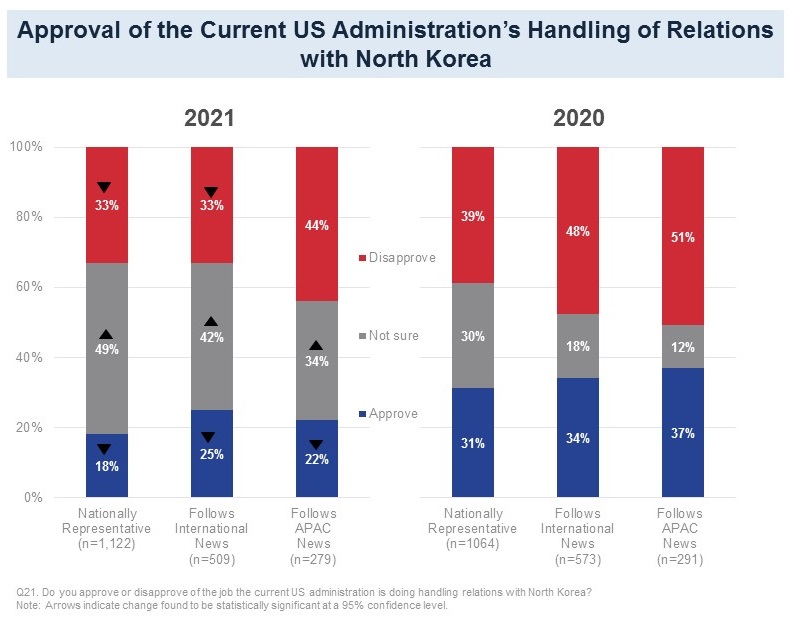 The shift in the results speaks to the differences in approach between Biden and Trump. The Trump era was defined by headline-catching developments, from "fire and fury" threats to historical summits and "love letters." Biden's low-key approach so far stands in stark contrast to the Trump years, but it has also meant more Americans are less clear on where the administration currently stands.
Despite the increased uncertainty over the administration's handling of North Korea, Americans remain consistent on the importance of reducing North Korea's nuclear threat. According to the poll results, 86 percent of Americans believe it is important or very important for North Korea to give up its military nuclear capabilities, which is similar to 2020's result of 84 percent.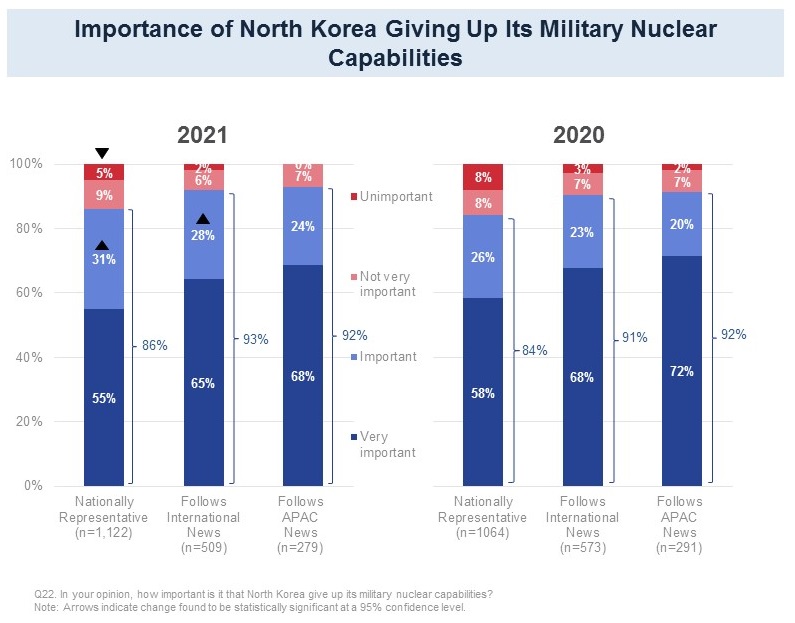 The polling suggests that Americans are clear on the objective of North Korea's denuclearization, but are largely unaware of how the current U.S. approach will get us there.
To be fair, solving North Korea's nuclear problem has perplexed every U.S. administration since the 1990s, and past derailed negotiations with North Korea have shown how difficult it is to create sustained trust and dialogue. Some experts have suggested that the United States commit to an action-for-action process, but finding the right incentives to prod an often reluctant North Korea without compromising too much is an unenviable balancing act.